Sam Glassenberg, CEO of Funtactix, opened the event with a a note written by a Jewish wife complaining that her husband was going off to a trade show during Passover. The holiday is one of the key celebrations for Jews around the world and most of us hold it near and dear to our hearts. Passover is most often celebrated in the home around a ritual meal called a Seder, with familly and close friends. Being taken away from home for business on Passover is not, however, a new problem. Sam's reading was from the diary of Glückel of Hameln, a wife, mother and business woman who's diary is over 300 years old.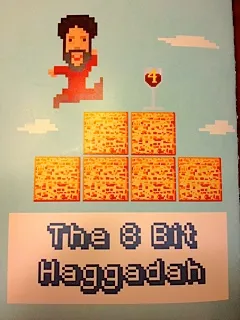 Sam got in touch with me several months ago when he heard through the grapevine that I was looking to organize a Seder and suggested we join forces. Neither he nor I anticipated that the event would grow to the size it did or that we'd get such support from sponsors to help us pull it off.
Before the Seder a flurry of emails came our way; three of them from Jewish mothers who knew their 20-something offspring would be attending GDC and looking to buy a ticket for them. Sam handled logistics while my student Jennifer Kotler and I created a special Haggadah for the event. At the last minute we realized we'd forgotten to arrange for Yarmulkes (the Jewish ritual skullcaps) and I arranged a loan from my home temple to bring some out.
During the Seder, children of all ages shot pictures of the event like the one below, sharing them with parents, familly and friends. One middle-aged son sent his mother such a picture via text. Her response...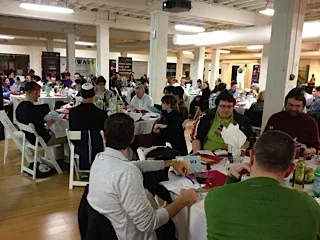 "Nice attendance"
"Did you wear your Yarmulke?"
A little prayer, a lot of good food and some rousing singing later, the attendees made their way out into the night; many of them to some of the more standard conference corporate celebrations.
As Sam said, we hope there won't be another GDC Seder (like Glückel, we'd all rather have our famiilies together for the holiday). That said, if the need arises again, we know we'll be able to pull it off. And we're already thinking about getting everyone together for a Deli fest next year.
Many, many thanks to Japeth from YetiZen for donating their space for the event, and to our other sponsors Funtactix, RIT's Lab for Technological Literacy and MAGIC Center, Activision, Flying Kame, Offner + Associates, Prime Sense and Stubbs, Alderton and Markilies, LLP, SideKick, GameIs and kosherwine.com.