I don't drink or smoke. I don't take drugs. I just happen to get acute pancreatitis. I went to the ER a couple weeks ago and had to stay over while my enzyme count went down. Nobody knows the cause. I'm looking for a specialist.
Anyway, that's why this Tech Tree is a week late. Swallow my excuses and self-pity, uncaring void of the internet! ;)
This edited version of Along The Tech Tree comes to you from BYOND Strategy, a guild run by unpaid volunteers on a game/development portal and software engine called BYOND. Tech Tree focuses on recent developer activity. For play suggestions, visit the guild.
The results were posted for BYOND Casual's Imagination Competition. IainPeregrine took first place and $100 with the cooperative action of Casual Quest. I, ACWraith, took second place and $50 with the procedurally generated rhythm action of Fused Finale. (Updates are on the way.) DivineTraveller took third place and $25 with the platforming of Doomed Dreams. All entries are listed in the results for those who wish to try them out.
Lummox JR's BYOND Cartidge Classic II will have ended by the first of December. I have not entered. Go and take his money. He's employed by BYOND. I'm not. ;)
With a new server available, Acebloke has been hosting the latest version of his featured abstract board game, Exploder. I was only able to log in briefly and didn't get to see all of the new interface in action. Fortunately, it appears players like Sonder and Zaltron were around to help with testing. Expect the update after a few more adjustments. Meanwhile, those who witnessed any bugs are encouraged to report them.
Barring connection problems, Wargames should be hosted in its economic/military simulation glory soon. A map screen for easier targeting might be included. Positioning schools and hospitals might become more important.
Meanwhile, a wiki has been created for the Spore-inspired Dreamland.
Mobius Evalon's Board Game Chat is now offering an updated server. Players can attempt to earn a wide variety of medals that were previously unavailable.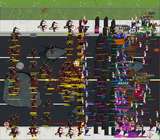 It appears VcentG will be working on Wyllshire Road solo from now on. The accompanying rant from two weeks ago hints that the game's art could get an overhaul, but motivation appears low...
No. Wait. One week later, Branks announced that he and Saki have the pixel art for the horror defense game covered. Along with the new look, expect new enemies, new weapons and extended stages. The option to change routes seems especially promising.
I was punked by a drama lama. Go ahead. Laugh.

Vexonator is going to attempt to update the tactical fantasy Surreal Dreams before the end of the year. For reasons unmentioned, he claims that he will not be able to update again. Get your suggestions and bug reports in NOW!
Okay. Maybe it doesn't seem as urgent to the Gamasutra crowd... But it was a popular game in its day, I tells ya! In the BYOND community anyway.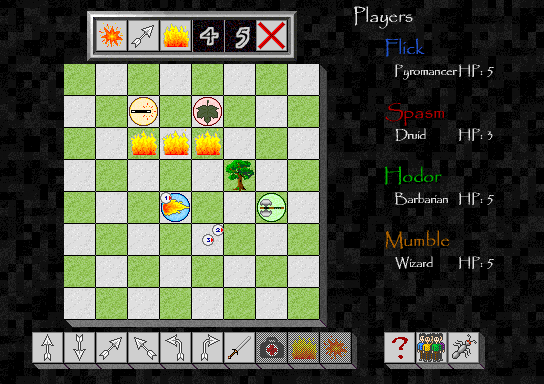 And here's an ending absence that you won't understand: Flick lives! Unfortunately, he has lost access to his game files. With a once persistent server instead of a download, his formerly featured board game of simultaneous battles, Mano A Mano, is no more. Unreleased projects such as Flindal BoardGame, Flindal: Kingdoms and Squadrons are gone as well.
I've been wanting to release a framework for board games that essentially links all of my libraries together and includes a default interface. I'll probably create an early version soon so Flick can get going... He pointed out that it means he can nag me for a change. Aw frell.
I've almost finished the Survive and Trade phases of my racing combat board game, StarScurrier. A mechanic used during simultaneous turns was also discussed. These are the final two phases. There should soon be something playable that resembles the game I designed.