This week marks the third anniversary of Along The Tech Tree. I started the column by stating that "I don't know how regular a feature this will be." I am a fool.
It's also the first anniversary of Tech Tree on Gamasutra. Posting here has somehow been more satisfying than my year of invisible blogging on IGN. My posts don't inspire comments and I'll probably be increasingly scrolled out of reach as time goes by, but let this lonely man dream!
Of course, the column's focus on recent activity is a double-edged sword for off-site versions. Buggy software releases and minor updates take precedence over quality. Within the guild, this is remedied by slapping the list of featured games on the side and turning every post into an ad. Outside of BYOND, I sometimes question what kind of impression I'm leaving.
...Feel free to comment. ;)
This edited version of Along The Tech Tree comes to you from BYOND Strategy, a guild run by unpaid volunteers on a game/development portal and free software engine called BYOND. For a focus on game quality rather than recent activity, visit the guild.
EGUY has released multiple updates for his tile-laying game, Deus Rex. Tiles were added, custom decks can now be created, and the interface has improved. (The screenshot is outdated.) I'd lose the borders in the deck creation grids, the window dimensions seem a bit wide for the map and I'm curious about how players react to the multitude of options on login. However, I'm happy that the game spam appears to be gone. =)
EGUY also announced that he is working on a squad-based RTS. A demo has been released.

Nickr5 updated his bot-scripting battle, Automata. The focus appears to be on the interface. I'd offer suggestions, but I have yet to write a script to try it out. Offhand, the window menu seems useless. I'd just shove a help button on the left.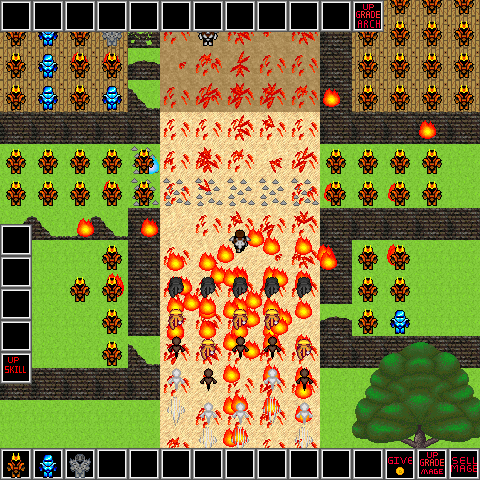 Ganing updated his tower defense games, Seika SE and The Legend of Link. Seika SE's update appears to focus on interface improvements. I'd lose the redundant menu and I've been meaning to add another tip about removing borders, but I think it looks much better. Meanwhile, The Legend of Link gained a couple maps and a lot of medals.

Vexonator stated that an update for the tactical fantasy, Surreal Dreams, should be expected by the end of the week. Some form of turn timer might be added. Hopefully, Vexonator managed to reimplement the changes made before he lost the source code as well.
Geldonyetich's latest inspiration for Project Shock is Tegel's Mercenaries. Players will control mercenary bands that work for various factions involved in a 4X struggle. The world will be open-ended with randomized content and decisions that affect the universe. Geldonyetich hopes to have something playable before the end of spring break.
Geldonyetich also released an update to his Easy AStar library with efficiency and accuracy improvements.
Hiding in a request for BYOND's map editor, Sonder announced that he is working on an RTS. No details on the mechanics were presented, but I like the graphics. It's as if smurfs and troll dolls made war, made peace, made love and then had to watch as their children repeated their mistakes... Maybe it's just me.
I've been working on my mutating boardgame, Genetic Fork. I figured it was finally time to post some progress on my blog so I did. Lately I've been redesigning the interface. Thinking that I could avoid confusion and offer more detailed explanations, I had tried presenting just a few choices at a time. However, I found using the menu to be tedious. I now allow more actions and provide a simple tip button.