I've been playing Radiata Stories for PS2 lately. It's a friend-collecting RPG. Unfortunately, I paid off a drunk's bar tab and failed to get the drunk as my friend. The drunk was a requirement for two powerful guild leaders so I missed them too. In addition, I found out that the stat-increasing berries I was spending hundreds of thousands of gold on before eating were supposed to be kept in my inventory.
...I've spent over 80 hours on this run and I'm now being killed by some winged lady in her nightgown with a cheap attack to spam. *sigh*
Anyway, there's not a lot of BYOND Strategy activity this week. Read on.
Tech Tree is a list of links about developer activity in BYOND Strategy, a guild run by unpaid volunteers on a game/development portal and software engine called BYOND. Those curious about notes or YouTube videos I've cut out can view the original version.
EGUY recently released Deus Rex and I've added it to the guild. It's a game for one or more players. Each player has a selection of tiles. Each turn, a tile is placed on the board. The neighbors and board positions affect how many points that tile is worth. This continues until the board is full. The player with the most points wins. Go play it.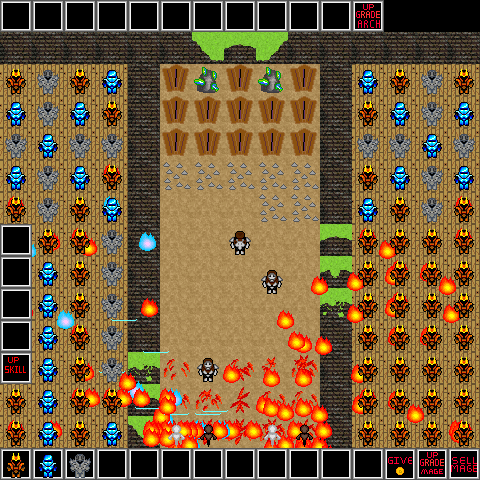 Ganing's base defense game, Seika SE, is again listed in the guild. It was previously filtered out when he expressed disinterest in the project and the guild's standards changed. With the help of Turo Azai, Ganing has been providing multiple updates. Development is therefore active enough to keep the game listed even though it still lacks a help file. I'd add one soon, Ganing.
The Magic Man has uploaded a version of his team-based action game with commander roles, R.T.S Game. Others can now host their own servers, but be aware that at least 4 players are required. In addition, Druid, Gambler, Saboteur and Samurai units were added.
I suggest reformatting the help files as it's a bit hard to wade through all that text, The Magic Man. =)
Mechanos7 recently uploaded a minor update to his turn-based tactical wargame, Riverside. As usual, details are provided on the hub page. Meanwhile, unit ideas are welcome in the game's discussion tab. Mechanos7 has been hosting public servers so players can check it out.
I've been working on my tactical mutation boardgame, Genetic Fork. In the process, I've created a multiple game room library and a library for automatically starting/ending games based on the number of players. I get sick of rewriting code.