Gamasutra readers probably care less about this than usual, but I redesigned BYOND Strategy's layout. From now on, featured games are displayed on the side so each post of Tech Tree helps promote them instead of just random guild activity.
...Of course, I probably should have thought of it ages ago and it doesn't do any good off-site. Feel free to be proud of me for not overeating on Thanksgiving instead. ;)
Tech Tree is a list of links about developer activity in BYOND Strategy, a guild run by unpaid volunteers on a game/development portal and software engine called BYOND. Those curious about notes or YouTube videos I've cut out can view the original version.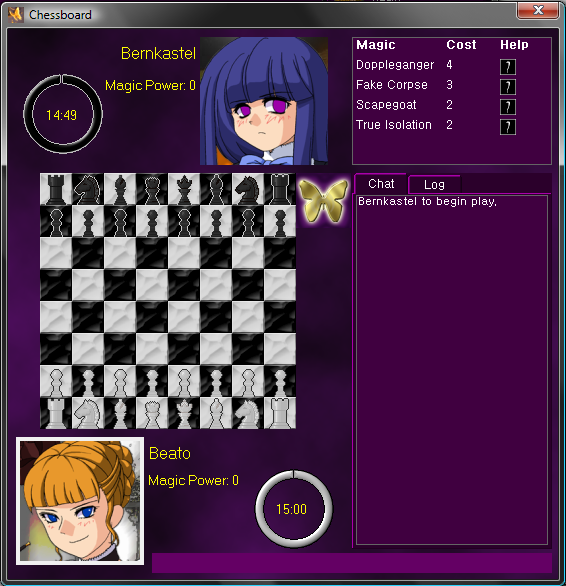 Devourer Of Souls updated his hybrid, Witches Chess. There were a couple bug fixes, but players might be most interested in knowing that the Traitor spell has been changed. Make sure you have the latest version of BYOND if you wish to play because older versions will fail.

Acebloke's boardgame, Exploder, recently had its 5th anniversary and he's trying to celebrate with a tournament before the year is over. The game's standings now list each player's number of matches and nationality. He's currently working on Elo ratings.
The interface update has yet to be released so I'll pretend to ignore his comment that the HUD is unchanged. ;)
Geldonyetich is still working on his persistent RTS, Vehicle Wars. However, his first attempt to spice up the Terran faction by adding dropships appears to have failed. I'm just happy there was an iteration created. On to the next. =)
Oasiscircle paged me with a video of his current project, The Value of War. It strikes me as a nifty blend of strategy with arcade controls. The reference to persistent upgrades worries me, but I'm wondering if it's more a matter of swapping unit types out. All I know is that the higher level units will have longer cooldowns and lower level units could take them out in swarms.
Bladeshifter announced a new defense entry called The Wave Game. There's no download yet, but a video was posted. Hopefully the graphics will be updated with original, unified content. It's nice to see BYOND's new isometric capabilities being used though.
I updated my arcade action game, Wrangle, Warp And Weep with interface changes and bug fixes. Now to get my older cousin, whose Atari 2600 I used to worship, to stop dodging the strays he is supposed to be collecting.
It's taking me a long time to release the next update to my card-battling boardgame, PathWrath 2. On the bright side, I've decided to remove the unused scores and replace them with medals that should encourage different styles of play. In an effort to promote good sportsmanship, there's also a medal for finishing games that is lost by players who quit prematurely. Perhaps I'll start adding medals like it in all of my games.