I'll spare Gamasutra readers the rant I posted in the BYOND version of this week's Tech Tree. Suffice to say that I have little regard for those who complain about an aggregate site's games rather than contact game developers with specific improvements. Those who could actually use feedback don't get enough of it.
Tech Tree is a list of links about developer activity in BYOND Strategy, a guild run by unpaid volunteers on a game/development portal and software engine called BYOND. Those curious about notes or YouTube videos I've cut out can view the original version.

Acebloke is working on improving the interface of his featured boardgame, Exploder. I'm not sure I properly diagnosed the issue with arrow keys not editing text, but he responded to my list of suggestions. Hopefully the new version will be released soon. The last potshots on the OG Star Trek HUD can be made while we're waiting. ;)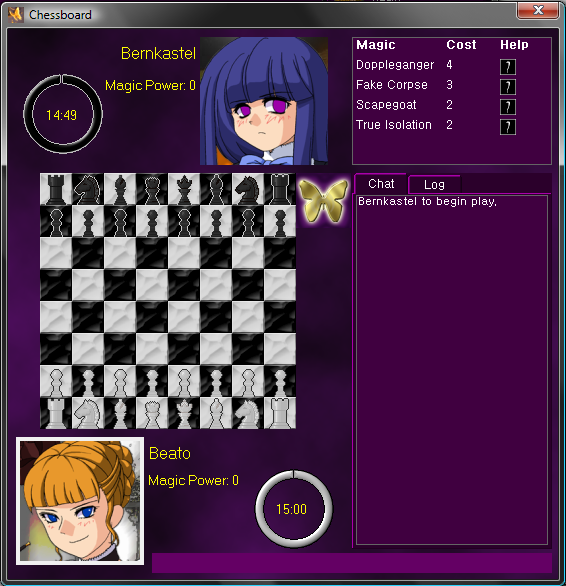 Devourer of Souls made multiple updates to his boardgame hybrid, Witches Chess. The release log doesn't list anything new, but another forum thread states that he's fixing runtime errors.
I enjoyed a game last weekend, but I still need to find time to request a few minor changes to meet the feature guidelines... Granted, I'd like to pretend that developers take them to heart anyway. The "tower offense" game, Halloween: Terror, has been updated. Ganing and (the no longer anonymous) Turo Azai added 3 more monsters, 2 more rounds, and fixed some bugs. Scores and more medals are on the way.
Ganing also found time to pick on my avatar. He's not the first... Too bad it's a self-portrait.
Theironx released an update for the first episode of his RTS series, The King's Letter: The Receival. There's no change log that I know of. Perhaps it has something to do with his attempt to create advertising.

Darkjohn66, Jotdaniel, and Narcito are looking for an artist to create a title screen for a game called Tactical Spellcasters. I'm guessing that it's a strategy game just because of the title. If not, let's pretend I'm a pervert who's only posting because they requested "sexy" art.
I'm still redesigning the interface for my card-battling boardgame, PathWrath 2. Mainly, I'm replacing the player instructions grid with specific panes for each phase. Sometimes I wonder why, but then I think of the scrolling required when modifying realms and realize it's the right thing to do.
I've also received a report of slowdown in Wrangle, Warp & Weep that I can't confirm. Speak up if the game lags when a large amount of strays have been gathered.