Welcome to 'Blogged Out', the news report that looks at the world of developer blogging and the conversations being had with the community at large. This week, we visit Only A Game and Kieron Gillen.
The Burden Of Play
Only A Game remains one of the busiest and most fruitful development blogs in the games sphere. As if
this design for a hex-based boardgame
weren't enough, game design group
International Hobo
's Chris Bateman recently went on to publish
an illuminating discussion
of interaction models in games - a topic that we often deal with on Gamasutra, and a set of ideas that game designers have been developing in many different ways. As Bateman points out, most games still rely heavily on numerous and complex control systems that are fairly unfriendly to the unskilled or inexperienced: "Perhaps there is an unspoken assumption among the so-called Hardcore players, those for whom gaming is a lifestyle choice, that the player will shoulder the entire burden of control." Does this have to be the case? Can designers to more to lighten the burden?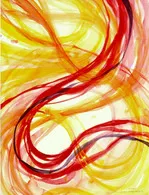 Bateman thinks so, and he offers a model for interaction that he calls 'The Blind Captain'. "The essence of the blind captain model is that the avatar has a simple (rule-based) artificial intelligence which determines its behaviour, and the player is freed to guide the avatar, rather than to initiate all actions with specific control combinations." Bateman explains. "Two way communication between the avatar and the player is probably required. If the avatar can see a course of action that might not be obvious to the player, a signal (a '!' above the avatar's head would suffice) would be required to inform the player. In these situations, a (single) button would be used to initiate this avatar-spotted course of action. For instance, at a ledge with no platform to jump to, the avatar may be able to see that the ledge could be negotiated if she hangs from it. This is signalled to the player, and if the player wants to explore that option, they press the action button to do so." Using these ideas, Bateman asks us to imagine a Bond game in which we would not be expected the face trial and error until we had a Bond-like ability with the tools the game provides us, but instead find ourselves on a roll at Bond's level. "It would allow the player for the first time to play at being Bond, just as a child would play in their own imagination. That's what Bond is: an adolescent power fantasy. Shouldn't Bond games deliver this same experience?" Sounds like Batemen and Digital Pictures might have a lot to talk about. Everyone whose brain tingles at the theme of this discussion should probably play
Beyond Good & Evil
- though Bateman's ideas have basically already been implemented (albeit poorly and via voice, not buttons) in Konami's
Lifeline
.
Long Of Tooth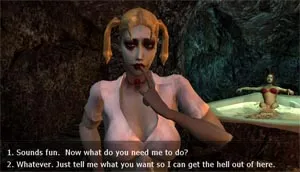 Infamous journalist Kieron Gillen has posted
an account of one of the many finely honed moments
in (now-defunct) PC role-playing developer Troika's flawed masterpiece
Vampire the Masquerade: Bloodlines
. Although very buggy, with a trashed ending, and released into an unwelcoming market,
Bloodlines
was a piece of RPG genius. As Gillen explains with his seduction and then moral conundrum over the fate of a young high school girl, the game offered unique and troubling choices: "At which point, she throws down a pile of greasy notes in my lap. Her college fund, she announces, and she wants me to have it. After all, she doesn't need it anymore. She's going to drop out of school so she could look after me properly, like she knows she really should. It's like a slap to the face. I wake up." Can he do the right thing, even as the undead? This minor drama is one of many that
Bloodlines
will allow you to miss out on completely if you're not paying attention, and yet its an example of God being in the details - for all its flaws the game will not be forgotten because it allowed gamers to tell each other stories about what they did, who they ate, and who they saved.
[Jim Rossignol is a freelance journalist based in the UK – his game journalism has appeared in PC Gamer UK, Edge and The London Times.]