Welcome to 'Blogged Out', the news report that looks at the world of developer blogging and the conversations being had with the community at large. This week we look at the Canadian Red Cross inspiring violence, anonymity on the internet, and whether or not games can prepare soldiers for war.
Red Tanker
Terranova's Dan Hunter
discusses the revelation
that international humanitarian agency The Canadian Red Cross wants developers to stop using the red cross symbol in games. Hunter incredulously explains:
"In trademark law this issue gets played out as 'tarnishment' and the implication here is that the Red Cross's mark is somehow tarnished by association with a violent videogames. Please. I could maybe buy this if you built a videogame that had Red Cross workers as spawn of Satan, going round killing innocent babies under color of helping them. But the mere use of a Red Cross symbol within the game? C'mon."
Of course the real point that The Red Cross could have made is that the use of health or 'med-packs' in a game is often an atrociously lazy way of dealing with giving your game avatar health at all. There are better ways, both for the game mechanic and for coherence within a game world - I know I wasn't the only person who choked on his salad sandwich when confronted with
Medal of Honor
's 'tank health'. (Tanks get first aid from oil drums, so they do...)
Sneaky ID

The possibilities and problems of anonymity on the gaming internet are considered this week by prodigious gamer-blogger Mark Wallace.
He mentions
the problems that are caused by the ease of impersonation, and the capacity for anyone to reinvent themselves over and over. He asks:
"How are you to know that he is not the same guy who cheated you out of hundreds of gold pieces in World of Warcraft? And what if the two toons share the same name? The
SL
resident may claim it's a coincidence, but what basis do you have to believe him?"
He goes on to suggests that a greater network of information needs to be submitted by gamers if they want to be trusted in a gaming context. The need to trust people is becoming increasingly important as people run virtual businesses in
Second Life
or
Eve Online
, and so we should start to look to tools that will help that project:
"If I can associate my toon in one world with my toon in another, or with a forum handle, or with an eBay seller's ID -- or even with a credit card, if I like -- much more becomes possible. Right away, you have a little bit more information about me. And it's important information, in that it expands the interactions you and I are willing to undertake in this environment of anonymity. It extends the possibility space by extending how far you are willing to trust me."
And how far
are
we willing to trust Mark Wallace? It's an interesting question.
More Killing Than You Know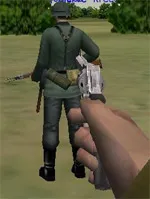 Finally We Make Money Not Art asks: "
Can videogames prepare soldiers for real war?" The post mainly links to the various training game projects funded by the US military, but there's also a link to the work of Evan Wright, a journalist who spent two months with American soldiers in the front lines in Iraq. His book Generation Kill is about the intimate cultural and psychological shock of warfare on young soldiers. He says: "A lot of them discovered levels of innocence that they probably didn't think they had. When they actually shot people, especially innocent people, and were confronted with this, I saw guys break down. The violence in games hadn't prepared them for this." And that, videogame detractors, is the truth of it. You are fiddling while Rome burns. [Jim Rossignol is a freelance journalist based in the UK – his game journalism has appeared in PC Gamer UK, Edge and The London Times.]