Recently I've published this comment on the Steam announcement of the Steam Direct and killing off the Greenlight, that has since been burried in pages upon pages of other comments discussing the price: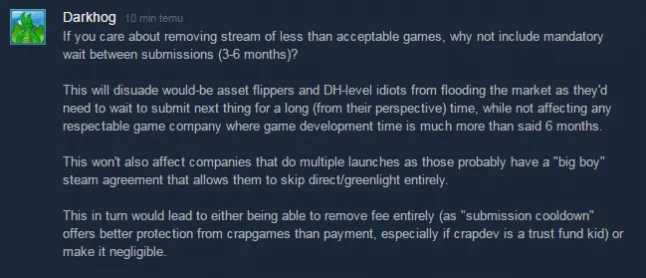 Today, in this open letter to Valve and Gabe Newell himself I'll argue why I think this is a better way than any arbitrary fee.
First of all, who the heck I am? Well, my name, as you probably had seen under the article's title is Dariusz G. Jagielski. I am a young, poor indie developer working on my first game which is to be a flatshaded, retro 3D platformer where you are a computer virus. I do everything on that project. Sounds, programming, design, writing, even art (one reason I've chosen this particular art style is because how easy it is to make art that fits it). The only thing I didn't do is the music for which I've used various CC and PD resources such as OpenGameArt and modarchive.
I didn't spend money on these. Not because I particularly enjoy doing all of those (well, I DO like programming and design parts, but other than that...), but because I simply can't afford otherwise.
I plan on doing an IndieGoGo campaign later on, when I have a demo, but for the moment the budget is whatever I manage to NOT spend on bills, food and other necessities.
But enough about me.
As a designer, you need to be able to put yourself in the player's head. Foresee what they would do in each situation, think of everything. So let's put ourselves into shoes of average assetflipping moronic and slightly homicidal (but only digitally) crapdev, while also putting ourselves in the shoes of a legitimate, but poor indie developer. Then, we'll analyze each scenario, with fee, with "submission cooldown" and without any of those. Also, varying degrees of fee.
Scenario 1: Steam Direct Fee $100/submission, no submission cooldown.
Actually, not that much different than Greenlight, only that you have to pay fee per game, Valve gets to pocket it, and you get directly on Steam. Too bad, that most of greenlight submissions (not actual steam games, just GL submissions) are stupid jokes, really awful games that look awful even from the trailer itself, or downright copyright infringing.
Result: Nothing really changes, gets even worse actually.
Scenario 2: Steam Direct fee $200-$1500, no submission cooldown
Not that big of a deal for many indiedevs, but those on the lower end that might've had an interesting game are cut off as well, as many asset flippers looking for a quick buck. There are several false positives though - you're cutting out devoted, legitimate indies who wouldn't dream of scamming their customers.
Result: There are SOME changes, but it's hard to tell if they're good or bad without knowing what potentially good games have been lost because their dev couldn't afford the fee.
Scenario 3: Steam Direct fee $1500-$5000, no submission cooldown.
Hm, an apartment in Ukraine or putting my game on Steam? Decisions, decisions. Most of the indies except established ones are barred from entry to Steam even if they have a great game. Many assetflipping devs are barred also, but not all.

"$5000? Meh, dad's platinum credit card will pay for that. This 65th iteration of UnitZ will be greatest game ever, even though I just click "build" in the Unity's menu before submitting, you'll see!"
Result: Stream of crapgames is minimized, but at huge cost of big false positive rate that makes legitimate indies with good games thrown out as well.
Now, for something really interesting, the final scenario.
Scenario 4: No Steam Direct fee, submission cooldown 3-6 months between being able to submit another game.
Really interesting stuff starts happening. Of course crapdevs try to gain access on steam and each of these may even get one game on there, but then they see that they have to wait whooping 6 months before trying to put another asset flip up. They can't even go around it with making another account, remember, digital paperwork "similar to what you have to fill when opening a bank account". Meaning their name, address and most likely SSN are included as well. Possibly bank account number as well. So Valve can easily track and block alts since one person can only have one SSN.
So getting back to our friend from earlier...
"HOW MUCH DO I HAVE TO WAIT?! 6 MONTHS? DO YOU EVEN KNOW WHO I AM? DO YOU KNOW WHO IS MY FATHER?! THAT'S IT. I HAD ENOUGH OF THIS GAMEDEV BS. I was bored when I've started but not THAT bored. Fuck."
Meanwhile, legitimate indie devs will hardly even notice it, because most small and medium-sized indie studios are releasing only one game at a time because of lack of resources to do multiple projects at once. And game dev time, even on small, but legit (non-asset flips) projects takes at least half a year if you want it to be playable and fun.
To top it off, bigger studios and publishers that DO release multiple games at once have most likely "big boys" Steam publishing agreement allowing them to do this bypassing Direct (or Greenlight) entirely, meaning no wait between releases.
Result: Crapgame stream is GREATLY curbed while poor indie devs that have legitimate game to sell are still capable of getting onto Steam if they so desire.
So dear Valve, which solution seems better at curbing badly done games? Steam Direct Fee or Steam Direct Submission Cooldown? Please tell me.
Sincerely,
Dariusz "Darkhog" G. Jagielski.
Developer of Computer Virus Simulator 3d platformer and in future other cool games as well.