Check Out These 4 Free Marketing Tools to Help You Better Research Your Competitors' Games
Competitive research can be a daunting and time-consuming task. Also, there are so many tools and articles out there, that it can be hard to sift through the noise to find exactly what you need. Today, I would like to share some free tools that I've used in the past to research similar games to my client's games. I'll also go over how to use these tools and what kind of useful data can be had (using the free versions of these products).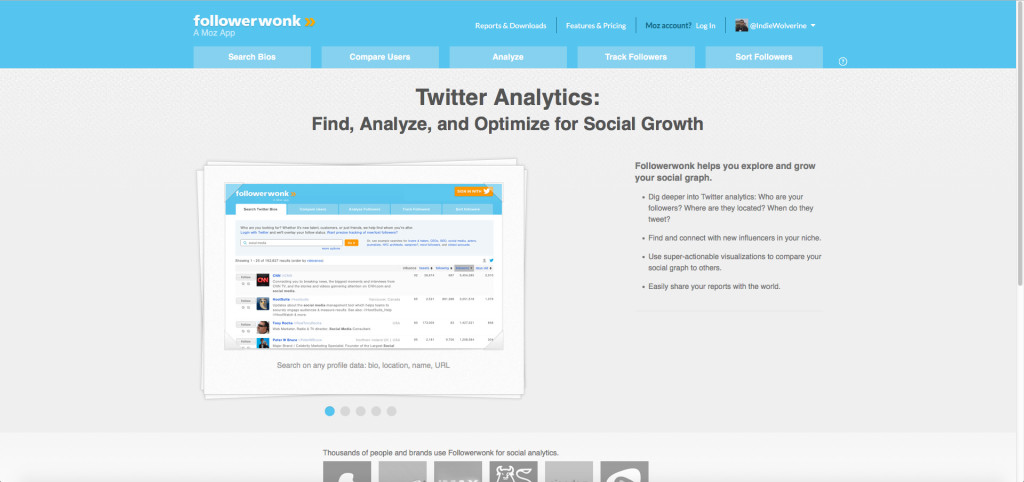 Followerwonk is one of my all-time favorite tools for competitive research. It's also a great tool to find influencers like big YouTubers, Twitch streamers and press.
To research your competitors, navigate to the "compare users" page.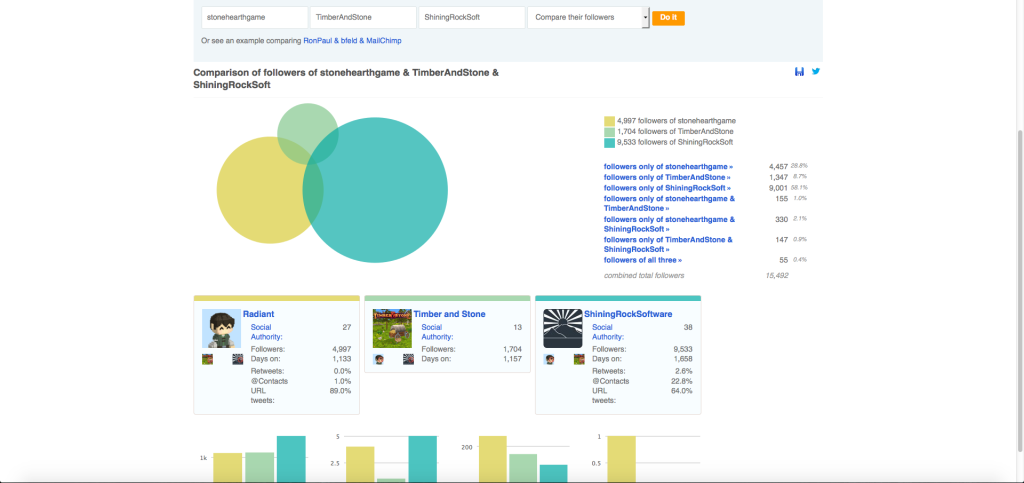 Once on this page, you can compare whom your competitors (similar games) follow, or you can see who their followers are. In doing this, you can find influencers in your genre, press that covers your genre, streamers and more.
For example, if you were working on a city builder game, you could compare followers of Stonehearth, Timber & Stone and Banished.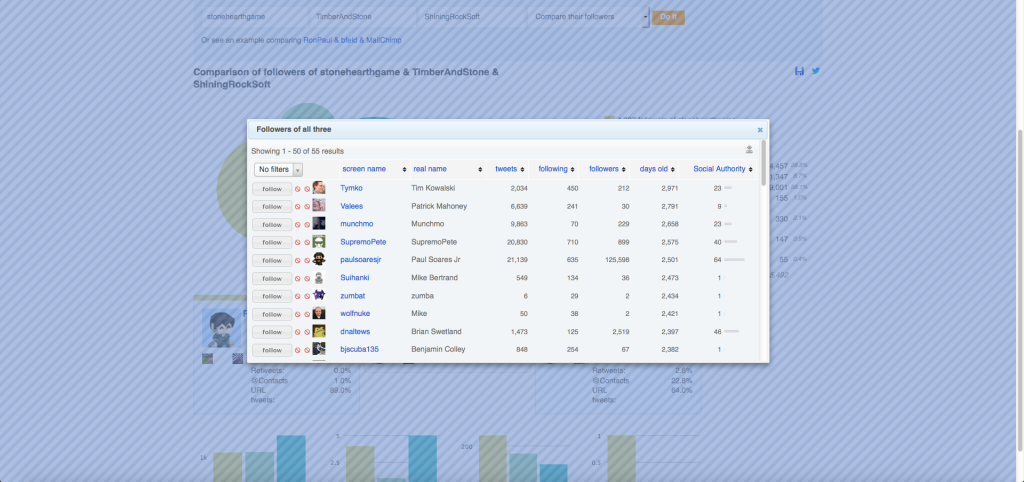 After comparing their followers, you could then look for people who follow all 3 accounts (if they follow all 3, they're highly likely to be interested in city builders). After running this comparison, I can see right away that Paul Soares Jr is a YouTuber I should probably reach out to for potential coverage.
Keep in mind that the free version of Followerwonk only allows you to search 50 Twitter profiles/day and limits the Twitter accounts you can compare at 150k followers or less. However, as of today, you can purchase Followerwonk on it's own without purchasing an entire Moz Pro subscription.
A tutorial video on how to compare accounts on Followerwonk can be found here: https://www.youtube.com/watch?v=lrgOWWJlFq8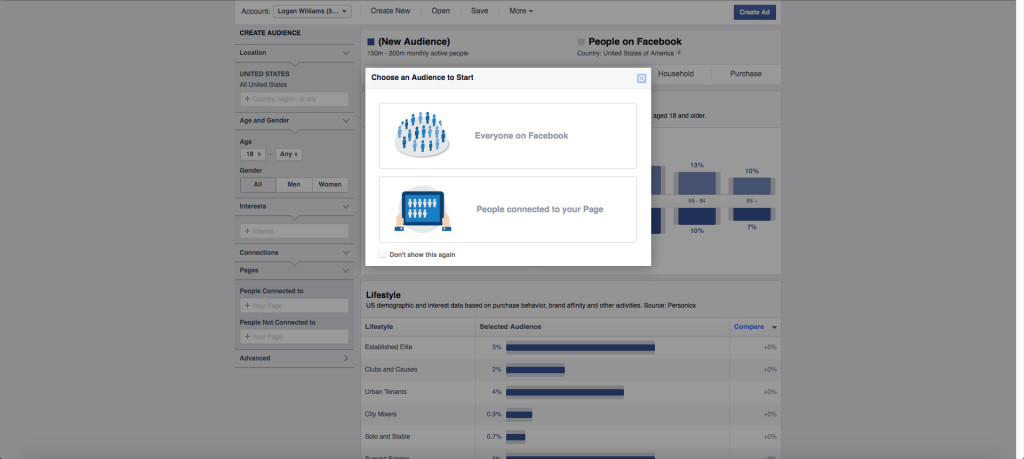 Facebook Audience Insights contains a wealth of data that can help you with your player personas, content marketing strategy and for this post, competitive research.
To use Facebook Audience Insights for competitive research, I like to start by selecting "Everyone on Facebook". Once that is finished, you can then search by interest (this can be interest groups or specific pages).
For example, if you were working on a game similar to Minecraft, you could search in the interest bar "Minecraft".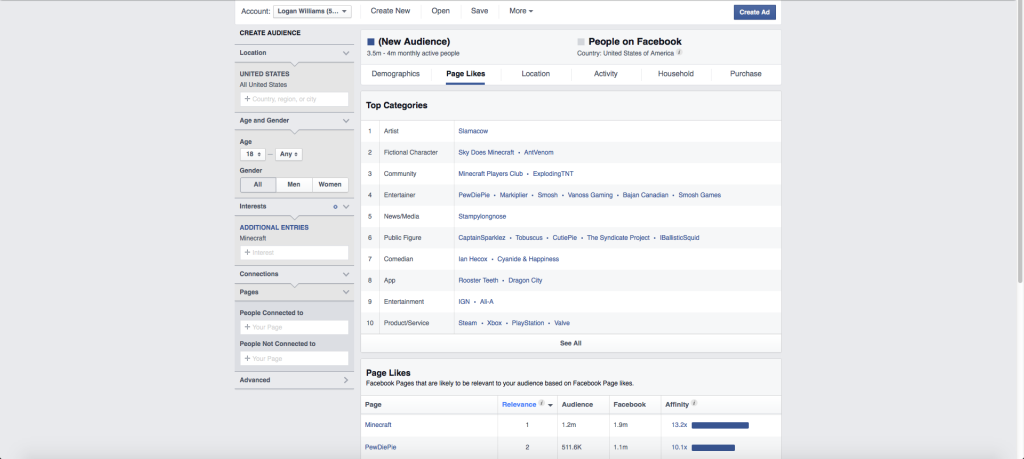 After drilling down your search parameters, you can then get some really good data. However, if you're searching for a specific page, sometimes you will be able to do so and other times you wont. For example, I can search Minecraft because that page has a huge following and a lot of data, but if I wanted to get data on Hurtworld, Facebook wont give me anything.
However, if you're able to get results from your search, you can see things like demographic and behavioral data, purchase behavior and even other pages people like. This is a great way to better understand an audience that is likely to be interested in your game (if your game is similar).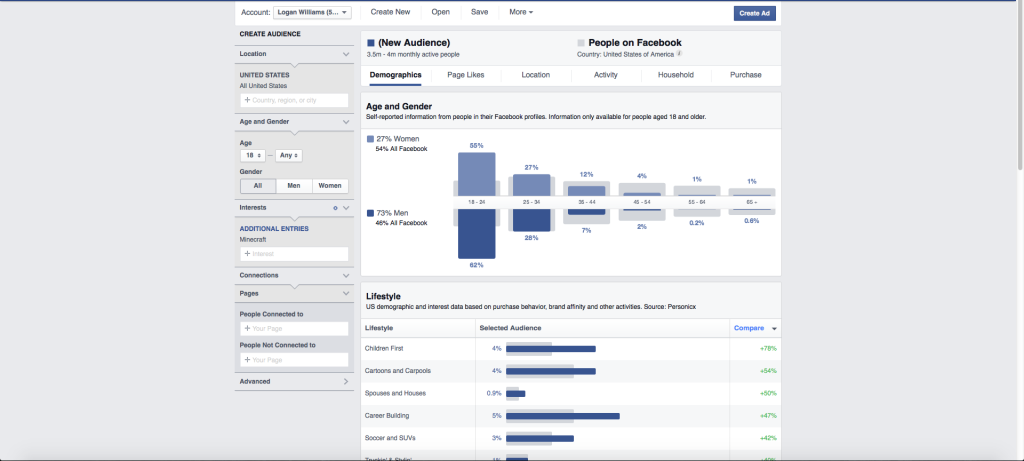 This can be helpful if you're looking for new influencers to reach out to, collaborative opportunities or even persona research. The best part about it is it's completely free (thanks Facebook)!
An excellent guide on how to better use Facebook Audience Insights can be found at http://blog.hubspot.com/marketing/facebook-audience-insights-guide" target="_blank">Hubspot.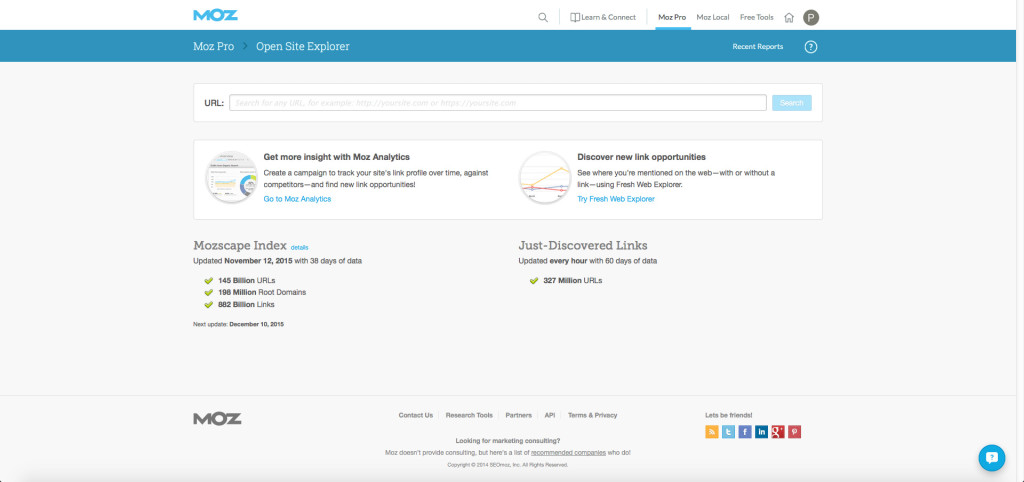 Open Site Explorer is another great tool by Moz that gives you a ton of great information. You can see the top domains that link to your competitor's website, what pages are getting the most links and much more.
Open Site Explorer is a paid tool, but you can get a good amount of data is you just signup with a free account. You can even export data to a CSV to tinker with in Excel.
Example time! If you were working on a survival game for PC, you might want to check in on a game like Rust to see what kind of content is generating the most buzz and getting the most links. To do this, simply sign into Open Site Explorer with your free account and run a search for PlayRust.com.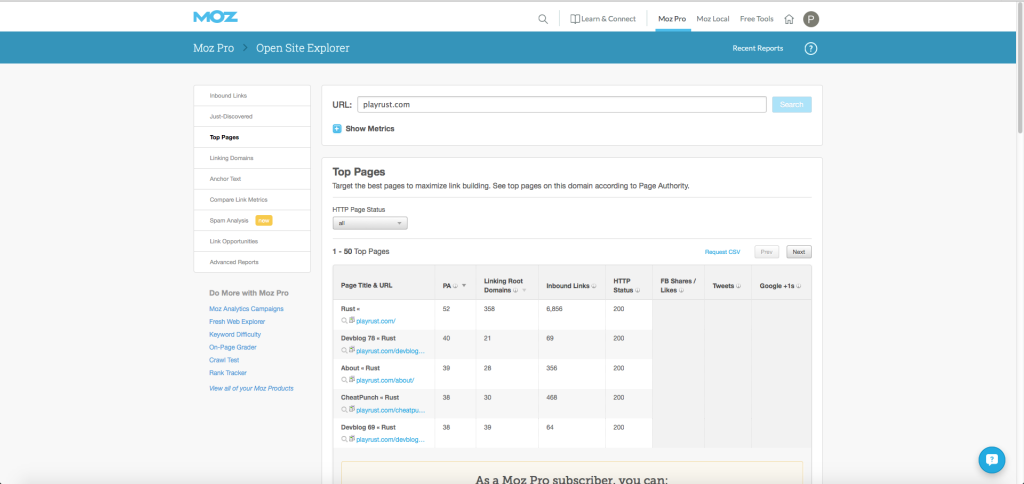 After this search, you will be presented with a general overview page that includes Page Authority, Domain Authority, Link Metrics and more. However, in this example, we are more interested in the top pages on PlayRust.com. To see this, simply click on Top Pages in the left sidebar. After you do this, you will be able to see some of the top pages on PlayRust.com by inbound links (the quantity and quality of links pointing to internal pages on the PlayRust domain).
We can take this a step further by clicking the "Request CSV" link in the top right. You will then be able to download a full report of the top pages on the PlayRust domain.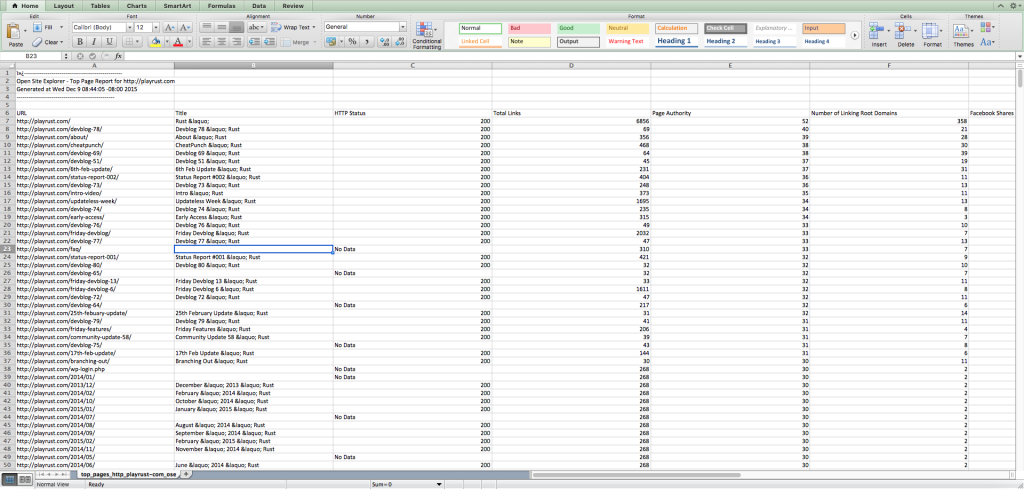 You can then check out which pages and posts are getting the most links and come up with your own content ideas and ways to communicate to players through this research.
For a complete overview of how to use Open Site Explorer, check out https://moz.com/help/guides/research-tools/open-site-explorer" target="_blank">Moz.com.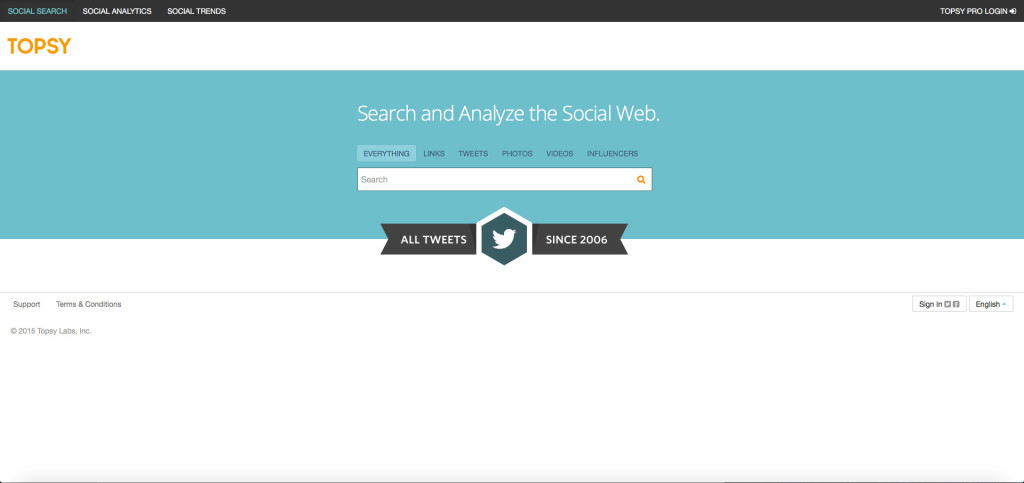 Topsy is a great tool for spying on your competitors. The site has archived every tweet sent since 2006 and they allow you to use this data starting at the low low price of free!
Another example. If you wanted to recover some of the data not provided by the free version of Open Site Explorer, you could copy and paste some of the top pages from PlayRust.com and then see who is sharing those pages on Twitter.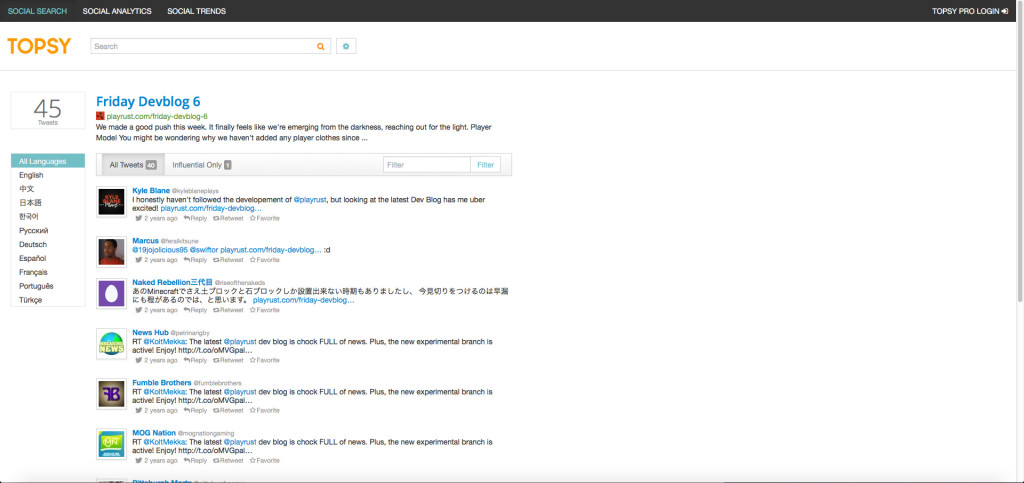 A great article on how to get the best use out of Topsy can be found here: http://www.razorsocial.com/use-topsy-social-media-marketing/
Hopefully you find some excellent use of these tools and if you know of some other great and free tools, please share them in the comment section below.