YES! Here it is folks,a GAMASUTRA anouncement about

SYNTH v1.666

www.moddb.com/games/synthtm

After a very long time, appeasing the MASTER, synth v1.666 has finally been released

FOR FREE to you. SYNTH is a 100% procedural content game, including it's uncompressed

WAVESPACE / DAMSIN MUSIC MACHINE soundtrack!

SYNTH is 100% math, and it's download currently at around 25 MEGS,

Will "generate in RAM" almost a DVD if you make it to the second level!! :)

A lot of work went into this, so if you like NEW THINGS,FOR FREE,.

CHECK IT OUT!!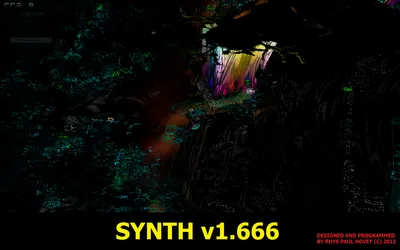 (REAL TIME PROMO SCREENSHOT)

DOWNLOAD from IBM:

https://www.ibm.com/developerworks/mydeveloperworks/blogs/rhyspaulhovey/resource/SYNTH_FREEWARE_v1_666.zip