Amidst the colourful virtual excitements of GDC, one's expectations are easily shattered; a veritable United Nations of displays, pavillions, and showcases jostle for your attention. But in the eye of the storm that was the Alt.Ctrl.GDC showcase sat an unassuming blue octopus politely waiting for a friend.
Developer Yuting Su's adorable one-eyed Octobo is something of a Teddy Ruxpin style storytelling cuddlebug that is meant to provide a cute, interactive experience for young, new readers. It continues a theme in her work of developing educational children's toys using game design techniques--she presented an interactive popup book at GDC last year.
The Octobo demo involved a small storybook with interactive components. You come to a page where you're told Octobo loves striped fish and have to choose between three fish available on the page to pluck up and put into Octobo's food dish. His eye becomes a big pink heart and cheerful music begins to play when you feed him his favourite.
Ocotbo's singing often involves varying pitches and ululations of his name, as if he were a didactic Pokemon. Among other interactive elements, you also shake his tentacle to introduce yourself and wiggle as many as you can in order to help him swim.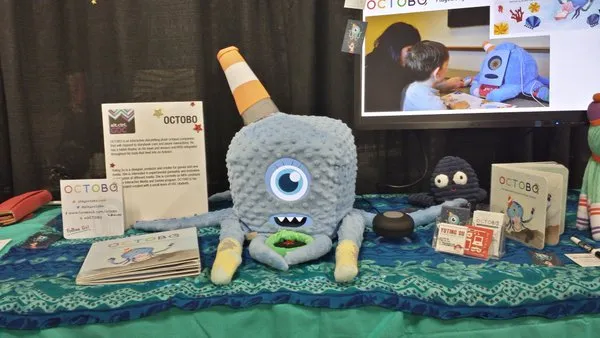 The prototype is a bit boxy owing to the need for a flat screen display of Octobo's emotions. But despite that he actually is rather fun to cuddle. (I should say, as an aside, this is what I became a gaming critic for: reviewing cuddle-ability.)
The last action of the prototype storybook involves putting Octobo to sleep, and that involves petting his head until he drifts off into dreamland. The cuddliness of Ocotbo's head bodes well for what the final version of the octopus will look like.
I was left with the impression that a swarm of octopodes would make their way into toy stores around the world. The interface is, as it stands, a delightful proof of concept and I'm eager to see what Su does next with both the Octobo platform and her creativity in general.