Game developers are still figuring out virtual reality and, as Owlchemy Labs' Andrew Eiche and Cy Wise explained, that makes now the perfect time to figure out how to design in a way that addresses accessibility issues.
During their talk "Accessibility in VR: How It Can Be Better" at the Game Developers Conference earlier today, Eiche and Wise shared lessons from their own experiences developing VR games like Job Simulator and Rick and Morty: Virtual Rick-ality and shared their own research on how accessible other virtual reality games have been so far.
When working with roomscale hand-tracked VR, they argued, it's important to recognize that the human body is a huge part of the experience. Because of that, it's very important for developers to identify how their design interfaces with bodies and which bodies have access to that experience.
The duo of Owlchemy developers said that the studio's breakout VR title Job Simulator was designed with accessibility in mind. Many tasks within the semi-sandbox game keep the player stationary and require the use of only one hand, something that opens up Job Simulator to players with mobility issues.
But even then, the team discovered unintentional accessibility barriers after release where some players had issues bending to reach items near floor level or gripping a wine bottle with one hand while uncorking it with the other.
"VR is broad and available for many people to make many types of games," said Wise. "But it's important to keep all this in mind."
Eiche and Wise shared their own research on the subject gathered from a total of 82 virtual reality games on the HTC Vive, Oculus Rift + Touch, PlayStation VR (both with Move controllers and with a solitary DualShock), and Google Daydream. For each of those games, they attempted to play sitting and standing, examined the availability of options and what they offered, gauged the reliance on audio, and recorded how much bending or reaching was required to play.
From their research, they found that most VR games, roughly 75 percent, can be played seated. Around 30 percent of games require some level of dexterity, but near 25 percent require extensive movement.
One particular trend they noticed was that many games would require two hands in a tutorial or start menu, but could be played with only one hand from there on out. They noted that this kind of exclusion is unintentional, but that careful awareness can help developers prevent alienating players of varying physical ability.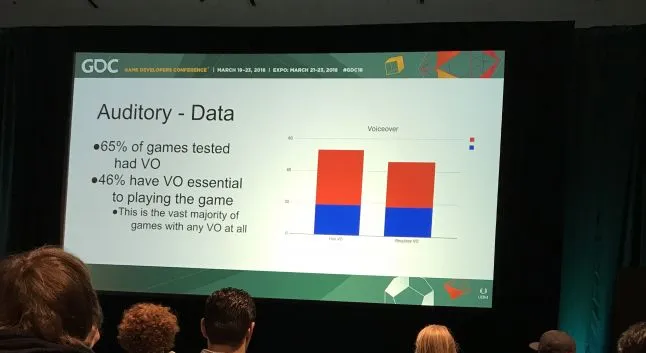 Above: Blue represents games that had options or visual VO representations, red is games with no options what-so-ever.
Auditory accessibility is another area that virtual reality games are still working on figuring out. Of the games surveyed, 65 percent had some sort of voice over but 46 percent had VO that was essential to playing the game. Very few of those titles, however, provided options like subtitles that would make the game playable for people with hearing impairments.
The pair argued that, when designing games, everything should be a deliberate decision otherwise developers risk accidentally excluding players.
But, at the end of the day, both Eiche and Wise admitted that virtual reality developers are a long way from having the solutions to accessibility issues but, along with mindful awareness, aggressive prototyping is key to building games that welcome as many people as possible.