In the wake of the video game world being rocked by a squall over a puddle it seems fitting to, instead, think about how more substantial bodies of water are being portrayed in forthcoming games.
Herman Melville's immortal words about the ocean serve as an index for these titles: "When beholding the tranquil beauty and brilliancy of the ocean's skin, one forgets the tiger heart that pants beneath it; and would not willingly remember that this velvet paw but conceals a remorseless fang."
Two offerings at PAX West stood out this year: one, the velvet paw; the other, very much a sharp fang, both innervated by that tiger's heart.
***
Beyond Blue, the undersea explorer collaboration between E-Line Media and BBC Studios, has a tranquil subtlety that matches its subject. It's a kind of sci-fi take on the British broadcaster's wildly successful Blue Planet television series, putting you in the role of a marine biologist, Mirai, as she tries to uncover a few undersea mysteries.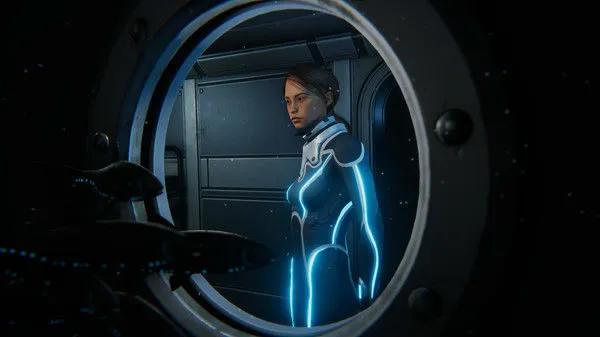 Beyond Blue, from the makers of Never Alone
"Immersive" is an overused adjective in describing video games, so it gives me great pleasure to use the word in an appropriate context at long last: Beyond Blue immerses you in a living ocean that's simply breathtaking to look at.
Every PAX demo that involves a headset offers the player a striking refuge from the awful din of the con, but this was something else again. I actually felt blessedly submerged as I tried the Beyond Blue demo. There were too-long stretches of formless rock, but when Mirai made it to some point or other where there was work to be done, the beauty of the ocean's nooks and crannies was suddenly everywhere. I learned that a "jelly forest" is a thing. That still collection of luminous jellyfish, populating a crevasse, served to remind me that there's much on this world that's as alien as anything we can imagine.
"Chasing a missing person almost feels cliche in narrative games now, as if the master plot of Gone Home haunts the genre it otherwise vivified."
Those touches of realism are where the game shines visually. The sci-fi aspect is mostly confined to a five-minutes-in-the-future setting that ensures Mirai has a very advanced swimsuit with onboard computers. You can scan creatures to learn more about them, data popping up in a beautifully rendered HUD, and minigame puzzles structure your objectives. The demo focused on Mirai swimming, restoring data-gathering buoys and and tracking down a group of sperm whales--whose steep ascent to the surface is rendered with majesty. But I was given to understand that there will be more story-heavy sections that take place on the mission ship, and sections involving Mirai piloting a submarine.
The demo ends with a cliffhanger (appropriately enough on an undersea cliff) as Mirai notices one of the baby sperm whales appears deathly ill.
For the moment it seems the game is a placid affair. A brief scare with an octopus was all the terror the demo offered. That's all to the good; a full 360-degree range of motion, with sensitive controls for exploring the beautifully realized underwater world around you, promises much.
A tranquil exploration game that tells a good story while teaching players immersively (see?) about marine biology would be a welcome addition to the canon of narrative games. So far the demo hints at more than it truly delivers, however.
***
If you look carefully, a good user interface is a game in its own right. The glass cockpit of modern airplanes, after all, offers all the information you need to fly a plane safely.
So what about a narrative game based almost entirely around a radar?
Jump Over the Age's In Other Waters does a lot with what might be any other game's minimap or map-screen, and while Beyond Blue arguably needs high res graphics to express its Blue Planet-inspired vision, In Other Waters is yet another reminder that simple visuals and lavish writing go a long way towards making a game stand out.
Yours is the perspective of a diving-suit AI, so you see the world purely through graphical interfaces and the topographical radar that scans the ocean floor. Inside the suit is a researcher named Ellery, in a desperate search for her colleague, Minae Nomura, who disappeared beneath the waves of exoplanet Gliese 677Cc after leaving a cryptic message.
In Other Waters
It's rare hard sci-fi whose density comes from speculative marine biology, but lead dev Gareth Damian Martin and his guest writers give us an ocean of possibility.
The search for Nomura leads you to discover alien life on this world--and here is Melville's remorseless fang, in the form of strange swarms, alien symbiosis, and bottomless pits of mystery illuminated by a searchlight and a sensor sweep.
When you find Nomura's empty diving-suit you know, somehow, that she's both alive and somewhere frightening.
It's the writing that ensures the game's pinhole view is cinematic in scope. Chasing a missing person almost feels cliche in narrative games now, as if the master plot of Gone Home haunts the genre it otherwise vivified. Surely another hook awaits. But I'm willing to give this one a chance as In Other Waters promises to make good use of its core conceit. Like Beyond Blue its deep dive promises scientific rigor.
There is a tonal shift in the game, managed with orchestral grace, that offers something unique: the wonder of exploring a new world and gathering data about its lifeforms, delicately laced with growing panic. One suspects that tense helix will wind its way through the whole game.
It's of a piece with other games in the stable of Fellow Traveller games, the Australian publisher formerly known as Surprise Attack, which had a bumper crop of unique, narrative-driven games on offer at PAX West. Even in the blazing company of Orwell, Neo Cab, The Church in the Darkness, Blind, and Genesis Noir, this game needn't feel ashamed.
In Other Waters' demo offers hints of a memorable science fiction story told with high definition prose, and a unique visual style that spins a small insight into both interface and expression.
And yes, it's definitely 'immersive.'