The allure of Leonardo da Vinci has been a common one in gaming in recent years. WHo can forget piloting his glider-like vehicle through the sky in that Assassin's Creed mission? But Slovakian developers Blue Brain Games decided to build an entire game around his brilliant, fanciful sketches. The House of da Vinci is a 3D puzzle adventure game for mobile devices in which the game mechanics require you to master the creations of the Renaissance master.
The game uses the 'escape room' formula. You explore various rooms, deducing what's going on while also figuring out how to move onto the next one. Where The House of da Vinci differs is its dose of historical accuracy, courtesy of the puzzles that are built around many of the inventor's actual concepts and creations. It has you playing as his apprentice, trying to solve the mystery of da Vinci's disappearance, through manipulating many objects found around his home.
The team at Blue Brain explained how they went about translating da Vinci's prescient blueprints to the touchscreen.
The importance of brainstorming
"In the beginning, we were just a small group of friends and business partners," says Martin Pavelek, CEO of Blue Brain Games. The team decided to participate in brainstorming sessions once a month to discuss past unfinished projects and work on creating new ideas.
The team's initial thinking was to use real inventions such as the work of da Vinci, but were hesitant to commit to it. "We thought that such a project would be really hard to flesh out, so we made a decision against it even though we were all fascinated by da Vinci," explains Pavelek.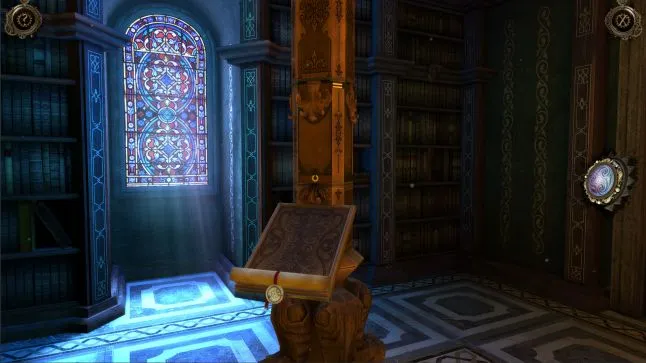 The idea stuck around, though. They kept coming back to it in their regular brainstorming sessions. "All of us were thinking about it constantly," says Pavelek. "We forgot all of our other ideas and just went for it." It proved to be a smart move.
With the glimmer of a great idea in mind, the team got to work with research. Initially, they "read books about both his life and his inventions." They watched every documentary and read every historical article they could find. Surprised by how much information they came across, Pavelek and the team felt renewed enthusiasm for the project. "Leonardo was the perfect icon for the game we set out to do," he notes. "We wanted to make a game based not only on historical reproductions of his work, but also with elements of mystery and fantasy."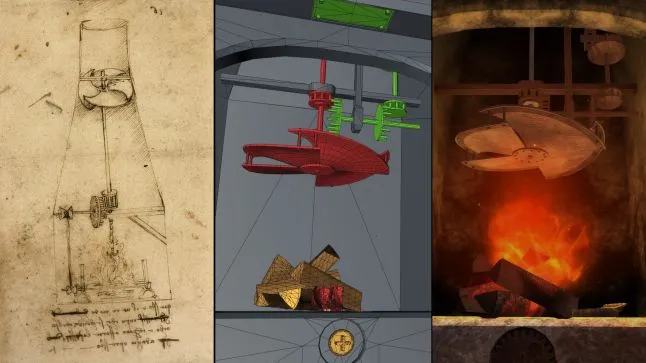 Da Vinci's sketched several propeller-powered devices,
including a flying machine. Da Vinci's other propeller invention, known as the 'airscrew',
could also be used.to turn a spit over a fireplace.
Recreating the inventions
The key to making The House of da Vinci stand out was to look at his inventions in great detail. "We had to perfectly understand their function," explained Pavelek. The team started with the original da Vinci sketches before translating them to simple models in 3D software apps. Each step of the way, the invention's animations would be checked to ensure that they reacted naturally and appropriately to any scenario. A mixture of 3ds Max, Photoshop, and Unity was used to create the desired results.
While Pavelek is keen to avoid spoiling the surprises for players, he did hint at how complex the inventions and resulting puzzles are within the game. One scenario has the player using an invention powered by hot air to lift a heavy object (see image above). It might sound simple enough but when a cannon (see image below) is also included, as well as a robotic knight, there's a neat imaginative flourish underpinning everything going on here.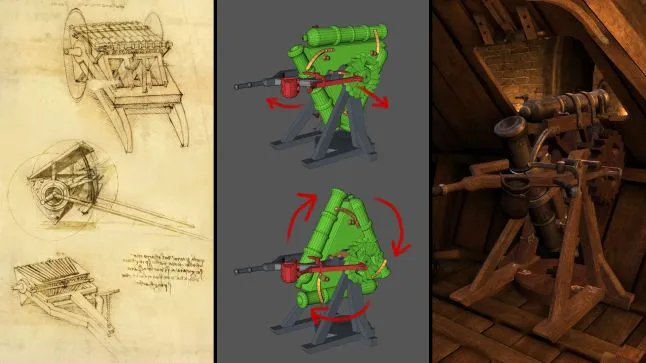 In 2011, a cannon that looked very similar to da Vinci's sketch of a triple barrel cannon
was found in Croatia. It's believed to be manufactured to his designs.
Fine tuning the tactile side
Focusing on ensuring the sounds of the puzzles were as accurate as how the mechanisms reacted, a fair amount of effort has been put into ensuring this is a complex and immersive experience. Each movement offers a satisfying 'clank' or 'thud' as one manipulates the devices. Twisting a door knob or lifting a lid from a pot 'feels' realistic and accurate.
The team's only regrets, Pavelek notes, is their inability to cram every single one of da Vinci's creations in. "We worked on quite a lot of inventions and mechanisms, which we ended up not including," he explained while also acknowledging, "maybe their time will come in the future."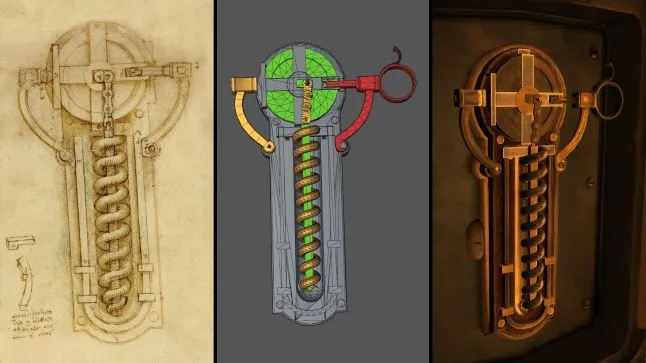 Many suggest that da Vinci was responsible for the invention of the wheellock (or flint)
with his designs corresponding to the timings of the creation of the first wheellock in about 1500.
Researching da Vinci has had a substantial effect on Blue Brain Games. The motto that the company has adopted came from the man: "I have offended God and mankind because my work didn't reach the quality it should have."