One of my biggest gripes with the Assassin's Creed series is that the story insists on pulling me out of the franchise's vast, detailed worlds. I'm the type of player that wants to spend more time scrambling across the slate rooftops of Paris and less time worrying about whatever scheme is being cooked up in some painfully drab, 21st century office.
That's a testament to the work that goes into building the rich historical sandboxes that play host to the franchise's signature gameplay. So, as the next installment in Ubisoft's ever-bankable series, Assassin's Creed: Syndicate, prepares to swap the chaos and upheaval of the French Revolution era for the thick smog of Victorian London, I couldn't help but wonder how the studio decides where to take players next.
Is there a grand narrative that needs to be taken into account, or is it as cut and dried as simply asking, "Where haven't we been yet?"
Choosing an era
"The final choice boils down to what most excites all the people involved from a gameplay and location point of view, while allowing a good continuation to the Meta-storyline," says Jonathan Dumont, Assassin Creed Syndicate's world director.
"World design in my opinion, is giving an immersive playground to promote exploration, discovery and player-driven narrative"
"A Victorian London setting was really pulling us in, because the era offered a lot of new gameplay possibilities due to the rapid industrialization."
London in the year 1886 was the focal point of the era's cultural advancement and social change. During the 19th century, the capital of the British Empire became the world's largest city. Populations soared, radical ideas like Darwin's Theory of Evolution began to take hold, and innovations like a sewage system, underground railways, and the establishment of the Metropolitan Police created city life as we understand it today.
Doing your homework
Spurred on by the thought of recreating such an interesting epoch, Dumont and his team set about dissecting and meticulously reconstructing the past. "Gathering as much information as possible is definitively the first step when tackling such a huge task," he says. They had one leg up on the teams that worked on previous installments of Assassin's Creed. "We were pretty lucky since photography existed by then, so we had a rich bank of real footage and photos close to our time period."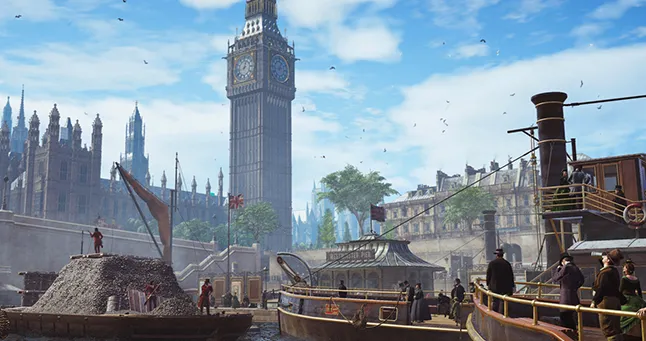 "We also read a lot of books about life in Victorian London," he adds. "We wanted to know everything, from what people ate to how many families lived under one roof in poorer boroughs to how bad the Thames River smelled in the summer months."
They also delved into historical records. "We found precise information on landmarks, parks, social-economic repartition throughout the boroughs, street layouts, slum location. There was a ton of interesting data."
Dumont and Assassin's Creed: Syndicate art director, Thierry Dansereau, also set out with cameras to capture the "essence and texture" of London first hand. After walking over 40 miles and taking over 4000 pictures in the space of a week, the intrepid duo managed to get a pretty good impression of the place.
"I was really taken by surprise by the beauty shots that can be found in London, it's a much more cinematographic city than I had expected," says Dumont. "For example, the peacefulness of St-James Park, right in the middle of the city, couldn't be felt from looking at reference material."
Playing with the facts
Of course, while historical accuracy is important to Dumont, ultimately, he believes that his goal is to "create the best player experience possible." Sometimes, that means tweaking the locales - rewriting history, if you will - to better serve the player.
"World design in my opinion, is giving an immersive playground to promote exploration, discovery and player-driven narrative. When building such a playground, I try to do three things: create a believable world that stimulates the player's curiosity and engagement, give players as many systemic gameplay opportunities as possible, and set a great aesthetical backbone for mission and storyline."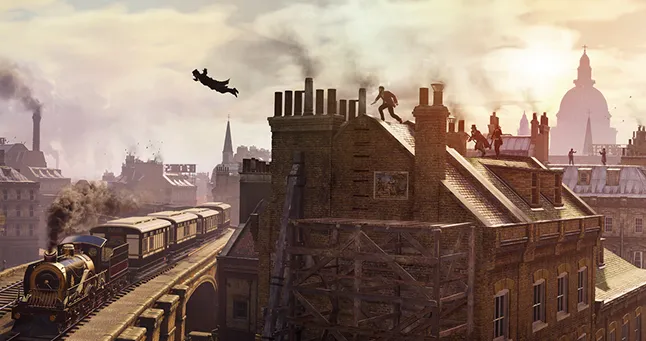 The game does a lot of streamlining of the city. "For example, while landmarks like the clock tower, St-James Park, Trafalgar Square, Lambeth Palace and Waterloo Station are all pretty much in the right position geographically, but we played with, and mostly shrunk, distances in between them to allow for better navigation flow. We also kept certain architectural styles in certain boroughs to get as much contrast as possible."
Some of the bigger facts were sacrosanct. "Obviously, the Thames' elbow shape, was a must and landmarks had to be placed at the right location in relation to the river."
And despite Dumont's insistence that player experience, not hyper-realism, is the team's priority, there are rare occasions when one ends up necessitating the other.
"You know what's funny? While it's all about making a great playable experience, some of our gameplay choices have actually made the game more realistic," he says. For example, they wanted to incorporate driveable horse carriages to have a faster pace and offer new gameplay possibilities, but to make that happen they needed to create real streets with sidewalks to separate traffic from pedestrians.
"The result is that we have a realistic and organized crowd system, since they walk on the sidewalks and wait at corners to cross the street," says Dumont. "The driving feature actually helped create and structure a more realistic London."