This interview is part of our Road to the IGF series. You can find the rest by clicking here.
A frog ballet dancer takes her first hesitant steps alongside the player in Un Pas Fragile. Through a series of vignettes with different play styles and characters, players will follow her on her journey to learn a new talent and deal with the problems in her life.
Un Pas Fragile looks to marry story and gameplay, taking scenes from Camille's life and considering how they could be shaped into gameplay. In this, the developers sought to bring the player into the game, acting as Camille's tutor and aid, watching her grow as a person and a dancer.
This delightful dance between story and gameplay earned Un Pas Fragile a nomination for Best Student Game from the Independent Games Festival. To learn more about creating this bonding experience between player and character, Gamasutra spoke with Géraud de Courrèges of PAF team, hearing his thoughts on having the player help a character improve their lives, sharing in her story and triumphs through a game he described as " a slow-mo WarioWare that tells a story."
What's your background in making games?
The three of us, Alisée Preud'homme (animations), Grégory Parisi (backgrounds), and me (Géraud de Courrèges, game design) come from a French public school named ENJMIN. That's where we met and created Un Pas Fragile. Alisée and Gregory have rather artistic backgrounds, both having studied art for several years. For my part, I spent three years in a game design school and one year in art school. Then, I worked one and a half years as a game designer before going back to school to study UX design at ENJMIN.
Apart from studies and work, Alisée and I often work together on short games, mostly for game jams. Gregory is always doing dope concept art for secret projects he's working on.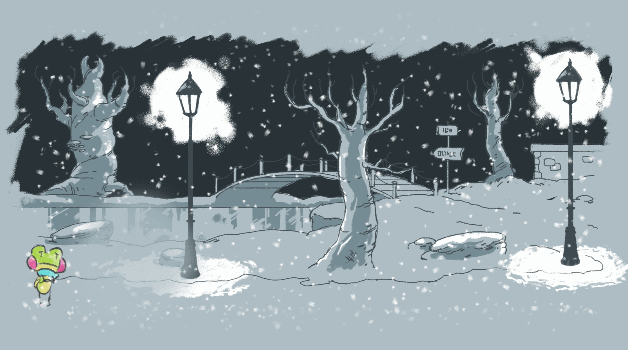 How did you come up with the concept?
Since I've been making games, I've mostly tried to center my ideas around one or two original, mostly arcade-style mechanics. This time, I wanted to try new things. I wanted to see if I could tell a more personal story. Doing it using little vignettes was a good way to surprise the player and keep them attentive, as was trying to express subtle things through different gameplay styles. I believe that the first time I presented the pitch for Un Pas Fragile, I described it as a slow-mo WarioWare that tells a story.
What thoughts went into creating each of the short vignettes that tell the story of Un Pas Fragile? What did you want the player to take away from each scene? What did you want them to feel?
We thought a lot about what scenes could be part of Camille's (the frog) everyday life and what interactions could come with these scenes. It was really important for us that these interactions were diverse and that some of them hid small implicit choices. Also, we wanted to create a link between Camille and the player in order to let the player feels like a mentor who would be there to push her forward.
We also tried to show that, despite the player's help, it is sometimes impossible to avoid difficult moments. In the last scene, we tried to make clear that Camille had grown enough confidence to emancipate herself from the player, and that's why she start to dance by herself.
Each scene uses different kinds of interactivity, from toybox-like areas to points where players must help with ballet lessons. Why have so many different interactions with the story and characters? What did you feel it added to the player's connection to the story and characters?
We wanted Un Pas Fragile to be a game as much as a story. That's why we paced the vignettes with different interactions in order to surprise the player and keep them interested. We also wanted the player to stop and wonder about certain interactions, to ask themself what would be the impact of their actions on the world of Camille. In the end, these interactions and their results allow players to learn more about the different people who inhabit the world of Camille.
You use repetition of similar scenes with slight changes at many points. How do you feel this connects the player with the frog's journey to improve her life and become a ballet dancer?
At the beginning of the game, the player and Camille discover the dance exercises at the same time. Repeating these exercises helps to expose both the player's and Camille's progress. With these advances, Camille acquires a greater confidence in herself - a confidence that is shown by a change of attitude when certain scenes repeat. By repeating some of the scenes, we also leave time to better understand the other characters in the game, and to sometimes correct mistakes.
What development tools were used to build your game?
For the graphics, everything was done with Photoshop. For game design and production management, we mainly used Google Drive. As I'm not a programmer, I used Construct 2 with which I do all my 2D games. I think it would have been difficult to make so many scenes in such a short amount of time with a more complex engine. Our main tool was still our brains, but we unfortunately lost them in the operation.
How much time have you spent working on the game?
We had two and a half months to deliver the game, from start to finish. We spent one month on the game design and story. During this time, Alisée and Grégory drew a lot to define the art direction (we finally found it during a one week jam). Then, we crunched like never before to produce the game. It was hard since we had a lot to do and Gregory was also working on another game (Chronobot) at the time. Gaspard (sound designer) helped us during the entire process, especially at the end when he created a good chunk of Un Pas Fragile's sounds.
In the end, we spend roughly one month on design research and one and a half month on the actual production.
Have you played any of the other IGF finalists? Any games you've particularly enjoyed?
Yes, we played Inside and really liked the amazing pace and mood of this game. We also played Overcooked, which is one of our favourite co-op games of 2016 (like everyone who played it, I guess). Finally, I played a few hours of Hyper Light Drifter but never found the time to finish it. I absolutely love Samurai Gunn and was, again, really impressed by the fight system Beau Blyth manage to put in place.
In 2017, I hope I'll find time to play Event[0] (they came from the same school as us) and Gonner. I'd love to put my hands on Mu Cartographer as well. I'm always impressed with the work of Titouan and it's collective Klondike (yeah, French people !)
What do you think are the biggest hurdles (and opportunities) for indie devs today?
As a player, it has never been easier to find such a wide range of experiences, and it's great! As a developer, now that game are easier to make (and I'm thankful for that), it seems really hard to get noticed. Like many others, I wish I could live doing nothing but creating the (hopefully cool) games I have in my head, but I think it's important to grew a community first. That's why I'm really active on social media, and part of the reason why I do game analysis on Youtube. Meanwhile, I work at Ubisoft as a user researcher (cool job !) and continue to release free games on the web.