Vancouver-based indie studio Klei Entertainment could be forgiven for feeling a twinge of deja vu this year as it prepares to take its Early Access turn-based tactical stealth game Invisible, Inc. (née Incognita) to the 2015 Independent Games Festival at GDC next month.
The game is nominated for both the Excellence in Design award and the Seumas McNally Grand Prize, the exact same IGF awards for which Klei's darkly comedic survival game Don't Starve were nominated last year.
It's rare to see a developer earn the same IGF award nominations in consecutive years, and remarkable that Klei managed to do so with games that are so remarkably different in tone.
As part of our ongoing Road to the IGF series of interviews with IGF award-nominated developers, we caught up with Klei's Jason Dreger and James Lantz to find out what inspired the design of Invisible, Inc., how the studio shifts between such radically different projects, and the practical challenges that come with tackling your first turn-based isometric tactical game.
What's your background in making games?
Jason: I made hobby games at home until I decided to change my career and went to a game design school (Vancouver Film School). My hobby projects that made the light of day were Aliens: The board game, Kanji Dungeon and The Unofficial Space Alert Turn Processor. After the design school I interviewed at Klei for a level design position and have been here since. I was a level designer for Shank 2 and Mark of the Ninja, and now I work with James to design Invisible Inc.
James: Born into a household that was obsessed with games and game design, I've been playing and making games for a long time. I started by mostly making board games, and then expanded into indie videogames once I had some basic programming knowledge. I've made several independent social games, a small roguelike called Mercury and now work at Klei with Jason on Invisible Inc.
What development tools did you use to build Invisible, Inc.?
Jason: We are using a heavily modified version of the MOAI game engine, so it's mostly lua coding for us designers. The artists draw in Flash and a custom exporter sets up their art files for use in MOAI.
So how much time have you spent working on the game, all told?
Jason: It's been about 2 years for me now. There was a longer than usual pre-production as we tried several angles for the game. Many of us at Klei are interested the the design of card games such as Magic the Gathering, so one of the earlier attempts was a card game style. But our love of isometric tactics game won over.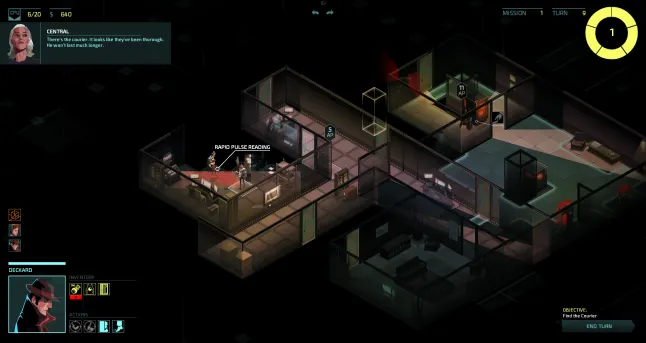 James: I came on the project a few months after it had started, so over a year and a half.
Let's go back to pre-production for a second; how did you come up with this concept?
Jason: Jamie, one of the founders of Klei, had fond memories of the original Syndicate. Once we got locked on to doing it as an isometric tactics game, our vision of creating a sneaky spy experience eventually pushed out the combat mechanics we had making it much more focused on stealth. Our work on Mark of the Ninja also influenced the design some. The two games have some crossover.
Invisible seems like a significant shift for Klei, both in terms of design (turn-based tactical strategy) and theme (cyberpunk thriller). What practical development challenges has that presented, and how did you overcome them?
Jason: The artists at Klei are really good at switching styles, so the challenges of the theme were minimal on the art side. The isometric gameplay brought up a lot of issues we hadn't dealt with before.
The animators wanted to produce their usual smooth animation, but because we stuck to 2D iso art, there was a lot of animation needed for each action. We needed to balance between fully animating everything and using tricks that would still get what the animators wanted.
For example, we ignored characters' handedness. As the characters rotate, items in their hand will switch from right to left. It's a little odd if you think about it, but no one has complained about it yet and it cut animation time by about 30 percent.
Have you played any of the other IGF finalists? Any games you've particularly enjoyed?
James: Yes, so many fantastic games are up there. I love 80 Days and Desert Golfing, and am excited to play Talos Principle soon and see Memory of a Broken Dimension when it becomes public.
I think my favorite has to be Killer Queen though, which is a fantastic mix of old-school arcade sensibilities and new-school multiplayer competition.