When I wrote about the Australian videogame industry last year, one thing that stood out to me was how many Aussie games strove to erase all trace of their origins. As I noted, "it was't easy to find a game about Australian life--or even one that used the country as a backdrop. Even the traffic drives on the right, rather than the left, in Crossy Road." This is a shame for a country with a setting that still carries an exotic allure to many foreigners, to say nothing of its rich and acrimonious political culture, which heaves with countless interesting stories.
At PAX East, however, I finally got my hands on two forthcoming games that buck the overall trend. Paperbark and Necrobarista both, in very different ways, seek to be proudly Australian and do so in a way that shows the world that an Australian setting isn't only appealing to a narrow, regional interest.
Paperbark
The watercolor aesthetics of this game are not only profoundly beautiful in their own right, but an homage to a generation of children's books that many Australians grew up with. You're a fuzzy little wombat going about its day in an unnamed Victorian national forest. You find yourself ambling around and finding food to eat, exploring the bush and learning about every facet of wombat life in a storybook-like fashion where information unfolds on screen in curt but elegantly simple sentences.
The experience, best enjoyed on an iPad, sees you swipe your finger to both direct your wombat and paint in more of the world as you go, the colors rippling out from your fingertip. I got the sense that this was meant to be a very soothing game, but that effect was profoundly spoiled by the jet engine din of PAX East's expo hall. Even so, as I played the demo and then flipped through the children's books that inspired it, I definitely felt myself transported to that simple picture book world.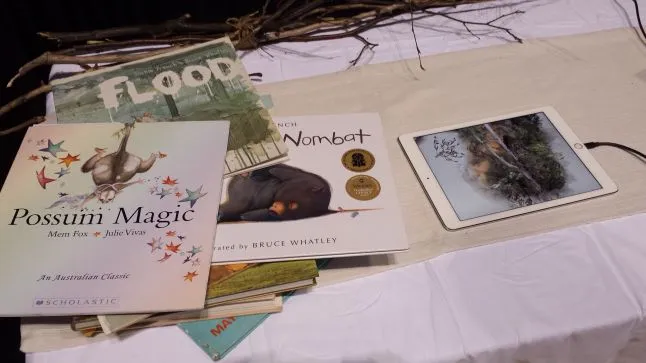 There is an underappreciated art to children's book writing, often falsely thought of as a dead easy job. To engage a child's sense of wonder while speaking to them in a way they can understand requires you to lay gently sloping stairs before the young reader. You meet them where they are but then gently bring them up towards a new point of understanding, one careful step at a time. Creating this is deceptively difficult. After all, I remember when each page of a children's book was a universe I could lose myself in, absorbing every tiny detail of the art, agonizing over the pronunciation of new and difficult words, a track I could remix into my own silly new stories. A videogame can capture this perfectly, I realized.
Paperbark is taking its educational mission seriously. The game has a children's author as its lead writer (their name is a secret for the time being) and its clearly-talented artist, Nina Bennett, is also a consulting biologist. Every creature and plant in the game, I was proudly told, is real and reflects the actual native life of southeastern Australia. You discover birds, plants, and other animals as you explore, and each produces a kind of codex entry for future reference. It'd be easy to see this in a kindergarten or early primary school setting as an aid in a biology class. But more than even that, this is a game whose beauty lay in its honesty; its gorgeousness is authentic, rather than fibbing through picture-postcard, tourist-friendly aesthetics. It lets the wild speak for itself.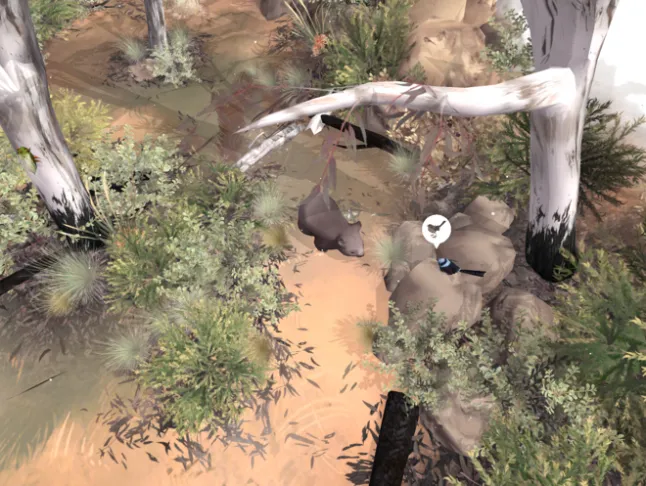 This is the sort of inoffensive but proud little game that even Australia's notoriously conservative federal government might feel safe holding up as a showpiece.
Necrobarista
Route 59's Necrobarista, by contrast, is the sort of game that comes from the kind of Australia that makes the old guard in Canberra itchy and nervous. If Paperbark evokes the seemingly apolitical ranges and wilds of the Australian bush, Necrobarista is a conjuring of the beating, punkish heart of Melbourne at night.
But what both games have in common is being an utter delight for the senses. Necrobarista's sensibility stunned me dead when I saw it in motion, seamlessly blending the cinematic elements of cutscenes with the interaction we expect from a game; more than that, there's a flourish of anime that's used to stunning effect. Japanese animation's uniquely visual sense of drama and emotion was a clear influence here.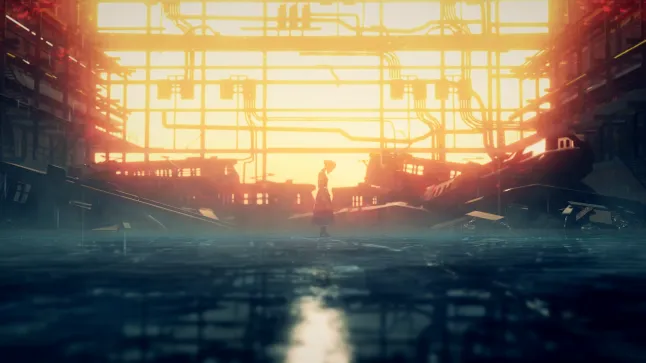 The game is set in "a supernatural cafe where the living come to mingle with the dead," in a mysterious post-industrial space known as the Terminal. Like a wall bridging the steel cavern is a pile of disused Z-class trams, that most distinctive landmark of Melbourne city streets.
I could only play a brief prologue where the main characters have an amusing back and forth about the Terminal's power going out, but the vision of artist Ngoc Vu felt so mature and well-defined in its seamlessness with the gameplay that I forgot that this was a pre-alpha. The deft use of color, shot framing, and sound to convey mood also felt perfectly polished.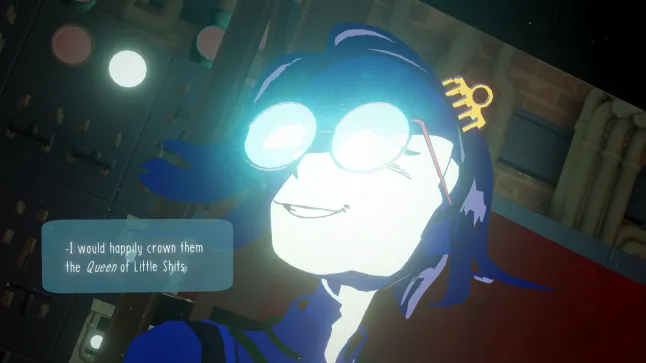 The game is billed as a visual novel, and it certainly pushes the boundaries of that medium as well; programmed in Unity rather than RenPy, this is a fully 3D experience where light and shadow have important supporting roles in the story. Dialogue bubbles pop beside each character as they talk, and you select "tags" from highlighted words in certain dialogues. You can hold up to three tags at once, and they shape the narrative choices you get at the end of a scene. At least in the demo I played, you can rewind and fast forward to pick different tags and at the end of the scene, you're given three options for what to see next, with brief descriptions. Sadly, this was where my demo ended.
But the sense of mood and presence was apparent, and my interest was decidedly tickled. If there's one unique thing this game seems to be doing rather well, it's blurring the line between cutscenes and gameplay. The rewind button at the top is always available, so a scene is never off-limits once you've experienced it, and you have to click through each step of the scene. This may sound tedious, but it actually allowed me to savor some visual moments. The game never paused at a moment that wasn't expressive, that didn't demand you stop and look. Who knew a simple click could do so much?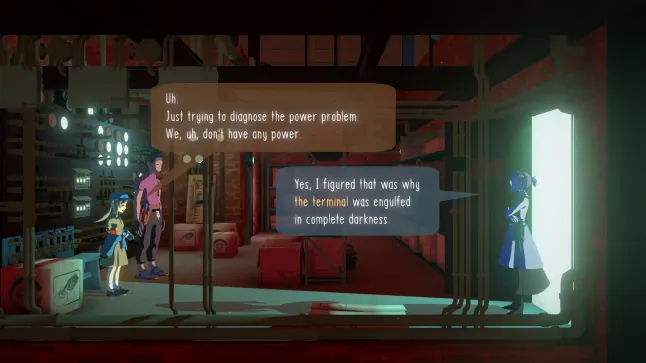 Maddy, the titular necromancer/barista, intrigues with beautifully animated magic and her cutting attitude--the kind of world-weary you can only be at 23 in a thrumming global city. I was left wanting to know more about her, her tram-terminal cafe, the fact that she can seemingly bend time, and the little tidbit I was told about how she serves recently departed spirits one last drink before they cross over.
If Maddy is to be a conduit for the personality of her world--Melbourne in the neon dark and just to one side--she's doing a good job so far.
I feel quite safe saying that Necrobarista is the single Australian game I'm most looking forward to in 2017.
Katherine Cross is a Ph.D student in sociology who researches anti-social behavior online, and a gaming critic whose work has appeared in numerous publications.