"One of the issues with action games is how to make something that can be enjoyed by all skill levels, from beginners to more advanced players. One way is to add an 'Easy Mode,' but I think the best method is when the player can adjust the difficulty himself while playing."
- Shigeru Miyamoto, on action game design
In 1990, Super Mario World was released for the Super Famicom, or Super NES, in Japan. And a newly translated interview included in the game's official strategy guide sheds some light not just into that game's design process, but the team's design thinking.
At that point in time, games were simpler; around 10 people worked on Super Mario World, by Miyamoto's estimation, and according to him size constraints on the game were even tighter than Super Mario Bros. 3 for the NES.
Even so, he and the team thought hard how to expand the world of Mario -- not just in terms of making a bigger game, but fundamentally considering its progression and play style:
"For awhile now, I've been wanting to make a game that isn't simply about reaching the end of the level -- a game where even after you beat the level, you still want to come back again and explore and experience more of. For that, making the levels easier is a pre-requisite," Miyamoto continued.
The key to that, in Super Mario World, was the inclusion of blocks that would fill in if the player could locate the right switch: "If a player activates all the switches, the game becomes much easier," Miyamoto observed.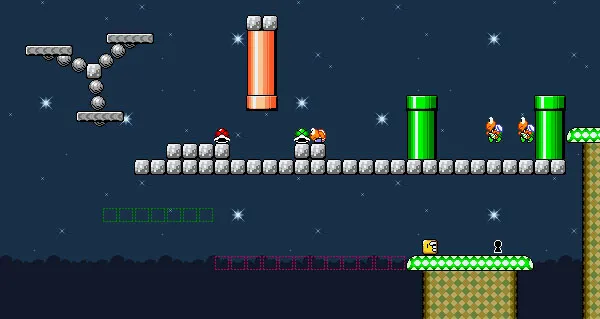 Super Mario World's switch blocks - An extract of a map taken from Mario Mayhem
The team experimented with the new Super NES hardware by porting Super Mario Bros. 3 to it, as an internal test -- but that "made me realize that we couldn't just make the same game again: we had to create something new," Miyamoto said.
However, that observation led to an important insight for the team: "... just because we found something cool the hardware could do, something that made us go 'whoa!' -- if it ruined the balance or flow of the game, we didn't want to include it."
In an era of consoles (and phones) with vast computing power, it's a precept worth keeping in mind.
As for the full interview, you can read it over at Shmuplations.