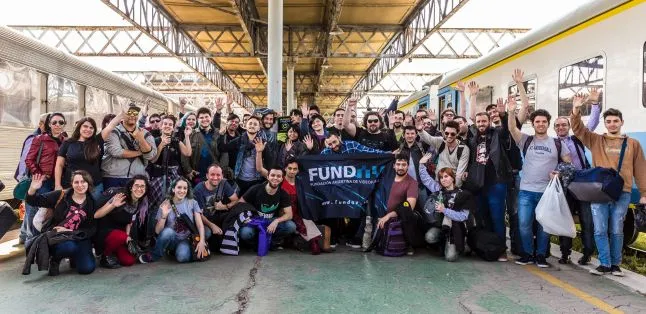 Who doesn't love a good Jam? The wonderful experience of getting together with a bunch of friends (or strangers) and making a game, start to finish, in a short amount of time. It's an exciting exercise!
But it's not a competitive exercise, where you try to find out who makes the best game. It is, for all intents and purposes, a marathon, and everyone is competing with oneself. A perfect excuse to buckle down, to take chances and make mistakes, to try that weird idea you're not quite sure will work. An opportunity to scream out with your entire body.
In that sense, who doesn't love the Train Jam? Every year, before GDC (Game Developers Conference), a train sets out from Chicago loaded to the brim with developers. You have to find a team and make a game before you reach San Francisco, in 50 hours, which is no easy task. But, on the way, you'll live adventures and meet loads of new people, even make friends!
So folks all around the globe dream of being a part of it, even when making it to the States is a bit of a reach for some folks in the first place. But that's when argentinian Blas Ingiulla had a stunning idea: we have trains, we have developers, why not make our own?
On September 1st, 2017, the first edition of Argentina Train Jam took place. From Buenos Aires to Cordoba, 40 experienced developers made games for 20 hours, start to finish. It was organized by FundAV (the Argentinian Videogame Foundation), Image Campus and Trenes Argentinos.
Inspiration comes from the Train Jam in America, of course. But, instead of heading for GDC, the destination was EVA Cordoba (the Argentinian Videogame Expo, in Cordoba).
You can watch what happened here:
Here are some of the games that came from that Argentina Train Jam:
- Trash Ships
- Bondi Wars
- Galaxy Jam Truck
- The Long Goodbye
- ArcaTren
- Cinema Express
- Railway Madness
- ShuShu Sholdier
- Run Fingers Run
I think part of the idea is not getting too caught up in your own head. You can spend all of your life trying to go to GDC and end up missing what was around you the whole time. Make the most out of what's at hand, always.