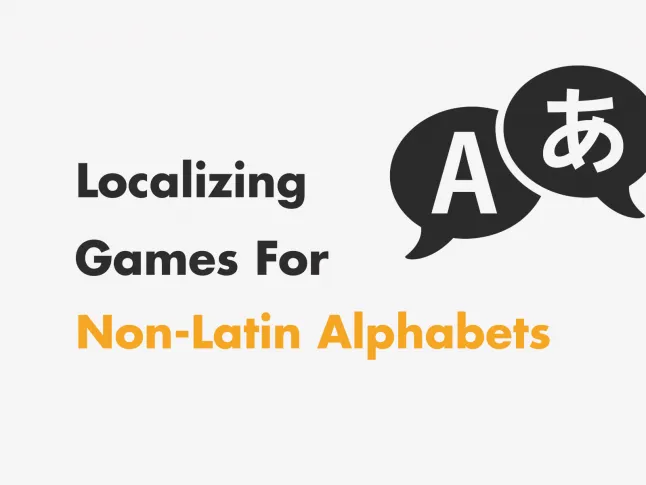 This article was originally published on Level Up Translation's blog
When localizing between two languages that use the same alphabet, worrying about fonts is more of a game development issue than a localization issue.
But if you are developing a game in a language based on a Latin alphabet, like English, it's important to note that some of the world's biggest video game audiences don't use our alphabet—like China, for example.
Depending on the language, some alphabets contain thousands of symbols, unlike our 26-letter alphabet, so it can definitely be a challenge to translate your indie game! Even the modern Russian alphabet, for example, uses 33 letters from the Cyrillic script, which means seven extra symbols to account for.
Here, we've gathered some tips to help you out in your localization efforts, as well as a list of resources to help you find fonts in a variety of alphabets and languages!
Article outline
1 - Tips to ensure smooth localization in non-Latin alphabets
2 - Resources for non-Latin fonts
1 - Tips to ensure smooth localization in non-Latin alphabets
Research traditional displays
Before you embed your new font into your game engine, make sure you know how that particular language is traditionally displayed.
For example, does it read from left to right? Or right to left? And does it read vertically rather than horizontally?
Based on this, make sure you include different versions of scrolling text. Never assume that the way text is consumed is the same everywhere.
Localize in-game design elements (with caution)
Some cultures prefer to see in-game elements that they can relate to. For example, Korean players prefer playing games in their own language and like to see Korean culture references when they play.
But this isn't the case for every culture, so do your research before spending a chunk of your localization budget on this. Some regions may have sensitive topics as well, so do your research.
To further reduce the cost of localizing in-game elements, consider using pictograms instead! Pictograms can convey universal concepts to a wider audience without needing to be localized.
Be aware of period and regional dialects
Just like the English language, other languages have different dialects based on the region and the time period in which your game is set.
This can also influence the look and feel of a font. You wouldn't use the same dialect and font style in a medieval game and a science-fiction game if it were in English, would you?
If you're not sure of how your font's style is coming across in another language, consult with a native reader and ask their opinion.
Leave space in your UI
English is a simple language that gets to the point pretty fast. Most other alphabets take up more space.
For example, Cyrillic languages like Russian take about 20–30 percent more space than English to say something similar.
With this in mind, make sure your UI can adapt to this change without looking broken.
Prepare your script for voice-over work
If your game includes voice-over, don't just hand over translated files to your actors! Have a professional localization team prepare the script, since they will be aware of the way specific alphabets communicate certain details in your script.
For example, in the Arabic alphabet, using tashkil—also known as pronunciation marks—is vital if you want your voice actors to pronounce your texts correctly. That's because Arabic includes many words that are spelled the same, but have different meanings and pronunciations.
Your voice actor won't know how to read your text if you skip this step.
Additionally, make sure to add notes about the length of each line. If your original VO is five seconds long, and it takes 12 seconds to say the same thing in Russian, for example, you're gonna have a problem.
2 - Resources for non-Latin fonts
More and more resources for great fonts in every alphabet are popping up every year. Here are some of the best we've found.
Adobe and Google partnered to create this free, open-source font family. It covers over 65,000 glyphs for simplified Chinese, traditional Chinese, Japanese, and Korean. You can also find this font family as Source Han Sans in the Adobe Typekit.
Apart from Noto Sans CJK, Google has a wide array of free fonts!They have 107 font families in Cyrillic, 75 in Cyrillic Extended, 21 in Arabic, and many others such as Greek and Hebrew.Not only are they all free, but their search tool is easy to use and you can even change the font size as you browse.
This is another popular font resource that's free and open to commercial use.
However, Font Squirrel's search feature is a bit trickier to use than Google's, so you might need to dig for gold on this site.
For example, they have a nice variety of Cyrillic fonts, but if you type Cyrillic in the search bar, you're not going to get them, since the search is based on the font family's name only.
Their blog does mention that they are working to improve this, so don't give up on this resource just yet!
Urban Fonts houses both free and premium fonts. You can search for fonts based on the type, such as Arabic, Asian, Celtic, Calligraphy, and more. Or, you can choose to go by style, such as Comic, Funky, Modern, or even Scary.
Some fonts are trial versions of a commercial use font and cannot be used commercially unless you purchase a license. This is great because you can try before you buy, but make sure you review all the files that come with a font before sticking with it.
This one is similar to Urban Fonts and contains both free and premium fonts. You can search by theme, such as Fancy, Gothic, and Holiday, or use the search bar.
However, this website also offers tools, like font managers, that you can buy in the Tools section. They also have a forum if you want to ask about a specific font or need help integrating a font into your game.
Fonts can be 100 percent free, free for personal use only, or have commercial licenses, so—as with Urban Fonts—always check the files for detailed info on how you can use your chosen font.
A final word on localizing games for non-Latin alphabets
With the perfect font and the proper research, you'll make localization much easier for your team. Of course, as with any localization, always include context notes. Translating word for word is not only impossible in some languages, but also unwise if you want a high-quality localization.
Need help localizing to languages using a non-Latin alphabet? Get in touch to discuss your project with us!
---
Like what you just read?
Check our blog for more game localization best practices and tips.
Need localization for your game?
We're professional game translators with years of XP! Get in touch :)