Supergiant Games, makers of the critically acclaimed Transistor and Bastion, debuted its new game Pyre at this year's PAX East.
The game is a big change for the indie developer, moving away from the isometric gameplay of its previous entires for a kind of fantasy rugby game that sees players taking control of a band of exiles instead of venturing out as a sole hero.
Combat isn't even really "combat." It's two teams of three competing in a series of mystical rituals, seeking victory by dunking a mystical orb into the other player's goal line. In between these matches, players move from location to location across a world map in a fashion more akin to Oregon Trail or The Banner Saga.
To learn more about those big shifts, we caught up with creative director Greg Kasavin about the design process Supergiant Games uses to build their unique games, and what kind of obstacles they look out for before ever so much as announcing that their game exists.
No design documents, no master plans
Pyre, says Kasavin, didn't begin in some kind of document or pitch, it was a concept Supergiant arrived at by rooting around in the darkness, being "touchy feely" and looking for common ideas to build their next game around. "Here, we were interested in what happens when you face defeat, and have to come back from it the next day, look your friends in the face, look yourself in the mirror, and deal with the consequences of the decisions you made."
For building this into a single-player game, Kasavin says they needed to tackle how games generally handle failure.
He says since failure usually just triggers a reset of some kind, they began looking for reasons to grapple with failure as an ordinary part of gameplay.
"We're interested in being a competitive environment where defeat is okay, and you just have to deal with it."
And as Supergiant built toward executing ideas, they found one large pre-existing game concept ready and waiting for them---that of making their combat a kind of sport. "Sports are sort of like a simulation of combat," says Kasavin. "Instead of a bunch of people dying, it's one team winning or another team losing, so we like the nonviolent nature of that, where the part it's nonviolent means the people who lose actually live to deal with the consequences."
Taking the show on the road
Pyre's appearance at PAX East wasn't the only travelling act for Supergiant Games---within Pyre itself, the company needed to build a new means for players to traverse this fantasy world. Pyre solves this problem by having players choose their destination on a world map, negotiating fuel reserves and timing to get from location to location.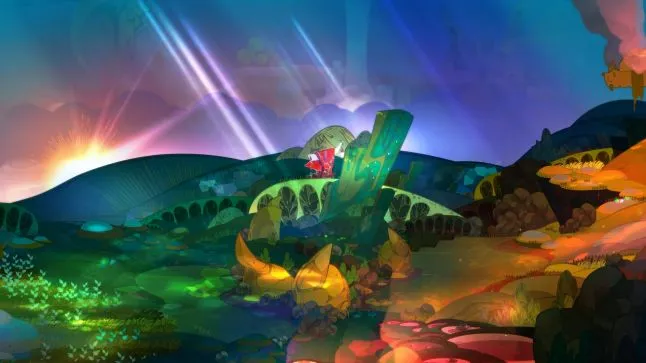 Of course, this still left a large opportunity for Supergiant to fill in some narrative gaps in that space, so rather then enhancing the conflict, the player's travels become a place for weird encounters and resource gathering to occur, as Kasavin explains.
"The world map isn't an action-oriented experience, it's about the experiences you have and the decisions you make. "We liked the flow of that and the contrast it created with matches."
Supergiant's focus on prototyping helped here too, helped them yank the idea in from a vague concept to a realized demo. Where you choose to go may aid or impede your path, and how you choose to spend the night before moving on can affect your resources, your relationships with your fellow travellers, and your party's power levels. "A lot of it was finding the right kind of ratio of the overworld gameplay to the match gameplay, and just a lot of time trying to get that to where it felt really good to us," Kasavin says.
The obstacles to building a new fantasy sport
But in this "touchy-feely" process, Kasavin says there are some major obstacles Supergiant has to look out for in playtesting. "One of these is negative confusion," he says. "I qualify it as negative, because we like to trade in confusion a little bit. In our previous games...we're okay with players being a bit uncomfortable in what they do or don't know, as long as they're engaged."
"If they get totally baffled, and don't want to know what's going on, and they don't care, sometimes you get to a point where you shut down mentally. If people fail to grasp the mechanics on which we think the game is built, that's a huge problem we have to solve for immediately."
The second roadblock Kasavin describes is a specific lack of engagement---something that comes less obvious then that dramatic shutdown. "That comes back to, is the experience varied enough? Is it motivated? Do players feel like they know what they're doing and want to do it? Is it coming from a natural place for people as opposed to 'the game says you're doing this, therefore you're doing this.'"
This is a roadblock Kasavin says is most frequently solved through constant and external playtesting---but it's still one that requires extra attention to keep an eye for any interaction that alienates players.
"It's a tough process," Kasavin says. "We rip out a lot of our hair out along the way, but eventually get it to a point where we have a bunch of people bang on it [at PAX] and see what happens."
Supergiant's game about a game constantly attracted new players during its tenure at PAX this weekend, and continued to show the benefits of the studio's approach to more organic design and development. It may be a massive risk, but going touchy feely may be part of what lights the fire to get players excited for something mystical yet unfamiliar.