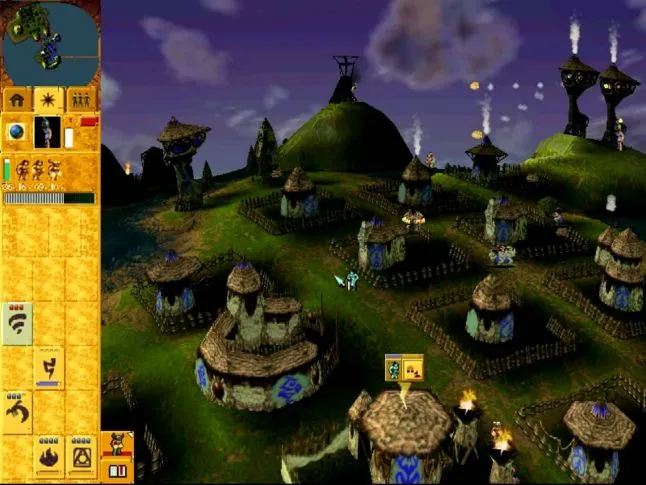 How does one program God?
Yikes, religion on the internet!
No, silly. I'm talking about god games, simulators that give you power over a world space or the creatures and elements within it, typically on a massive scale. It could include such features as mass terraforming, devastating 'miracles' that can be seen as good or bad depending on the target, development of said powers from simple to overwhelming, and maybe even helping supplicants and acolytes grow to the top of the pack.
"A Mighty God Was He (or She)..."
I have very fond memories of Populous: The Beginning, one of the first god games I ever enjoyed. You start off with a shaman, the head honcho of the tribe through which miracles and spells are cast, and you wander the solar system gathering followers to increase your power and influence. If people won't join you (as they follow other gods and their shaman can unleash the same powers as you can), it's up to you to convert or destroy them. No peaceful coexistence in this universe. Your powers in this game ranged from summoning hordes of stinging insects to directing tornadoes to incinerating entire villages in fiery volcanoes. I'll never forget that at the end of the game, you finally have enough power as a god to do the spell casting yourself without a range limit, and the resulting destruction of your enemies is incredibly satisfying.
You know, I never understood how the 'swamp' spell meant instant death to anyone who walked through it. Invisible crocodiles? Fast-acting trench-foot? Psh, I dunno, but man, it made for an effective deterrent.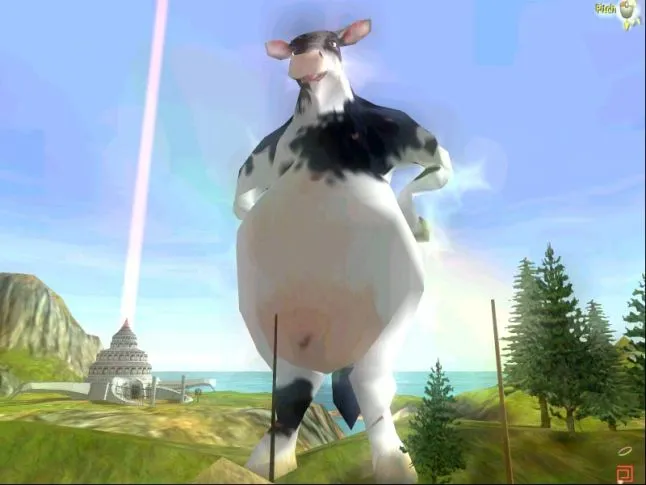 I then played a game later in my childhood called Black and White, a game made by one of my favorite now-defunct studios, Lionhead Studios. Admittedly, I really couldn't get into this game. At all. Why in the world would an all-powerful god put so much time and effort into training a giant creature who, for all intents and purposes, does nothing but annoy your villagers, cause property damage, and poop everywhere? I'm sure they can be trained to not do that, as I have seen insisted on many a website touting the game as a masterpiece. I never got very far in the game because I couldn't figure out what to do with the leashes and my creature would inevitably go off and cause trouble, getting itself killed in the process (despite me nailing its super-extendo-leash to a tree near my village).
Interesting that this game is yet to make a debut on GOG.com or anywhere digitally. Sad day. (Not that I would buy it again. I distinctly remember having terrible troubles with it on my first PC… A trend that future Lionhead Studios games would follow.)
So What Changed?
So, getting both good and bad as a kid, why do I believe that god games like Populous still haven't tapped an incredibly deep well of potential?
It's because of how broad of a subject 'god games' have become these days.
If you search on Steam under the tag 'god games', you're going to see a lot of different types of games, from RTS (like War for the Overworld) to sandbox games (Like Universe Sandbox) and even casual pixel games (like The Sandbox). Spore and its expansions are on this list, and while I could make a joke about a 'god game' featuring evolution, I'll skip it. They even have the gall to put in the glorified screensaver that is Mountain, and the philosophical Everything. Games that I would consider to truly be 'god games' (complete with the spiritual and mystical aspect, the miracles, and the followers) are often not well received, with the good ones showing up few and far between (good examples are Reus and From Dust, the latter being an excellent albeit short game despite belonging to Ubisoft and their superfluous Uplay system). I don't like this broad idea that if the game gives you complete control over your own little population or worldspace, it's automatically a 'god game'. If so, that makes Civilization or Endless Space 2 'god games'. It makes Planetary Annihilation a 'god game'. It makes The Sims a 'god game'.
These aren't 'god games'. Strategy, maybe, but not 'god games'.
A Simulated Example
This doesn't mean 'god games' have to always be large-scale fire-and-brimstone destruction-fests. Let's shrink the concept of the all-powerful 'god game' instead to illustrate my point.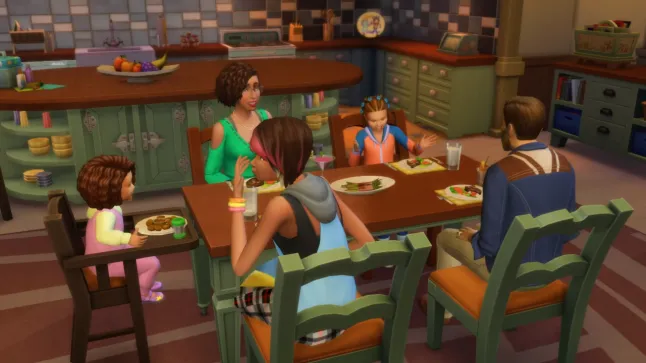 Imagine if The Sims were still all about the home-building and decorating, but you had no control over your sims in the slightest. What if they lived their own lives based on a list of their likes and dislikes, developed relationships with other sims all by themselves, and developed their skills without any input from you? Sounds boring? (As boring as Mountain? I digress.) Well, what if, as some malevolent or benevolent spirit or 'god', you could become the sim's conscience? What if you could 'train' your sims to take a unique path through their lives, being the angel (or devil) on their shoulder as they live day-to-day?
What if they could ignore you if you gave them a command that didn't match their 'code of ethics'? This could be for good or evil, as simple as influencing a child sim to disobey their parents or as complicated as attempting to persuade a burglar sim to give back his hard-earned loot. What if, through your subtle influence, you earned enough 'god points' to start influencing your sims in more supernatural ways, such as through dreams, through strange 'coincidences'… or perhaps through frightening 'bumps' in the night? These could give major bonuses towards future life goals, and grant convictions, changes of habit, or even phobias. What if your sim came into a choice that happened because of your influence that could change their course forever, maybe even other sims' life courses, and they didn't have the 'attributes' necessary to make the 'correct' choice, for good or ill?
What if you could drive your sim to become a shining beacon of humanity? Or drive them into an insane asylum after hearing self-destructive voices?
Okay, maybe only I'm intrigued by this new Sims game. Maybe this sounds too similar to the actual game. Maybe it would give a programmer an aneurysm. But you have to admit, it's an interesting idea that giving the player less control over their subjects can simultaneously give them more in terms of results variation. This could lead to the possibility of more replayability because of unexpected and entertaining results. This isn't even talking about actual religious doctrine, although I suppose it could be seen that way. I see it as more of a balance between total player control (which is fun for a moment but doesn't last long) and a complete uncontrollable game of chance (which is fun until you don't win). And it's all about maintaining the fun factor.
A Line of Separation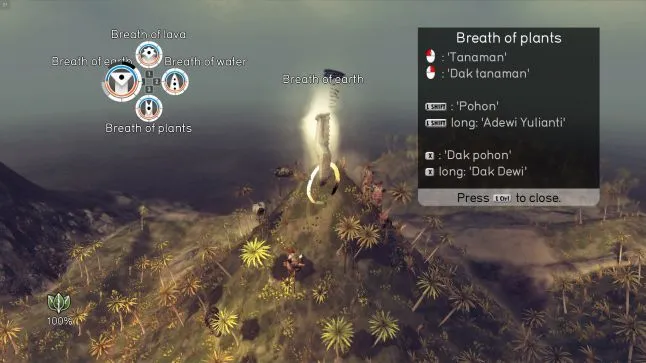 In my opinion, 'god games' put a fine line of separation between the player and his subjects. In Populous, if you lose your shaman, you couldn't cast miracles until she respawned. In From Dust, you don't have a mystical 'hand of god' to save your subjects from floods of water and fire; you can issue simple commands, but you have to bend the elements to protect your followers and wait for them to brave the treacherous wilds themselves to reach relics and settlement beacons which strengthen your miracles. I think this is where Black and White went wrong for me: it put one too many lines in between the player and the population in the form of an annoying giant mascot. A good 'god game' will balance the influence the player has with the characters onscreen, not too separated that the player feels like they have absolutely no control, but enough that it doesn't become 'The Sims' where the player can control everything. You can 'simulate' being a god, but not every strategy game is a 'god game'.
Does that shrink the genre into obscurity? Maybe it does. But I think people want a 'god game' with this philosophy in mind, one with some element of choice and ethical dilemmas, but one with a fine line of separation that makes the game rewarding and challenging. Breaking my own rules, you can see how excited audiences were for the very recent release of Frostpunk, a game where you have to make life-or-death decisions for a population living in a steampunk arctic hell. I'm surprised that isn't a 'god game' according to Steam.
And yeah, I'm going to say it: maybe someday we'll get a god game that isn't hyped to the high heavens by Peter Molyneux. *cough* Godus. *cough* Spore. *cough* *sneeze violently*
I want to see another really good god game like Populous appear again. A more complex From Dust with enemy tribes, maybe. A few of the other games under the 'god games' tag in Steam look intriguing enough to make me want to take a look. Until then, if my own point of view on the subject convinces a daring developer to, well, develop the idea further, excellent. If not, I'll take any suggestions on how I can change my viewpoint on the genre, as I now feel disappointed in my own narrow definition and preference.
Visit Chains and Tales for video game reviews and more discussion!