Even a pyrrhic victory can be sweet. My city was in ruins, most of the fleeing civilians were crushed beneath it, but the giant turtle monster was, at last, defeated thanks to a lone soldier--my last one--who kamikazed into the beast, lopping off its last 6 HP.
It was my first go at playing The Massive vs. The Masses, a hex-based asymmetrical strategy game for two players where one takes on the role of a titanic lizard monster--Gamorzilla--and the other controls civilians and military units in Tokyo. The game, by designer Jake Alley, is a true diamond in the rough; a gem nearly lost amid the Mammonite horde of GenCon. I played it in the hour before the convention hall closed on the final day, a fitting coda to what had been a very busy weekend for me as one of the convention's Industry Insiders. But the unalloyed nerdy fun of this game, with artwork inspired by countless classic monster movie posters and adverts was a simple pleasure that reminded me why I came in the first place.
Well, not quite so simple. I played as Tokyo, meaning I controlled over a dozen units. Each turn allows me to move them all at once, which requires a methodical approach to making sure you don't forget one or move a piece twice. Godzilla-Turtle only has to worry about one piece: itself.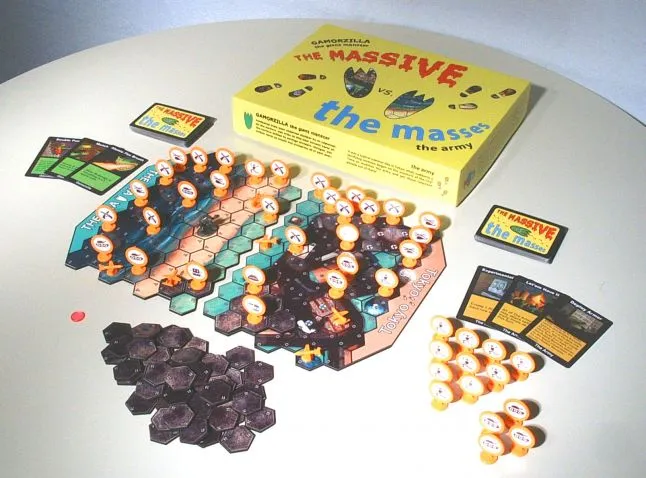 But despite the vastly disparate play styles, the game actually feels quite balanced. Tokyo's objective is to whittle down the Monster's 100 HP. A tank can lop off 3, an infantry only 1, but it adds up with multiple units and various possible combat bonuses from the cards you draw each turn. You also have a scientist who, in true monster movie fashion, can spot weaknesses (via the cards you draw) the army can then exploit. The Monster, meanwhile, wins when it stomps the life out of each of your ten civilian citizen units.
As gameplay goes on, life becomes desperate. As Tokyo, you can draw one card for each civilian you have on the board, reducing your hand size each time one dies. You must discard any extra cards you have that are over the limit as well. Your options become more and more limited as the Monster inevitably stomps its way about, destroying the barracks and airport that spawn your military units. Before long, you probably don't have that many more pieces to push than Turtlezilla.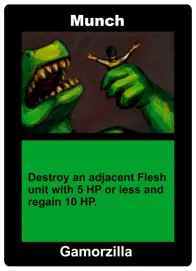 I had the pleasure of playing them game with Alley and it was a delightfully close-run thing; I had one civilian left and he had the 6HP. Had I not drawn the kamikaze card, which allowed me to sacrifice my sole remaining infantry to do 5HP damage plus its usual 1, I might've finally lost. The game seems to excel at these moments of tension, giving a ludic touch to cinematic drama. I almost imagined the film in my head: amidst epic devastation and hope all but lost, one soldier straps a bomb to herself and makes the ultimate sacrifice to save the day.
The board itself is beautiful, a glossy wood stock that Alley joked had been accidentally used as a cutting board by a friend of his, who'd left the thing no worse for the wear. The cards, with lovely painted artwork by Susan Richardson, evoke posters storyboard art from 1960s Japanese cinema, and Gamorzilla is a beautiful die-cast affair, complementing well-designed rules that feel complex at first but neatly click into place after a few moves. It really is a shame MvM hasn't gotten more play or been widely noticed, frankly--proof, as if it were needed, that quality is no predictor of success. One can't even find an online store, sadly.
MvM is a labor of love that should be shared. As I helped Alley put the game away, I had the sudden feeling that we all need a little Turtlezilla in our lives sometimes.
Katherine Cross is a Ph.D student in sociology who researches anti-social behavior online, and a gaming critic whose work has appeared in numerous publications.