Players and reviewers alike have been impressed by Danish developer PlayDead's atmospheric puzzle-platform adventure title Inside.
The long-awaited followup to their wildly successful puzzle platformer Limbo has been catching the attention of developers as well, many of whom speak of being bowled over by the elegance of the game. A common reaction is that it boldly places enormous faith in the player.
Among them is Bill Gardner, a designer on the Bioshock franchise who's now creative director at The Deep End Games. "It shows an amazing amount of restraint and confidence in its own craft," he says. "It is completely unafraid to not only let the player figure things out, but also has the guts to leave players to figure out what questions they're even supposed to be asking."
We gathered comments and insights from several devs. Then we carefully stripped away all but the most general and superficial spoilers, so you can read on without fear of having the game ruined for you.
SILENCE SPEAKS
"The narration done by Inside is really special for me," says Timothee Mathon, concept artist at Redlock Studio. "It was really reminiscent of other atmospheric games such as Journey or Monument Valley."
Inside, like Limbo, unfolds without dialogue. "There is not a single word to tell us what happened," says Mathon. "Instead, the environment and our playthrough are giving us clues. It's up to the player to try to understand the situation and the backstory."
"Confidence permeates the entire experience," says Gardner. "It puts as much trust in players as it does in how well-tuned the puzzles are."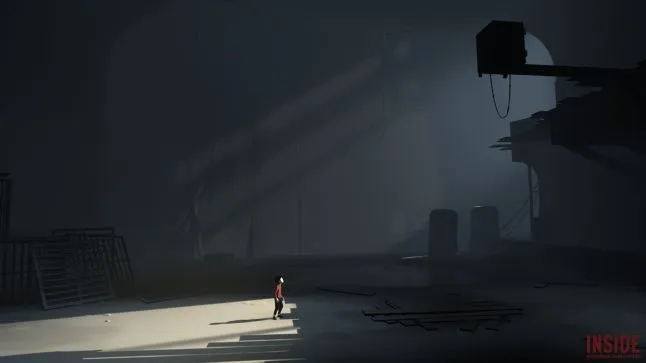 This has the added beauty of opening the game up to interpretation. Playdead create several narratives from the player's own experiences with the game. "It's a very efficient choice because everyone will interpret things differently and see what they need/want to see without being wrong." says Mathon.
A BRILLIANTLY STRAIGHTFORWARD AESTHETIC
"As I ran through each room, I felt that every step was painstakingly crafted to make sure my experience was hitting precisely the note Playdead intended," says Gardner. "There is mastery in level design here that I have not seen in years in a puzzler or platformer."
Many developers find surprising richness in the game's minimalist, near-monochromatic art style.
"A lot of games 'juice up' overtly," says James Cox, developer of Bottle Rockets and many more games. "Bright flashy things, loud bubbly sounds. Inside is deceptively juicy. The way the title silently fades away into play. The small grunts from husks and air rustling through leaves. How your character balances when on a log, reaches up for ledges, looks at movable objects. Inside isn't hyper-stimulatingly boiling over."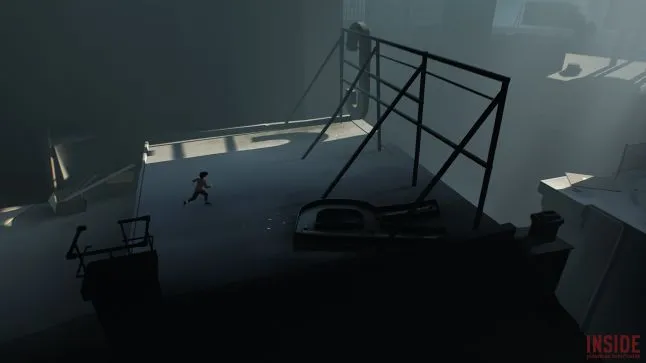 "For me, as a graphic designer, it's very difficult to achieve simplicity," says Piotr Ruszkowski of OhNoo Studio. "I always feel trapped in details and I can't stop adding more and more on my backgrounds. I aspire to have the same sort of moderation of details that Inside does perfectly."
EVEN THE MENUS ARE COMPELLING
Inside constantly goes for subtlety. Even from the game's opening menus, it keeps game details in the background. "The game's title transitions straight into play," says Cox. "The scene select fades directly into the scene it depicts: what you see is what you get. More so, the menus are kept exceedingly small and simple, and the game avoids any unnecessary components. It does so much with so little."
Cox also raves about the audio of the menus. "The menu screen has different click noises depending on if you're scrolling or if you click something," he says. "It's a hard tactile sound that fits the game's diegetic feel. The scene selection screen has its own click. And when you click 'resume,' it doesn't play any sound, just straight back into play."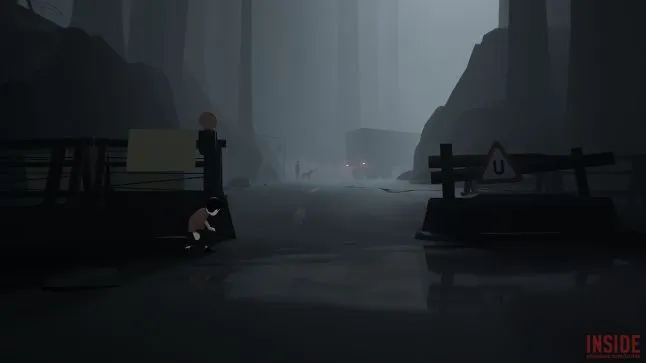 "It's so simple and works so well," he insists. "It may sound obvious--I'm just describing a game menu! But there's a very fine line between elegant (a menu that doesn't take away from play and keeps your focus), and appearing lazy. Playdead designed all these supporting elements to supplement the game."
UNRELENTING TENSION
"Inside is the most traumatic game experience I've had," says Mathon. "But that's exactly why I find it incredible. The game is the perfect compilation of all of my deepest fears -- being lost, silence, body mutilation, deep water... syringes. After just 30 minutes, I was already wondering if I would be able to finish it."
"As for the fear factor, the game is doing terrific job with all sorts of dreadful situations -- especially dogs," says Ruszkowski.
As in Limbo, the main character is a child. And Playdead again risks upsetting sensitive players by putting that child in dangerous situations, where mistakes means a brutal death and respawn. "Every time I lost, I felt really shocked by how the character was killed," says Mathon. "We're not used to seeing children die in games, and some deaths made me incredibly uncomfortable."

"The best tension in the game stemmed from narrative build ups," says Cox. "The most memorable one for me was when you're gathering up things, collecting things, and you know that the loud banging is coming from the next area. You're just preparing... waiting. Take a deep breath. Here we go."
"While Inside is not a horror game, it surpasses many horror games in the core elements of tension building," says Gardner. He cites how players are slowly introduced to one specific (extremely unpleasant) creature. "It's perfectly teased. From the moment it flutters past the camera, you know there's something wicked lying in wait. You feel completely naked for the next twenty minutes, imagination running wild and dread building."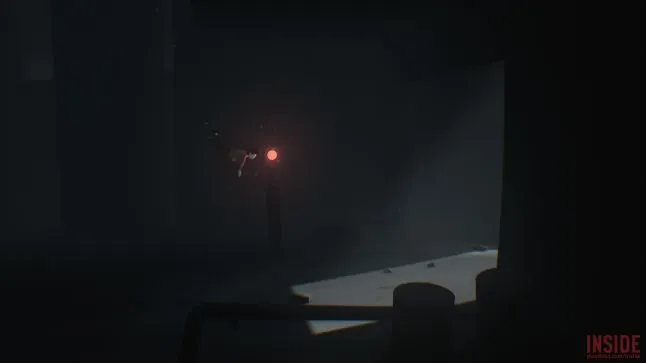 "When you finally do come face-to-face with the creature, you are both terrified and curious," adds Gardner. "Your instinct isn't simply to run...there's something beautiful about it. You feel an irresistible urge to study it."
"As a developer, I would be pleased to have created just a handful of epic 'near-misses,' where you narrowly escape certain doom over and over again," says Gardner. "Those can stick with gamers long after the put down the controller. Amazingly, Inside seems to effortlessly create these perfectly tuned heroic moments. Every jump felt critical, and was often shadowed by something horrible nipping at my heels."