When designing the titanic space station that upcoming game Prey takes place on, Arkane Studios knew that they wanted more than just a set of levels for the player to shoot their way through. They wanted the Talos 1 to feel almost like an ecosystem: interconnected, enormous and — until recently — fully functional.
[***MILD SPOILERS FOLLOW***]
In pursuit of this, lead designer Ricardo Bare and his team looked outside of what might have been accepted wisdom for designing a sci-fi environment. The perfect model for their space station, says Bare, were the dungeons of Arx Fatalis, a fantasy game Arkane produced in 2002.
"We wanted to have one big mega-dungeon, but in space, with lots of immersive, simulation-based systems," says Bare. A space station filled with aliens, they concluded, would be the perfect science fiction equivalent: mysterious chambers, secret passageways, and dangerous foes around every corner.
Prey is set in an alternate universe, one in which John F. Kennedy survived assassination by Lee Harvey Oswald. "It's not the only event that's different in our alternate history; there are other things too, but that's the epicenter," says Bare. "As writers and designers, we use it as the impetus for advanced space technology." In the fiction of Prey, the threat to his life is a catalyzing event for Kennedy, leading him to triple down on the technology being developed for the space race between the USA and the USSR.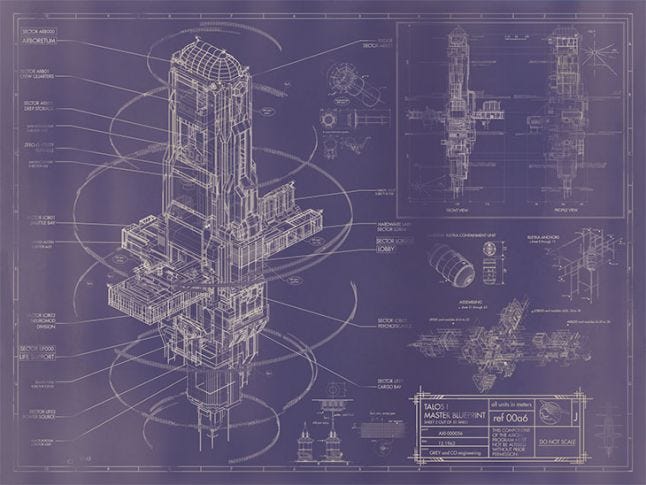 According to Bare, this keystone of Prey's alternate history was also a central source of inspiration for the artists working on the design of Talos 1. The aesthetic of the station is formed by hotels in the 60s and 70s that a world leader like Kennedy would've spent a lot of time in. "That neo-deco look that they had informs our art," he says.
Exploring Talos 1 gives a clear sense of an accelerated space program, including a trend towards privatization that happened decades earlier than in our reality. "We read a lot about how private industry is making huge strides in space technology, where that used to be all government. Talos 1 is not a government facility, and it's not a military venture," notes Bare. "If Elon Musk had the money to make a space station, or if Google did, it would be like that."
In particular, the opulence of TranStar, the corporate owner of the space station, is evident everywhere in Arkane's outer space mega-dungeon. Luxury materials like wood and leather, shipped all the way from earth at incalculable expense, appear throughout the more corporate sections of the station.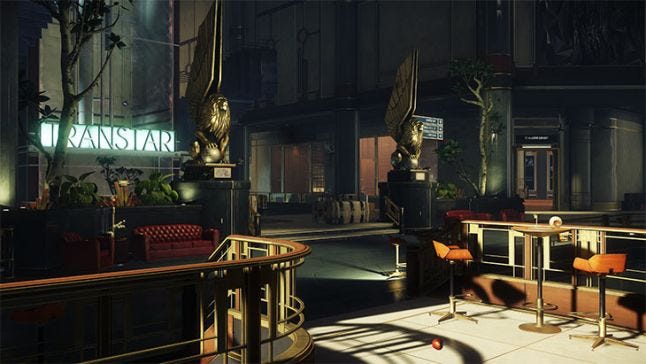 But there's another layer of backstory to the space station that's reflected in its physical design.
[***REITERATED SPOILER WARNING***]
The corporation TranStar is only the most recent occupant of the Talos 1. Originally, the space station was built as a prison for the Typhon, an alien species on the losing end of a war with the US and the USSR. The deeper into Talos 1 the player ventures, the more the level designers worked in homages to the brutalist, utilitarian architecture that would right look at home in the Eastern Bloc.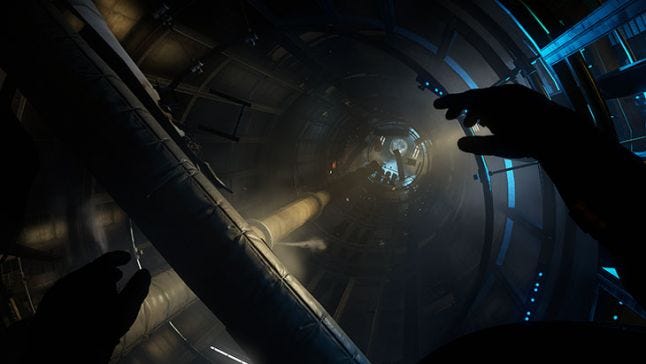 The backstory of Prey's setting was even helpful in determining directions for the mechanics of what is, at least on the surface, a shooter. "Because the space station is a research facility, a corporate research facility, we deliberately did not include things like machine guns and bazookas," Bare says.
While there are shotguns and pistols from the on-station security team, they weren't outfitted with military hardware, so there are no BFGs to be found. "Most of the tools have a prototype aesthetic," he adds. "They're not productized yet, they're not smooth and clean and appealing. It's not an iPhone."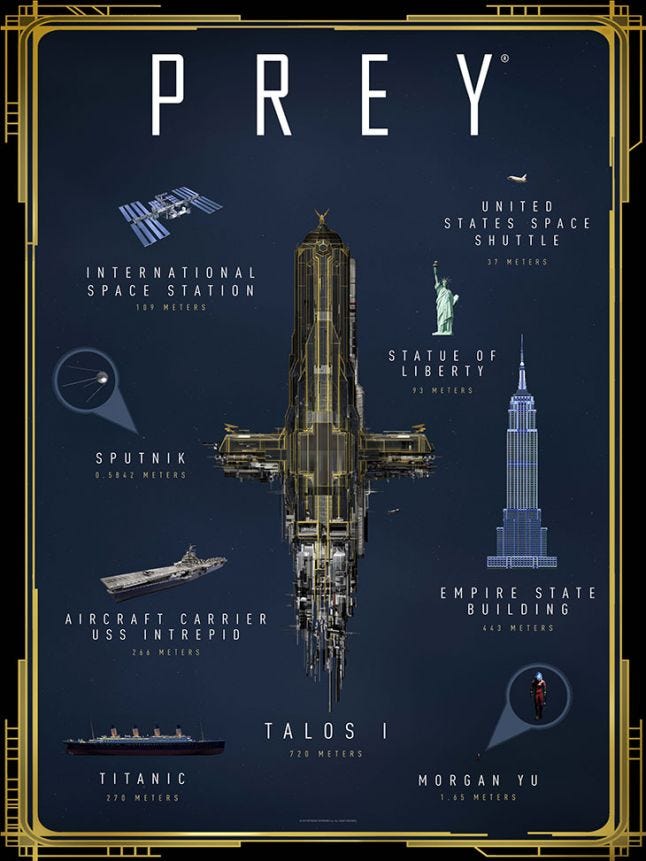 One of the things that makes Talos 1 such a compelling setting for a shooter is that it looks and feels like a place that was designed for other purposes. At the end of the day, says Bare, the core of Prey was always tied to a mechanical philosophy, one right at home in a science fiction mega-dungeon: don't create puzzles, create challenging environments. "Don't just put a locked door with a key the player has to find," Bare stresses. "Instead, think of this as a living, dynamic world, where there are tons of solutions possible."