Dan Marshall of Size Five Games has been an indie developer for over a decade now. He has turned early successes with Ben There, Dan That!, and Time Gentlemen, Please! into a full-time job, which has led to well-received titles like Privates, Gun Monkeys, and The Swindle.
His newest release is Behold the Kickmen, which is, according to Marshall, "a silly anti-football game" (Or anti-soccer game, in the American parlance). He makes no bold claims about his creation, deeming it "A solid 6-or-7 out of 10 game." (And that self-blurb is from the promotional materials, no less.)
But it's getting effusive praise from Steam reviewers and generating a great deal of buzz among fellow developers for its uniquely skewed take on the sport, and on sports games in general.
The game came about at a point when Marshall had gotten bogged down with another project he was working on. He undertook what he called a "personal Game Jam" after seeing the trailer for Super Arcade Football. His silly little football game started out as a Super Hexagon-style single screen game about kicking a ball at a wall.
After receiving surprisingly enthusiastic feedback to some GIFs of his prototype that he released on Twitter, he began to think there was more that could be done with the concept.
"If you've ever tried to get traction for a game, you'll know it's like getting blood from a stone," says Marshall. "So it seemed silly not to pursue it as a full game and see what happened."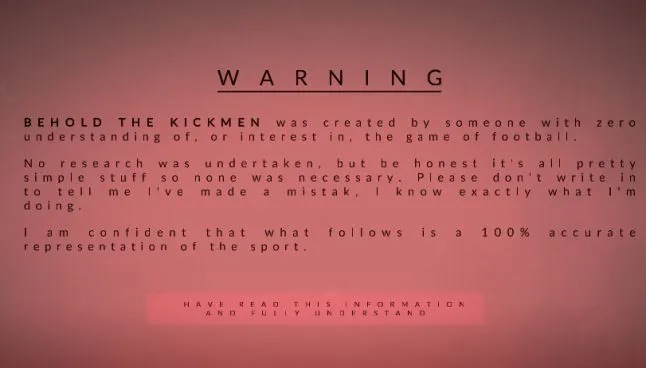 Kickmen is fascinating because it resembles the real sport at first glance. There is a pitch, there are players running around and kicking a ball, and there are goals. But closer observations reveals that this is not just a typical arcade-style football game.

The pitch is round, not rectangular. Those players get more points by scoring a goal from farther out. There are no goalkeepers -- just "goldkeepers." And the games makes a complete mockery of the offside rule.
Marshall explains his sacrilegious approach to the sport:
"Most of the concepts that made it in were me messing with the rules of football - sometimes not overthinking what the actual rules are, sometimes being deliberately ignorant and making something that adds a gameplay layer - like getting more goals if you shoot from outside the box. I am aware that's not a real football thing, I'm not an idiot."



DID YOU KNOW: Football matches are overseen by The Umpire, a ruthless fool who is in charge of enforcing the many Rules of Football. If you do a football crime, he-or-she will be sure to let you know about it! #wow -- another fun fact you learn from Behold the Kickmen
It's a single-player experience in which you can whip up the crowd to win more money, which you can in turn spend on upgrading your athletes. (Sorry - your "soldiers.") It is, of course, important that through all the silliness going on, the game remains fun to play. This turned out to be the biggest obstacle faced by Marshall during the game's development.
"The hardest thing is that keeping sport 'fun' is on a knife edge," he says. "If you're beating the opponent by too much, it's boring. If you're losing by too much, it's really frustrating. So actually getting the AI to be difficult enough to reasonably beat human players, and scaling that difficulty so when you're progressing through the game they get harder, was actually the hardest thing,
He says it only really came together in the last few weeks before release. "You'd think a straight line from 0 to 1 determining AI difficulty would do it," he notes, "but the difficulty really needs to ramp up pretty quickly to keep the game from being too easy."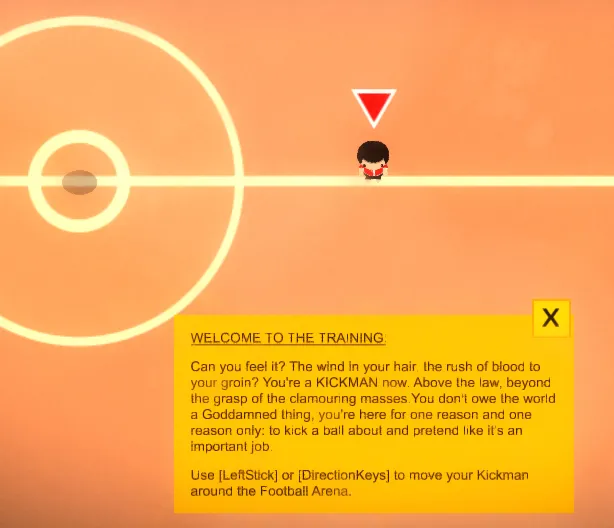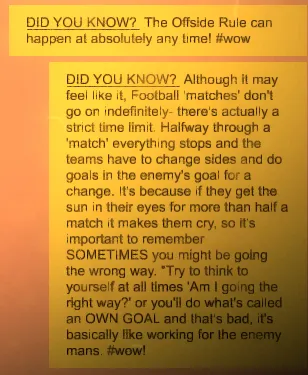 Created in Unity, Kickmen turned out to be a struggle for Marshall, as it was based off of his original Game Jam code. "When I took that decision to make a full game, I should have started over and coded it nicely," he says. "But I didn't, so it's a mess."
Visually, Kickmen melds both 2D and 3D aspects. "Everything's Spine sprites and it's a flat, 2D world but the physics (players, ball, goals etc) all operate in 3D so there's that nice thing of the ball getting closer to camera, and lobbing it over players' heads," Marshall explains.
"It's one of those decisions I made that frequently turned out to be a headache when a tiny detail would change and for whatever reason it broke a whole load of other stuff." A worthwhile decision still, as the look is as visually interesting as the game and music is silly.
Tobey Evans' musical score compliments the silly overall direction of Kickmen, and is a major success of the game.
Marshall says that the tone of the music perfectly complements the satirical nature of the game, noting that Evans "really pulled off this faux pumping dubstep thing, mixed in with these crazy retro-but-not-chiptune tracks for the main game. I mean, the music is funny, and how he did that I just do not understand."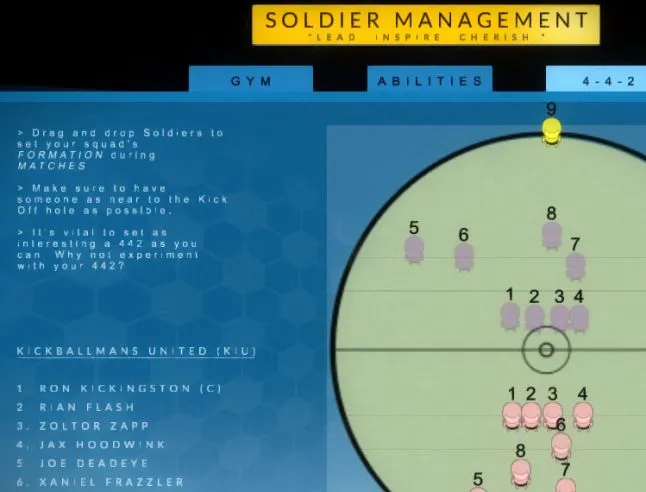 It is difficult to make a funny game, and it is difficult to make an arcade-style sports game that is capable of holding players' interests. Behold the Kickmen, despite its modest beginning, manages to score both of these goals.