I wanted to write an article about this work method in level design, which I trained by myself and at work. There are very few data about this subject. Even if it seems simple at the beginning, we soon notice that making mistakes is easy. Therefore, I'll expose what I could learn over time, such as the advantages it grants in a production, or the most important phases you'll have to go through in order to get a functional design.
What is it ?
Block design, also known as « White box », is a design method we especially apply in level design. To make it simple, it is the fact of creating your LD from geometric forms, hence the name « white box », due to the engines that often use white as a default color. This method requires not to add any form of detail, and focus on the basic principles of level design (scale, circulatory, flow…)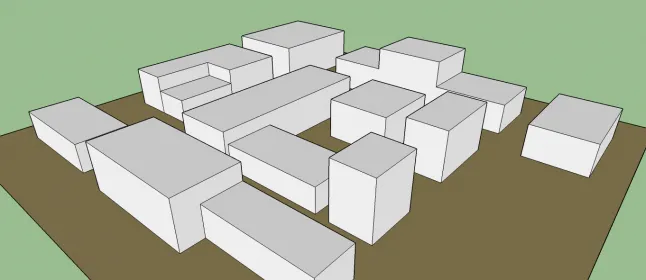 So, we design from the macro level to the micro level. This technique is very similar to painting or sculpting : we first create a rough silhouette of our model, and only then we add some detail.
The important phases
First, you need to cope with the constraints set by your game designer or your developer, and make your level design around those.
Then, try to work on your layouts and different floorplans you made out of paper.
Paper is indeed a quick way to prepare your plans. Once you have approved your plans, and you think they are viable, you'll be able to work withyour level design software.
The most important thing to think ahead, is that everything needs to be modular, as your LD necessarily won't be exactly like you planned it on paper So, use big blocks, without any detail, any texture, or use a token color to highlight your work in the engine's viewport.
You must first focus on the FOV (Field of View), the scale of your buildings (for instance, if you have to create a city), your global composition, the circulatory inside the map, the flow… This is why it is important to use patterns, as from one software to another (i.e. from Sketchup to Unity) the scales may vary, and the FOV can deform your composition.
Once you're happy with your blocking, proceed to test your level design with as many people as possible ! Your lead, level designer, game designer, artist… You'll notice that your blocking contains some imperfections. Take these feedbacks into account, and fix your problems. If you're working with Sketchup, creating groups will make everything easier.
The most important is to keep working your blocking, until you and your team make sure the level design is viable.

Why not to add any detail ?

Details are completely useless at the beginning of your design phase. If we take the example of a chair, it can be made of plastic or wood, you're the level designer and it doesn't interfere with your work or your efficiency. What will really matter is its location, the space it takes in a scene, the way it fits in your scenography, etc.
Moreover, before your design gets validated, you'll have to review it back and forth, and details may finally be cut or changed. So, this is a waste of time for you and your team.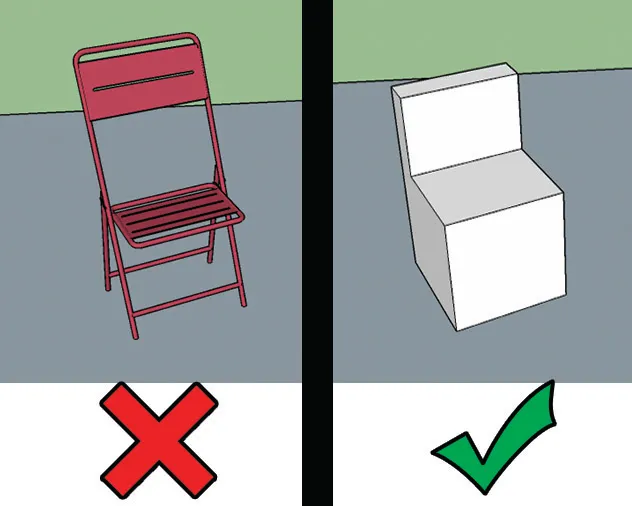 Here is, for instance, a chair during the block design phase.


Of course, detail will be added, and I'm not saying that texturing or lighting won't impact your level design. But it only adds once the basis is solid enough. This is what we may call the design phase number 2, almost like post-production.
Here is, that's a example of map that I made, where we can see the phase 2: add some details at your block work
« Pros and cons » of this method
The pros :
This work method is efficient and, above all, it's safe ! It's safe because once you get to add the details, you'll be sure that your work is viable and functional. A common mistake is to try to skip quickly this phase. And it is a mistake I was used to make too ! Blocking may be a long process, and sometimes we are eager to see our work skinned or detailed. So, you must be patient, and you'll be rewarded when your work is efficient, regardless of its skin.
Another advantage is that the size of your files will be much reduced. If you add detail, they will get heavier and your work won't be as optimized as it could have been. Moreover, adding box colliders afterwards is easier and less resource-hungry.
The cons :
Watch out once the block design is over. Think of the graphists and level design artists ! And don't fall in the other extreme, like the picture shows :



Indeed, in certain productions they won't always be right next to you, so you should make an effort to help them understand what you wanted to do. Explain them that you wanted a car here, rather than a garbage dumpster, if it seems important to you for some reason (consistency, scenario, etc).
So, once the block design is over and you have validated your basis, you can add some detail on certain elements.
Some interesting tools for block design
Generally, Sketchup is still my favourite software for level design, especially for the block design phase. It's simple and its tols are efficient for blocking. Nonetheless, it's absolutely not adapted to organic objects, or 2D games, which is harder to deal with. As Sketchup is meant to be used for architecture, you can quickly create your different layouts. But the graphists don't really like to receive Sketchup files…
Any editor/engine can be used to make a block design. You shouldn't always have to waste your time re-saving and exporting your files from one software to another.
Lego ! Yes, this tool is cheap for a production but you can really test an early conception in block design with legos. It's fun, and you can easily try all sorts of combinations ! Of course you won't be able to test them directly ingame, but it can help by illustrating your ideas, and serve as a block design pre-prototype. For instance, for game designers who don't manipulate any engine. And it's always a good excuse to play at work…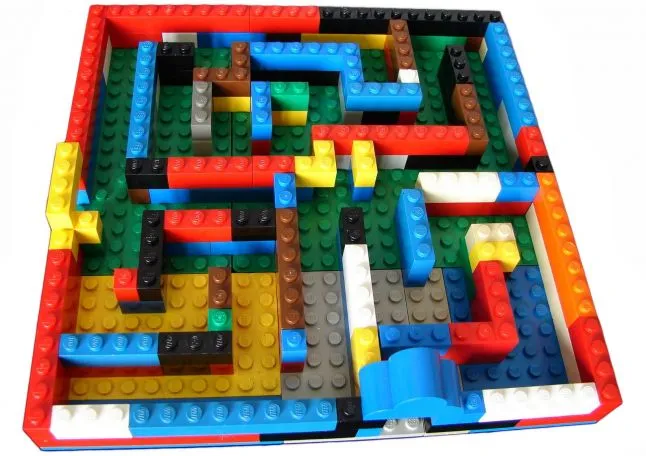 Example of a level design prototyped with Lego : it is easy to get something understandable by anyone.
Conclusion
Thank you for having read this article, I hope it will help some people who didn't know this method yet. If you have any question, feedbacks, or even different work methods, don't hesitate to talk about it, as this is mostly based on my personal experience. To conclude, you can find an article by World of Level Design here, which complements mine very well.