Tim Schafer began his storied career at LucasFilm in 1989 - "I remember that because our German producer brought over chunks of the Berlin wall," he told GamesIndustry.biz interviewer Dan Pearson during a keynote conversation at Reboot Develop in Split, Croatia.
"At the time we were just really young 20 year old kids goofing around trying to entertain each other, and had no thoughts about the future, or anyone else ever playing them really," Schafer began.
"We were just out of college, and we were working out of Skywalker ranch in the 80s, where George Lucas was building those Star Wars movies. Ron Gilbert had this idea for a pirate game, and I thought we were just doing temporary dialog, but then he told us it was actually going to be in the game."
That game became Monkey Island, which launched Tim Schafer's career, and taught him lessons he's carried through to his current successes at Double Fine. But he acknowledges that he began in a unique situation. "It's really unusual to have an original game funded, with a small new IP," he said.
"This happened with games like Monkey Island and Day of the Tentacle because someone else had the license to make Star Wars games, so they couldn't make that, so they had to come up with something entirely new – but still had the stability of a large company behind them.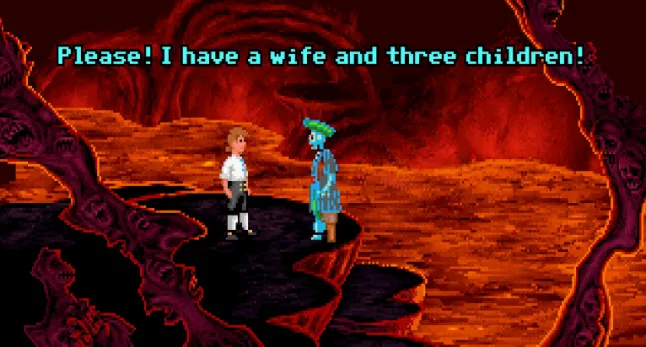 "When they got the rights to do those Star Wars games, that kind of pushed out some of the more original ideas," he said. "Sometimes when you have that sure fire moneymaker, it does have to push out those smaller original things. I mean, if you had a million dollars and you could invest it in Star Wars, or something some 20 year old kid came up with, what would you do?"
Schafer and his team at Double Fine try to keep that original game creation spirit going, not just because it's creatively important, but also to manage risk. "We used to be a one game at a time studio," he said.
"The things in your head that you think are stupid, it turns out 'no, that was probably actually the best idea I had all day'"
"Then if something happens, and one of those games gets canceled, you have this existential crisis. So after Brutal Legend got canceled we decided not to put all our eggs in one basket. Being able to have multiple projects and able to try out different things lets us… Well, stay in business, but also expand creatively. We always pursued what interested us the most."
Creativity, Schafer says, is the number one thing for Double Fine. "Starting back at Lucas in that little bubble of 'you have to make new stuff,' we tried to keep that going at our company," he says. "Everyone has that one thing they do, and I think ours is protecting creativity.
"We keep that going by doing things like our game jam Amnesia fortnight, and then we make four projects in two weeks, and I think it's important that everyone knows they have a chance of making these projects."
But at the same time, creativity can be difficult, especially when it relies on humor. For Schafer, it's more important to make a few people laugh, than to try to please everyone, leading back to the Lucas days when they just wrote for each other. "If you can make one person laugh, that's really important," he said. "There are a lot of funny games out there, like… Portal…. Well that's pretty much it really."
"There are very few mainstream comedies," he added. "When you think about something like the Hangover, there aren't many [blockbuster comedy] games like that. In the movies, that's a big genre that a lot of people like, and I don't know why people haven't tapped into that.
"But it's kind of scary, because if you make an action movie and it's bad, it's still an action movie, and you can get it in different markets, but if it's not funny it's like 'get me out of here.' But don't be afraid to try it!"
Like with Brutal Legend, for example, even though it's violent, Schafer says; "There's a lot of ways to chop off a head, and we tried to make it happen the funniest way possible."
Schafer advises that when making comedy, you shouldn't worry too much about what other people are going to think of it. "The things in your head that you think are stupid, it turns out 'no, that was probably actually the best idea I had all day,'" he said, citing his "three-headed monkey" idea from Monkey Island.
He thought it was a stupid joke he should replace, but his Lucas collaborator Ron Gilbert laughed at it, and said "actually, let's get Steve Purcell to draw a three-headed monkey, as well."
"You're thinking 'other people will think it's stupid,' and you self censor, so learning to be braver and braver with your creative ideas," he said, cautioning people not to give up. "It's taken like 25 years to get over that, still worrying that someone will hate my idea."