#SelfieTennis pits players against themselves in a surreal take on the sport. When you smash the ball over the net, the perspective of this VR game changes to your opponent...so you get to return the serve that you just performed.
You can try to play a proper match, get a nice volley going with yourself, or just smash the ball into the strange spectators with tennis ball heads and watch them flop lifelessly to the ground. Oh, players can also ditch their rackets and take selfies using a selfie stick, because when a ball is flying at your head at high velocity, you should definitely be taking time to immortalize the moment for your Instagram crew.
We talked with Julie Heyde of VRUnicorns, one of the developers of #SelfieTennis, about what the hell was going through their heads when they made this gloriously ridiculous VR sports title. We also touched on more mundane issues, like how they worked to ensure thtat players wouldn't get motion sick with the constant perspective shifts from one side of the tennis court to the other.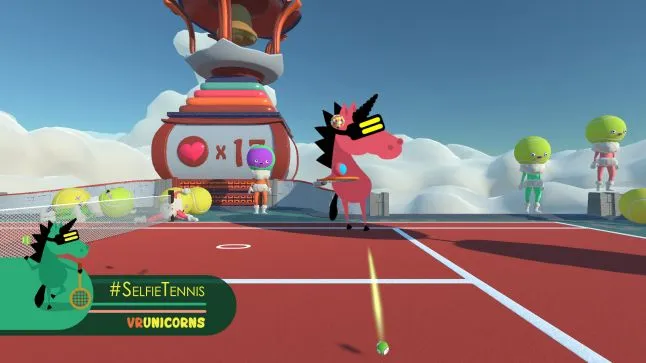 What is #SelfieTennis?
#SelfieTennis is a VR room-scale game for the HTC Vive.
Why play tennis all by yourself? What made you develop a tennis game for one player in VR?
We were brainstorming weird ideas one late eve while working on another game (RAGNAROKvr) and Milan said: "Let's make a game called #SelfieTennis where you teleport back and forth on the court while playing tennis with yourself." Horatiu cranked out the first version the next day (while we were suppose to work on RAGNAROKvr) and asked me if "I would like to play with myself."
I fucking loved it!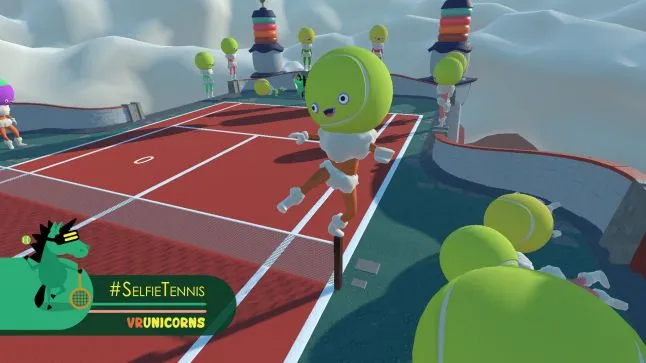 What difficulties did you face in making a game where one player is firing a ball at themselves? What work did you do to keep this from feeling disorienting in VR?
Horatiu did his magic. That's it. [Horatiu Roman is the company's "Chief Technical Unicorn."]
I'm hypersensitive to motion sickness and movement in VR, so we have a lot of knowledge in the team on how to avoid making people sick. Horatiu has timed the teleportation and delay perfectly, and we playtest everything we make to the extreme to avoid making #PukeSimulators.
So yeah, smart design, good code and a hell lot of testing among us, friends and during showcasing events around the world. We travel a lot and constantly work on the road.
P.S. Vive works on laptops. Just a hint for anyone who wants to become a Vive Nomad.
#SelfieTennis involves some ridiculous behavior (like attacking the crowd) alongside its representation of the sport. Why did you include these sillier elements? What did you feel they brought to the game?
Horatiu had characters in the original version so I could get my aggression out in the office. We even had a kill score back then. He later removed the kill score, but put it back in when I went hysterical crybaby over not being able to track my killing.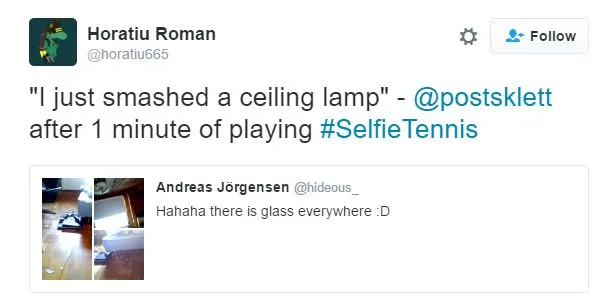 Taking selfies of your character provides a fun diversion in the game. Why specifically mix taking pictures of yourself inside a sports game?
We all agreed that we needed a #SelfieStick in the game back in November 2015, but we didn't do much about it until right before launch....when I started shouting at the guys for not having fixed it yet.
Everyone loves taking photos of themselves. Just glance at Instagram. No one cares about food pictures anymore.
How has posting those selfie pictures to social media helped the game?
It's a fun gimmick. We were the first to have the feature it seems and now other developers started copying. Facebook for example. that's cute. We started a trend.
What other features will you be bringing to #SelfieTennis in the future?
Currently crunching like crazy on a #HeartUpdate with loads of juice.
Next update will probably be a physics update. We're working on #SkiJump in parallel, and we're a tiny team with only a few of us working full time, so we don't really have time for anything else than making silly unrealistic sports games.
But who cares about reality anyways? We have VR.