Admittedly, I find myself glued to a screen most weekends, playing whatever takes my fancy at the time. Last weekend, the screen was a little smaller than normal. The game:
Pixel Miner
. The platform: The Pebble smartwatch. The goal: Help a tiny man in a helmet dig pixels out of the ground, and spend those pixels on better equipment so he can dig faster.
Pixel Miner
is now, by far, the most popular game available for the Pebble, with over 1,000 likes on the Pebble App Store. The game was created by Will Luton, a mobile and free-to-play consultant who has previously helped out successful studios such as TinyCo and Chillingo. Luton believes that wearable tech like smartwatches could very well end up exploding in the same way that mobile has. "I've long been interested in new tech and a friend from Pebble gave me a watch at GDC," he explains. "I wasn't much sold on smartwatches at the time, but as I used one I started to understand them, how people would get benefit from them and how the future of wearables would play out. It was a kind of slow epiphany over a few weeks."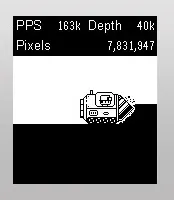 It didn't take long for
Pixel Miner
to become the top-rated Pebble game. The game was created in four weeks, and took a single week to reach the second highest-rated game on the Pebble App Store. Now it's sitting pretty at the top in a rather short space of time. "The constraints are what made
Pixel Miner
," says Luton. "I didn't want to force a game from another platform on to the device for the hell of it. The controls (four buttons: Back, Select, Up and Down) were built to navigate menus, so the main agency in the game had to be through menus." Another constraint that Luton has to play around with: The pure monochrome screen of the Pebble. "There's no shades, just black or white," he says. "So I decided to embrace that and make the game specifically about pixels. Rather than trying to obfuscate that the world was made of pixels, pixels became the world." While designing
Pixel Miner
, Luton was very careful not to think of the Pebble as simply a smaller smartphone with fewer buttons, but rather a completely different platform in its own right.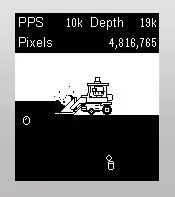 And
Pixel Miner
is clearly inspired by the likes of
Cookie Clicker
and
Candy Box
-- the main difference being that having this sort of game right there on your wrist at all times makes it far more accessible. "My main goal was: How do I keep players in the game for months, coming back several times a day?" notes Luton. "And that is a question that is always asked of free-to-play games." Indeed, while
Pixel Miner
is completely free to download and play, there's a very free-to-play-esque feel to the gameplay. "
Pixel Miner
, like all incrementals, utilizes two hooks of human nature: Greed and curiosity," says the dev. "The system allows the player to amass at ever greater rates whilst always hinting at further mechanical depth or content. It's very effective."