Minecraft has arrived on Oculus and Samsung's Gear VR mobile headset, and it's a fairly interesting take on the nearly five-year-old sandbox crafting game.
The Gear VR version, developed in collaboration between Oculus and Minecraft developer Mojang, is based on Minecraft Pocket, which is a perennial top-seller on the paid mobile app charts. As the biggest, most successful franchise to hit Gear VR yet, it's about as close to a "killer app" as you can get for the device.
The Gear VR version of the game has also received special attention from game programming guru and Oculus CTO John Carmack, who said, "Minecraft is a game that you can both figuratively and literally lose yourself in. In fact, my strongest memories of being inside VR are from the time I've spent exploring Minecraft on Gear VR."
Much of the work on the game has been focused on making Minecraft in VR "comfortable" for players (i.e., 'developers tried to not make players barf').
Minecraft: Gear VR Edition is gamepad-based. For a lot of people (including me), a VR HMD plus a gamepad often equals nausea-town. In order to counteract this rather common reaction, the game initially puts players in a virtual living room in a blocky, Minecraft-y lodge where you sit in front a big TV and play Minecraft. Aside from having a phone strapped an inch from your eyes, it's comfortable.
It works just like it might on PC or console, and all VR movement is directed by your head, as your hands work the gamepad to manipulate the game on the "TV." It's the most comfortable way to play the game, but you trade comfort for the kind of immersion that VR promises.
There is another option: you touch the pad on the side of the Gear VR headset, and you're pulled into the Minecraft world that you were sitting in front of in the virtual room. In this mode, control is a mix between where you point your head, and what you press on the gamepad (head steers where you go as you press forward on the pad; place the crosshairs using your head; look around up, down, all around with your head; chop with a gamepad button).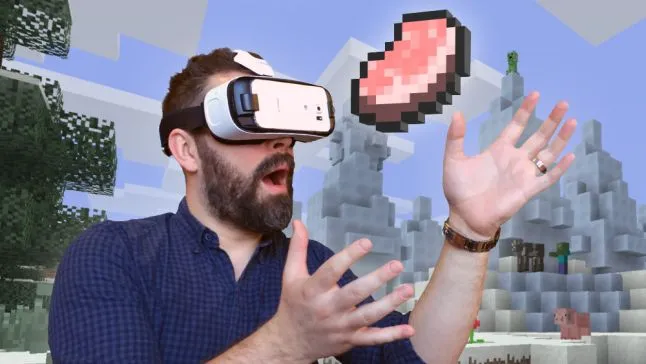 Never mind the text in this article -- THIS is what Minecraft in VR is like (via Mojang's blog).
The game is designed to give as much control to your head as possible, in order to match what you see with what your inner ear feels in order to increase comfort. But locomotion is still done via gamepad and is conveyed as walking in unbroken motion in real-time, which does cause a disconnect between eyes and inner ear, leading to some discomfort. It's still an issue with many sit-down VR experiences that implement traditional means of locomotion, and is not unique to Minecraft VR.
While turning and looking using your own noggin is possible within Minecraft VR, it does require you to be able to spin around 360 degrees in an office chair, or stand up and turn. For people who don't have those options, the gamepad turning mechanic is tweaked for comfort: players can use the right analog stick to rotate, just like classic Halo controls, but instead of conveying this rotation as smooth movements, players turn in "snappy increments" to ease intensity. It's odd, and off-putting, but apparently a better option than smooth movement.
With two options between the virtual lounge and the full VR immersion, people who are more prone to motion sickness can build their creations in the more comfortable lounge, then take a look around inside their creation in full VR with a tap of a button wihle purposely keeping their motion to a minimum. So you can in theory move your character (comfortably) to the top of a mountain while in virtual lounge mode, then switch to full VR immersion to enjoy the vista.
Players can also switch off all of these VR movement tweaks and control it just like they would with a console controller, though this is the most intense, nausea-inducing way to play the game.
Minecraft: Gear VR Edition sells for $6.99, the same price as Minecraft: Pocket Edition, and is for Gear VR-compatible Samsung mobile devices. It also has cross-play with Pocket and Windows 10 editions.
Work continues on Minecraft for the higher-end Oculus Rift, and there's also speculation of an official Vive version down the line (though in the meantime there's a mod for that).