Presented in partnership with Magic Leap. Tune into the L.E.A.P. keynote at 9 a.m. PT on Wednesday, October 10.
Magic Leap, the groundbreaking wearable pocket PC/augmented reality company, is holding its inaugural L.E.A.P. conference this week offering presentations and demos for industry professionals (follow Gamasutra's ongoing coverage here). Thanks to Magic Leap, we were able to attend the conference today to try some of those demos for ourselves.
The biggest news coming out L.E.A.P. today was Dr. Grordbort's Invaders, a collaboration between Magic Leap and renowned visual effects house Weta Workshop. One of the first games released on the new Magic Leap One headset, Dr. Grordbort's Invaders is an augmented reality shooter than puts you in the middle of steampunk robot invasion. Based entirely on the 10-minute demo we were able to play today, Dr. Grordbort's could be the first truly killer app for games on Magic Leap's platform.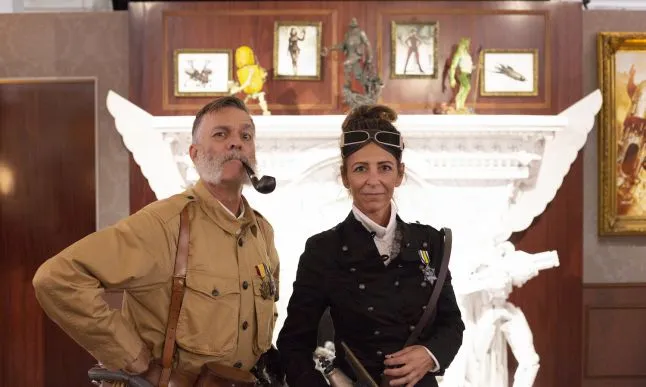 Actual reality at the L.E.A.P. Conference
Your Magic Leap One first scans the room, finding your walls and general room size. The game uses this map to open portals for robots to pour through as you blast them with your remote. While we were only able to test out a basic blaster, developers told us the main game would feature a number of increasingly complex weapons. The final product features seven different weapons and a grappling hook that allows you to pull weapons or arms off of enemies.
Starting the demo, your first portal opens to reveal Gimble, a small robot mascot and helper that will be with you throughout the game, who gives you a blaster. After you pick it up, a hologram of Dr. Grordbort himself appears to warn you of an impending alien invasion. Just as he finishes, portals begin to open all around you. The time to fight has begun.
"Based entirely on the 10-minute demo we were able to play today, Dr. Grordbort's could be the first truly killer app for games on Magic Leap's platform."
What stood out the most on our first playthrough was the beauty of the graphics and the way the game makes you aware of how it works. Portals open all around you, but you're never left wondering, thanks to the immersive design. Rather than tell you a portal has opened using only audio cues, each portal sends a wave of sparks into the room. It's nice to know a hearing-impaired player will still be able to save the universe all because the developers provided a wide range of sensory options to keep you in the scene.
Shooting is a delight, with each enemy having their own weak points that could be hit for extra damage. Enemy projectiles can be shot back with careful blasts, though we were never able to hit an enemy with one. Enemies were split between humanoid bots and furious flying steam contraptions, providing plenty of challenge and a few stressful moments of managing the chaos erupting from the walls.
The depth of love put into the experience even encompasses the voice cast. Gimble is voiced by actor Rhys Darby (Flight of the Conchords) while Dr. Grordbort himself is voiced by Stephen Fry (Hitchhiker's Guide to the Galaxy). If the full version lives up to the demo, Dr. Grordbort's Invaders will go down as one of the best "light gun" games you'll ever play.
Lasting three to five hours, with a sequel already in development, the full version of Dr. Grordort's Invaders looks to be a triple-A game that brings the thrill of Borderlands or Halo's furious firefights into your living room. Don't take our word for it. The full game is available for free on Magic Leap One today.