2021 has been a long year. I have no more words to give. If you were to call me a proverbial well, I'd tell you that I've run dry.
I need a break, so I'm just going to ramble on long enough to make sure this article will format correctly. You don't mind, do you, dear reader? Think of this meaningless sojourn as a holiday gift from me to you -- a brief, cautionary glimpse into the gnawing madness only 12 months covering the games industry can bring.
Gaze into my soul and despair. Or perhaps rejoice! Because the end is in sight. A fresh start is just beyond the horizon, full of new stories and experiences waiting to be unearthed. Before you know it, we'll reunite in this very moment. I'll be sat at my desk once again, desperately searching for that last crumb of mental strength in a futile bid to drum up a witty, insightful, and impossibly charismatic introduction that means something to everyone. A right corker, as we say in the UK.
That though, is a problem for next year. In the meantime, why don't you do me a favor and read all about the video games I enjoyed in 2021. There you go. We made it in the end.
Genesis Noir by Feral Cat Den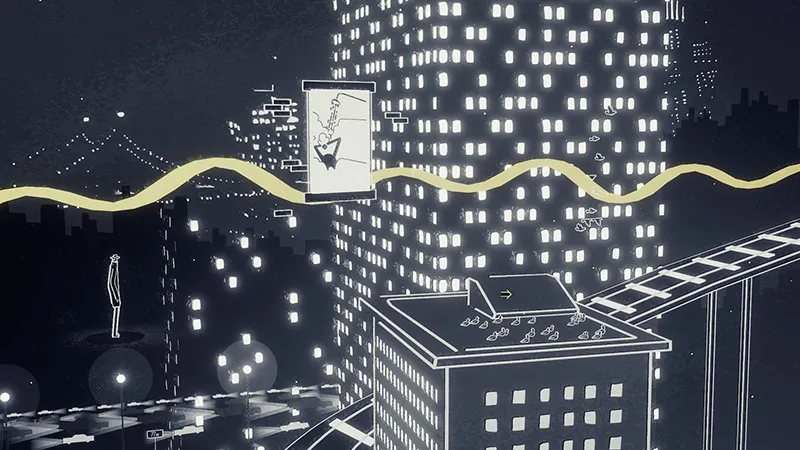 Genesis Noir is the story of creation bundled into a noir adventure about a cosmic murder that ripples across eternity. Although the gameplay itself consists of solving point-and-click style puzzles and wandering through elaborate worlds, Genesis Noir's electric presentation helps turn the metaphysical saga into something truly memorable.
Heady jazz riffs assault players as they tumble through time, colliding with impossibly slick visuals to ensnare and captivate. It can be overwhelming. Jarring, even. But that wonderfully off-kilter aesthetic only mirrors the madness brewing inside our desperate protagonist as they seek to bring a killer to justice and understand why.
Before they learn the answer, players will be asked to follow a breadcrumb trail of clues scattered throughout the universe. It's a task that takes them to places both familiar and strange. A subway station abuzz with musical verve. A strange land inhabited by familiar beings. A whirring laboratory at the fringes of our future. There's a lot to unpack, and while some players might not what they find at the bottom of Genesis Noir's existential rabbit hole, I'd bet my bottom dollar they won't regret the journey.
Halo Infinite by 343 Industries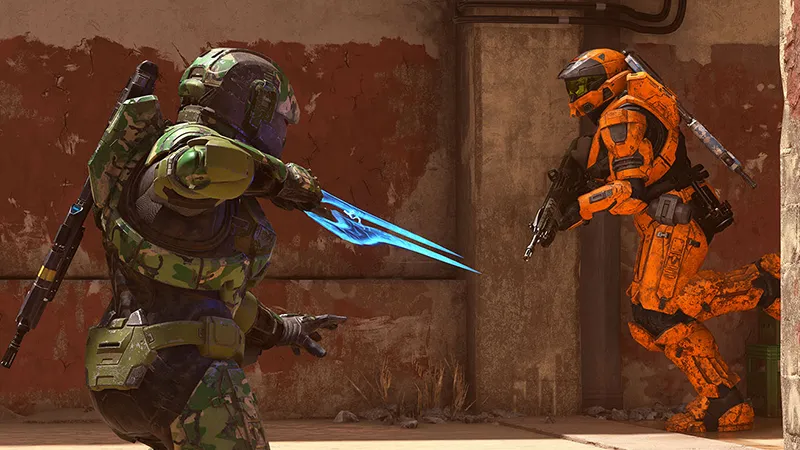 I'm a cynical husk of a human being, so there are few things in life that make me genuinely giddy. Launching a fusion coil into an unsuspecting chump while mid-flight in Halo Infinite is one of them (please see this tweet).
In terms of pure gameplay, Halo Infinite has everything you could want from a shooter. The multiplayer portion is crystallized chaos, a smorgasbord of intensely engaging game modes that made me realise how much I'd missed playing an objective other than 'become the last person standing.' Each game is filled with moments of bedlam and lunacy that defy description, with all manner of grenades, weaponry, vehicles, and power-ups combining to create a combustible soup of nuclear proportions that we'll all be slurping down for years to come.
The campaign is equally madcap. Although I'm not entirely sold on the open-world aspect quite yet -- for me, Infinite's standout set pieces take place during its more on-rails segments -- the moment-to-moment gameplay when you're taking down a base or clobbering a boss is tense, unpredictable, and outrageous in the best conceivable way. Halo is at its best when it leans into being a anarchic toybox, encouraging players to experiment with its tools of destruction and bonkers physics to answer questions like: can you grapple onto an exploding Warthog while it tears through the skies to turn the Master Chief into a human missile?
The answer, of course, is a triumphant yes.
KID A MNESIA EXHIBITION by namethemachine and Arbitrarily Good Productions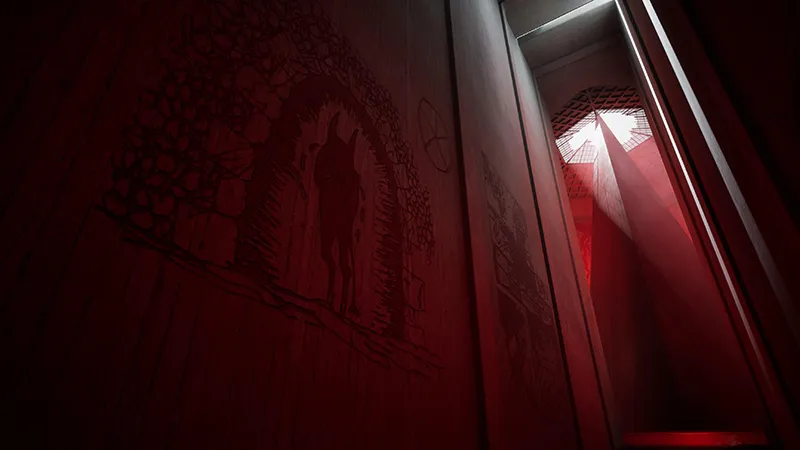 "This is not a game" reads the sign beside the ramshackle entrance to the KID A MNESIA EXHIBITION, a twisting digital/analogue dreamscape spliced together using the creative fragments that birthed Radiohead's indelible Kid A and Amnesiac records. I'm not sure I agree.
As I wander through the halls of the mutating virtual exhibit, I'm greeted with visceral scrawlings that pay homage to an unintelligible hidden truth, demon-like creatures who seem to simultaneously revere and despise their labyrinthian home, and the ethereal sound of strings, synths, and drums soaring above. In some rooms, you'll encounter colossal effigies that bristle with torment or luminous paintings that decompose into vapour before reforming into something else entirely. Explore deep enough, and you might find yourself materializing crimson poetry with ravenous eyes, or leaping headfirst into a hot white abyss.
I know none of this makes any sense. It doesn't make sense to me either. What I do know for certain, though, is that KID A MNESIA EXHIBITION is one of the most absorbing and contemplative (not)games I've played in 2021, and as soon as I reached the end, I wished I could forget it all and start over.

Maquette by Graceful Decay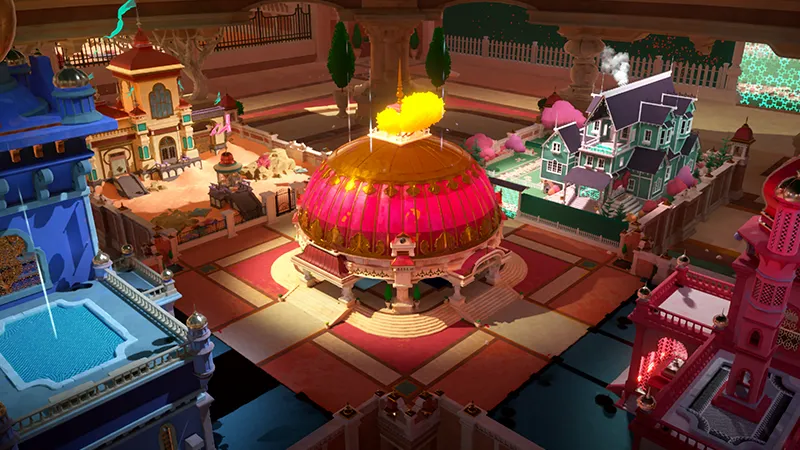 I have mixed feelings about Maquette. Graceful Decay's ambitious puzzler attempts to tell an everyday love story through the medium of recursive conundrums that require outside-the-box thinking in the most literal sense imaginable. Its a high-concept pitch that can feel dangerously twee at times due to its rom-dram sensibilities, but those who can forgive (or perhaps find comfort in) the sentimental yarn propelling Maquette forward will be treated to a platter of whip-smart puzzles that regularly defy belief.
On a purely mechanical level, Maquette is astonishing. The recursive nature of its model world allows players to manipulate infinite objects in a snap, with each building, plant, and item simultaneously becoming both impossibly tiny and staggeringly huge as they ripple across eternity. That small key you found? With a bit of deft jiggery-pokery it could be repurposed into a colossal bridge. How about the dice-sized cube at the centre of the level? Turn around, and you'll see how it's actually a towering block the size of a building.
As the titular Maquette begins to unravel, you'll find yourself leaping between worlds with precision and purpose, displacing objects and manoeuvring buildings with a sense of omnipotent glee. Sure, Maquette has a tendency to overreach in places -- name me an ambitious project that doesn't -- but when it clicks, there's nothing quite like it.
Sable by Shedworks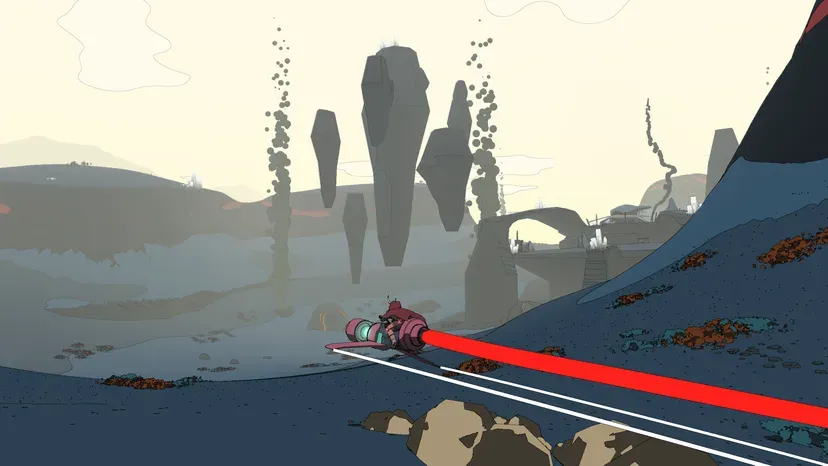 Maybe it's because of the pandemic, or maybe it's because I'm *whisper it* getting older, but my playing habits have changed dramatically of late. Despite initially being excited about the onslaught of all-action, big-budget blockbusters that were slated to take 2021 by storm at the start of the year, as the months ebbed away I found myself increasingly drawn to those titles that shunned bloody, burly conflict in favor of empathy and compassion.
Sable, an open-world exploration game about a young person struggling to find their place in a wondrous and desolate alien world, delivers both of those things and so much more. Comparisons to The Legend of Zelda: Breath of the Wild come easy, and while there are undoubted similarities between the two, I'd argue they don't quite hit the mark.
In Shedworks' soaring Moebius-infused adventure there are no cataclysmic stakes, chosen ones, or world-ending threats to vanquish. Instead, the challenges players face spring from the inner-turmoil of a normal person searching for themselves amid a sea of uncertainty. As Sable, players must use pacifist powers that unlock with youth and fade with time to sweep across crimson dunes, scale crumbling ruins, glide between yearning chasms, and help those in need simply because they can.
Each of those endeavors provides an opportunity to learn and grow, granting a deeper understanding of the strange world Sable inhabits and the roles we can play within it. There is beauty and mystery here in spades, but Sable shines because its underlying message is one of empowerment, expression, and self-acceptance.

Honorable mentions: Apex Legends by Respawn // Exo One by Exbleative // Jett: The Far Shore by Superbrothers // Unpacking by Witch Beam Games