If you go to the front page of itch.io the first thing you'll see, above a curated list of games on its own summer sale, is the Queer Games Bundle 2022. Currently sitting at over $65,000 raised, the pay-what-you-will bundle (primarily giving buyers the options of $10 or $60) is composed of over 500 video games, tabletop games, zines, and other art by queer creators. At the end of the month-long period, the profits raised from the bundle are divided among the artists.
Many of these games are tiny in scope and file size, made by one person with a day job or a small studio, but for the price of (up to) $60 you can access a treasure trove of unabashedly queer art. More, importantly, the cash helps support hundreds of queer artists, which is why organizers Taylor McCue and Nilson Carroll started it in the first place.
The first Queer Games Bundle was organized in June 2021. Both Carroll and McCue had participated in bundles before and the developers named the Black Lives Matter Bundle, Kritiqal's Anti-CyberPunk, and Indiepocalypse as major inspirations for creating the Queer Games Bundle.
"There was a huge want and need to make Pride Month directly helpful to regular queer folks," Carroll said when asked why he began the endeavor. "We're explicitly anti-rainbow capitalism and see this as a small step away from that trend."
One of the hardest parts of organizing a bundle of this magnitude is communicating with all the creators involved. According to McCue, a single record keeping mistake could have cost people involved hundreds of dollars in lost income. Years spent grinding in RPGs were a contributing factor to the inhuman amount of patience she was required to have. Both organizers have backgrounds with non-profit organizations, but the Queer Games Bundle was another level of pressure.
"Last year we had a system where everyone was manually added to the bundle and then they had to approve. If 100 percent of people didn't approve the bundle couldn't launch. We couldn't remove people who wouldn't or couldn't approve, we had to have itch support help," McCue said, describing one of last year's biggest behind-the-scenes calamities. "We almost didn't launch because of that and it was a nightmare."
This year, the organizers implemented a more flexible system. It still wasn't perfect, but already in made some elements of the process more manageable -- even as the amount of creators involved in the Queer Games Bundle nearly doubled in size.
When a bundle gets to be this size, the developers behind included projects are selling their games for literal pennies. Even if you normally sell a game for $5, you might ask what makes it worth it to take such a loss? That question, as it turns out, comes from a mindset that ignores the reality for a vast majority of indie game developers, especially queer artists.
"I'm going to let you in on a dirty open secret. Most Steam games aren't played," McCue said. And she is right. "I imagine most games sold in bundles don't end up being played."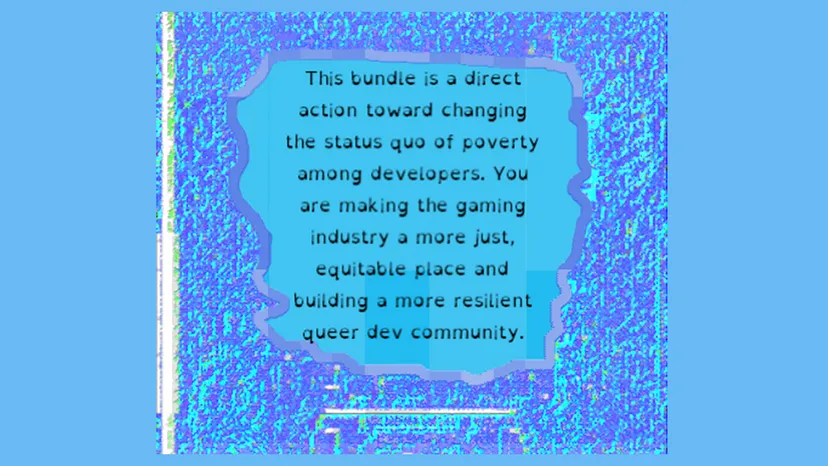 McCue likens making games to a lottery ticket where if your game blows up you are golden, but most of the time it won't turn a profit. Except in game dev, sometimes it can take years to craft a single lottery ticket. By this token, bundles act as a sort of universal basic income for game developers. "It smooths out your odds and gives you a little bit to sustain yourself until the next lottery ticket is made," she said.
But there is no blanket statement that can be applied to why every developer that participates in the Queer Games Bundle does it. Inclusion can be profitable for smaller devs, especially ones that usually put their games up on itch for free, but that doesn't quite get at the heart of what the bundle is about.
"Some folks don't take any of the funds. Some folks enter all their free games," Carroll said. "Some folks have already sold enough of a game, and are happy to enter it into the bundle. Devs in general want to support the cause more than make a buck."
McCue doesn't mince words in calling the developers of the more popular games in the bundle (ones that have turned a profit) "fucking saints" for taking the financial hit. The truth is, though, bundles like the QGB are a way for developers to make money without having to engage in direct competition with their peers. The queer games space is huge and tiny at the same time, everyone is passing around the same $20 bill. So when someone makes a game that breaks out to the mainstream, there is a moral imperative to give back to the community that raised you. That doesn't mean it always happens though.
"They're sacrificing their income so that smaller devs can survive," McCue said. "Why are they doing this? I think it's because they genuinely care about other artists and want them to be safe."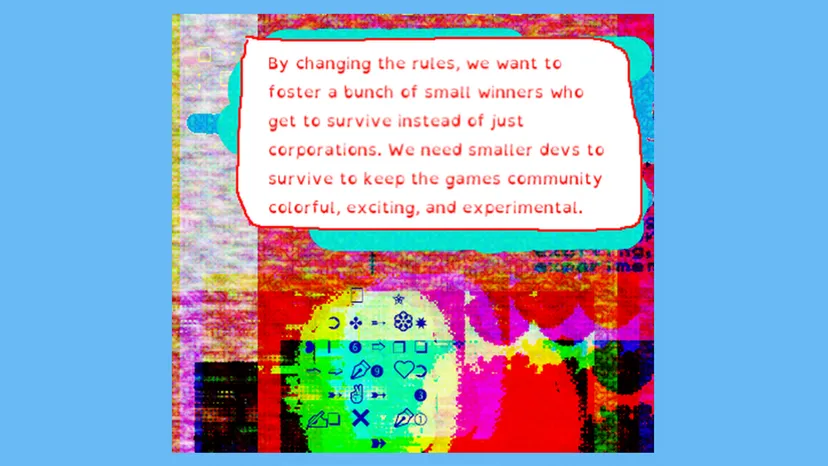 With bundles of this nature comes an assumption that, when given the option, most people are going to choose the $10 minimum option over spending the $60. While this does shake out to be true, the divide may be less than what you think. In 2021, about 2500 of the people who purchased the bundle chose the pay-what-you-will option while about 1750 paid $60. A majority of the money raised for the developers came from people who decided (rightfully so) that 200 indie games were worth the price of one triple-A title.
McCue and Carroll agree that being an indie game developer also can mean being a one-person PR team. And quite frankly not everyone has the time, energy, and resources to thoroughly promote themselves, make their art, and keep themselves and their family safe and healthy. The organizers of the Queer Games Bundle hope to ease that burden for those devs involved.
"The bundle is designed to shuffle itself each time a person looks at it," McCue explained. "This is designed to give people an equal chance to be seen. It's a really ugly and rough attempt to go against the statistical reality [... that] AAA games [take] the lion's share of funding and human attention."
"It's really easy to make more systems that recreate problems that already exist, and we're working to move away from that," Carroll said. For many, these systematic problems can lead to anxiety, burnout, and PTSD. It is the human cost of trying to make things better in this world and the hidden cost of this type of organizing work. "I love the Queer Games Bundle, it's one of the reasons why I get up in the morning, but we also have to practice self care. You have to take care of yourself to keep fighting to support others."
It's easy to call this kind of work fundraising or charity, but the Queer Games Bundle isn't a charity. "Every developer has earned every penny in the bundle through their work producing their games," McCue said. "Funding the arts is not charity, being an artist is work. Workers deserve to be able to afford to live."