With nearly a full year of of game releases ahead, Gamasutra is picking out noteworthy titles due in 2009 for each home and handheld platform, this time for Nintendo's Wii. Despite claiming the largest worldwide installed base out of all three seventh-generation consoles, Nintendo still struggles to overcome the widely held belief that its Wii catalog suffers a surplus of unexceptional casual titles and a dearth of releases for "core" gamers. Its software lineup for 2009, however, promises a healthy selection of potentially high-quality all-ages games and core titles; we previewed 15 of those upcoming games, from resurrected franchises like
Punch Out!!
to exciting new IPs like
MadWorld
. Previously: 2009's anticipated
Xbox 360 games
and
PSP games
.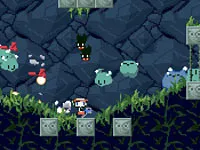 Cave Story
Release Date: Early 2009 Developer: Studio Pixel, Nicalis Publisher: Nicalis While
Cave Story
has been
available for free
as a PC title since 2004, many who've played through it -- or heard the rave recommendations of people who've played through the charming game -- think highly enough of it not to mind paying for a WiiWare version. Nicalis' port improves on the acclaimed 2D
Metroidvania
title with additional save slots, new character designs, enhanced graphics and music (users can also choose to play the game with the original visuals and soundtrack), and more.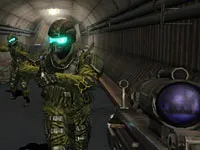 The Conduit
Release Date: Spring Developer: High Voltage Software Publisher: Sega With the exception of
Metroid 3
and maybe
Red Steel
, few Wii games have delivered a compelling first-person shooter experience. High Voltage, using its Quantum3 engine, seeks to fill that void and offer a full-featured, graphically impressive FPS comparable to a PlayStation 3 or Xbox 360 shooter. Along with its single-player campaign, the title will feature online multiplayer for up to 16 players, promising voice chat via the Wii Speak accessory and at least three game modes -- Deathmatch, Team Deathmatch, and Capture The Flag.
The Conduit
will also use the Wii MotionPlus attachment for capturing player gestures more accurately.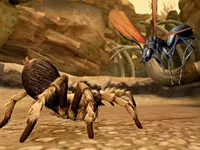 Deadly Creatures
Release Date: February Developer: Rainbow Studios Publisher: THQ In
Deadly Creatures
, players take on the unfamiliar roles of a scorpion and a trantula, both with completely different play styles, as they crawl around in the desert fighting a number of bugs and even reptile bosses, like a rattle snake and a Gila monster. Actors Dennis Hopper and Billy Bob Thornton voice two of the villainous humans in this game, their storyline running parallel with the scorpion and tarantula's as they search for buried gold from the American Civil War.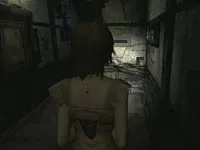 Fatal Frame IV: Mask of the Lunar Eclipse
Release Date: No date announced for U.S. (Already available in Japan) Developer: Tecmo, Grasshopper Manufacture Publisher: Nintendo Renowned designer Goichi "Suda51" Suda (
No More Heroes
) joins series director Shibata Makoto to co-direct this latest entry to Tecmo's survival horror franchise,
Fatal Frame
's first appearance on a Nintendo console. As with previous installments, players unravel the mystery behind a past tragedy by exploring haunted areas and fighting off hostile spirits with an antique soul-capturing camera, except they will aim their shots with a Wii Remote instead of a directional pad this time around.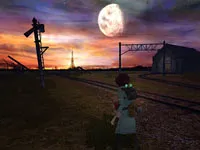 Fragile: Farewell Ruins of the Moon
Release Date: No date announced for U.S. (January 22nd in Japan) Developer: Namco, tri-Crescendo Publisher: Namco Bandai Games Set in a post-apocalyptic world in which almost the entire population has vanished,
Fragile
follows a boy named Seto as he searches for survivors in abandoned cities. Ghosts and demons make up the enemies in this RPG, attacking the exploring hero. Several tools controlled with Wii Remote gestures will help Seto in his efforts, such as a flashlight, a metal detector, and a device that picks up sounds and plays them through the controller's speaker.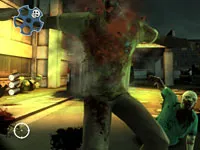 The House of the Dead: Overkill
Release Date: February 10th Developer: Headstrong Games Publisher: Sega
Overkill
looks to be the most violent and "mature"
House of the Dead
yet, receiving an M-rating for its "Blood and Gore, Intense Violence, Partial Nudity, Sexual Themes, and Strong Language." This grindhouse-inspired first-person rail shooter adds several new features, including "Slow-Mofo Time" to allow for more headshots on zombies, melee attacks using Wii Remote movements, and a Battle Screen mode that gives payers limited control of the camera.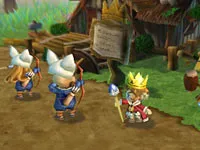 Little King's Story
Release Date: February 19th Developer: Cing, Town Factory Publisher: Xseed Games In this
Pikmin
-style strategy game, a young boy has stumbled upon a magical crown that charms others into following his orders. Players must manage their local village's soldiers, carpenters, and other skilled laborers to help grow a small hamlet into a prosperous kingdom, and defend it against attacking monsters. Produced by
Harvest Moon
creator Yasuhiro Wada,
Little King's Story
features a delightful storybook visual style and music composed by Yoko Shimomura (
Kingdom Hearts
series).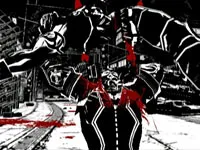 MadWorld
Release Date: March 10th Developer: Platinum Games Publisher: Sega Another ultra-violent title,
MadWorld
stars Jack, a bulky mechanic with a chainsaw for a right arm, who is competing in a game show that has him fighting an assortment of strange characters to the death. This mostly black and white (with spatters of red) game emphasizes ruthless attacks and finishing moves using nearby objects -- for example, players can impale their opponents' heads with a caution sign.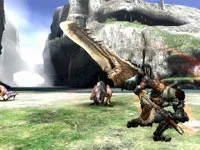 Monster Hunter 3
Release Date: No date announced Developer: Capcom Publisher: Capcom
Monster Hunter 3
's forthcoming Wii-exclusive release was seen by many as a major victory for Nintendo, as this will be the first
Monster Hunter
console game on a non-Sony system. The last installment in this highly successful series,
Monster Hunter Portable 2nd G
, was the
top-selling title across all platforms
in Japan during 2008, moving over 2.5 million units. The action RPG will feature improved monster AI, underwater hunting, classic controller support, two-player split-screen play, online multiplayer support for up to four players, and the ability to record battles.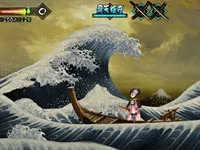 Muramasa: The Demon Blade
Release Date: 2009 Developer: Vanillaware Publisher: Xseed Games, Marvelous Entertainment USA Known for its hand-drawn 2D games,
Odin Sphere
-developer Vanillaware hopes to again dazzle players with
Muramasa: The Demon Blade
's visuals, presenting gorgeous, colorful scenes that look more like
Hokusai prints
than video game environments. Players choose from two ninjas and slash their way through the beautiful sets, fighting a parade of creatures taken from Japanese mythology. The ninjas collect and carry over a 100 different katanas, each offering their own special moves to unleash on the game's flying enemies and giant golems.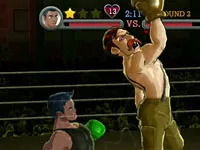 Punch-Out!!
Release Date: Spring Developer: Next Level Games Publisher: Nintendo Almost 15 years since the last
Punch Out!!
game was released, Little Mac finally makes his return to the ring with a new installment to the accessible, rhythmic boxing series, thanks to Canadian developer Next Level Games (
Mario Strikers
games). Nintendo hasn't revealed much about the title so far, but several returning fighters were already spotted in the announcement trailer (Glass Joe, Von Kaiser, and King Hippo), and gamers can expect to use their Wii Remote and Nunchuk to throw their punches, similar to
Wii Sports
' boxing.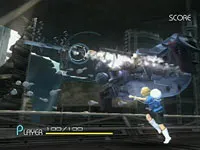 Sin and Punishment 2
Release Date: No date announced Developer: Treasure Publisher: Nintendo
Sin & Punishment
didn't see a retail release in the U.S. when the 3D shoot'em up debuted on the N64 in 2000, but North American gamers were finally formally introduced to the title in 2007 through Wii's Virtual Console. The VC release's sales exceeded Treasure's expectations, and the company announced a Wii-exclusive sequel not long afterwards. Players will again dodge a constant torrent of enemy fire while chasing and plinking away at screen-filling bosses. This sequel also looks to have more emphasis on airborne (and underwater) stages, offering more freedom of movement than the original.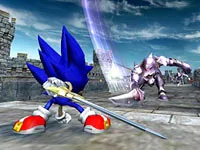 Sonic and the Black Knight
Release Date: March 1st Developer: Sonic Team Publisher: Sega Sonic and friends are transported to Camelot, where they'll take on a possessed King Arthur who's ruling his kingdom as the tyrannical Black Knight. The blue hedgehog can help out villagers to increase their "knight ranking" and earn special items. Similar to
Sonic and the Secret Rings
, players will speed through 3D stages using the Nunchuk's analog stick, but they'll need to learn the game's new swordfighting system to defeat certain enemies, too -- they can slash, thrust, parry and perform other maneuvers with Sonic's talking sword.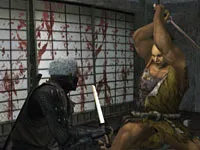 Tenchu: Shadow Assassins
Release Date: February Developer: Acquire Publisher: Ubisoft Acquire, the original developer of the series, returns with
Shadow Assassins
, hopefully to restore
Tenchu
's reputation. Players sneak through over 10 levels and 50 quests, carrying out assassinations in the name of bringing peace to feudal Japan. The game features a visceral collection of stealthy killing moves executed with Wii Remote motions, and over 17 weapons and tools familiar to the trade, such as shuriken, smoke bombs, and a cat that can be used to distract enemies and scout the area.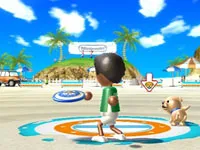 Wii Sports Resort
Release Date: Second Quarter Developer: Nintendo Publisher: Nintendo The sequel to Nintendo's immensely successful pack-in game
Wii Sports
,
Wii Sports Resort
hopes to deliver that same accessible, fun experience, with a beach resort and island vacation theme. This game will be the first title to work with the new Wii MotionPlus peripheral, which allows the Wii Remote to more accurately capture player movements. Only three activities have been announced for
Wii Sports Resort
so far -- frisbee toss, jet skiing, and sword fighting -- with at least 10 games planned for the final release.