[Following last week's release of NPD's September North American sales figures, EEDAR's director of analytical services Jesse Divnich presents his Gamasutra-exclusive study of September's hardware and software trends. In this analysis, Divnich looks at how Microsoft's recent Xbox 360 price cut hasn't affected PlayStation 3 hardware sales.]
When Microsoft announced its
new Xbox 360 pricing scheme
in September, most industry experts agreed that the price cuts would have two effects:
It would increase the sales for Xbox 360 hardware, and
It would decrease the sales of its competitors, mainly Sony's PlayStation 3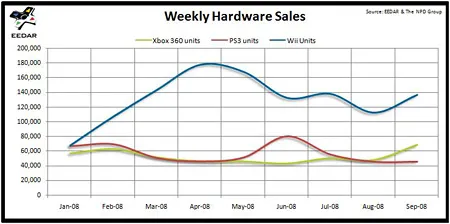 Our data indicates, however, that a price cut from either system plays a minimal role in affecting the others' sales, with the most recent example being the September 2008 price cut by Microsoft. While Xbox 360 weekly sales jumped by 42 percent, it played no role in hindering PlayStation 3 sales, which actually saw a small (.1 percent) increase. In the same respect, looking back to last year, the PlayStation 3 had a 100 percent increase in weekly sales following its July 2007 price cut, but was of no nuisance to the Xbox 360, which achieved a 7 percent gain in the same month.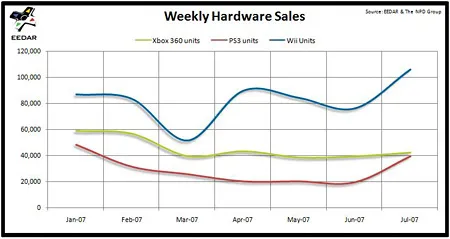 While it is tough to conclude using only a few data sets, both situations show an emerging trend -- a price cut for one system does not hinder sales of the competition. While I still maintain my original analysis that the current PlayStation 3 price point is too steep to spur sales this holiday season, it may not affect its overall potential install base in the end. In other words, those potential PlayStation 3 owners who are turned off by the current high price point may just delay their purchase until prices come down, instead of buying the cheaper Xbox 360. Of course, that would only be true if pricing was the only differentiating feature that drove hardware sales, and, as we will see tomorrow, there is another factor -- exclusive releases -- that plays a much bigger differentiating role than hardware pricing. We should note that we could not find any practical data points looking at sixth generation consoles since most price cuts between the original Xbox and the PlayStation 2 happened simultaneously. [Jesse Divnich currently serves as the director of analytical services at Electronic Entertainment Design and Research (EEDAR). The preceding is the views and opinions of one person and not of EEDAR, The simExchange, GamerMetrics, or Gametrailers.]