[Throughout this week, EEDAR's director of analytical services Jesse Divnich is presenting exclusive Gamasutra analysis of April's hardware and software trends, using data from Electronic Entertainment Design and Research (EEDAR), The simExchange, NPD, IGN GamerMetrics, and GameTrailers. Today's chart analysis examines character branding's effect on game sales, noting that publishers are finding it especially difficult to establish new brands with their Wii software. Previously: sluggish GTA IV hardware sales pointing to likely PS3 and Xbox 360 price cuts and the unsure future of hardware-driving titles.]
Branding has always played an important role in promoting our products and services — our shoes are named after top-notch athletes, our perfumes smell like celebrities, and, just the other day, I was asked at a Burger King if I wanted to try their new "Indy Whopper." Video games are no different as we (EEDAR) track three major branding categories — universes, titles, and characters. Within those major categories, we have 18 sub-categories, each consisting of divisions such as "celebrities," "comic books," movies," etc. For today's topic, we will examine games that have branded characters. For reference, we consider a branded video game character as a character based on a video game intellectual property that has made more than one appearance. In other words, Sam Fisher from the
Splinter Cell
series was not a branded character in his first appearance, but would be in every game thereafter.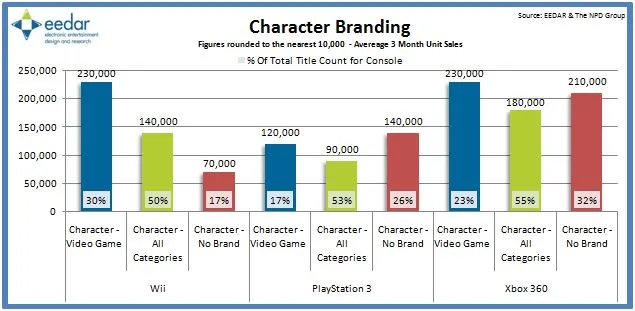 The most interesting data point comes from the Nintendo Wii, as any form of character branding outsells titles with no character branding at all, something that is the reverse on the other two systems. We consider this significant as the "no character branding" category consists of games that publishers hope to turn into brands, such as
Zack & Wiki
,
No More Heroes
,
Boom Blox
, etc. For the PS3/Xbox 360, this category excels as publishers try to ensure a higher quality standard and stronger marketing support in hopes of turning a new intellectual property into a brand. However, for the Wii, this data indicates that it is significantly tougher to try to launch new branded characters compared to the other two systems. This could be a crucial piece in trying to answer the question of why third-party publishers are having a more difficult time succeeding on the Wii. Tomorrow, we will examine by publisher who has the best intellectual brands, whether used in the game's title, used as a character, or used within a branded universe.
[Jesse Divnich currently serves as the director of analytical services at Electronic Entertainment Design and Research (EEDAR). The following is the views and opinions of one person and not of EEDAR, The simExchange, GamerMetrics, or Gametrailers.]