[Continuing his Gamasutra-exclusive NPD analysis following the release of July's game sales figures EEDAR's director of analytical services Jesse Divnich compares first-month sales for multiplatform releases and finds that gamers prefer to purchase the Xbox 360 versions for titles with strong multiplayer components. Previously: Wii supply to meet consumer demand soon and disappointing Xbox 360 hardware sales despite a discounted Pro model.]
It is often said that the PS3 and the Xbox 360 compete for a similar consumer base. While we do not have distinguishable data to suggest otherwise, we do have enough data to show that each consumer base has its own taste in games.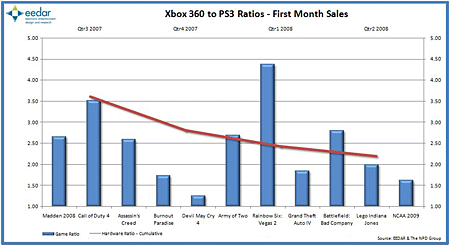 For multiplatform games with a strong multiplayer component, it is clear that the Xbox 360 SKU has an overwhelming popularity over the PS3 SKU. For example, the Xbox 360 version of
Rainbow Six: Vegas 2
sold almost 4.5 copies for each PlayStation 3 copy sold within the first month of release, a significant difference. Games with mass-market appeal tend to fall below the current hardware ratio line, as seen with
Lego Indiana Jones
and
Assassin's Creed
. However, games that have a stronger root to previous Sony hardware systems -- such as
Madden 2008, Devil May Cry 4, Burnout Paradise, GTA IV
, and
NCAA 2009
-- tend to produce the best results for the PS3 SKU. Going forward, I continue to expect mainstream titles to outperform below the cumulative hardware ratio line, as well as brands that became popular on the original PlayStation and PlayStation 2. For games with a strong multiplayer component, however, I expect the Xbox 360 versions to continue to have dominating market shares. Simply put, no matter how large the PS3 base may get, even if it passes the Xbox 360 years from now, I do not see how Sony's PlayStation Network could compete against Xbox Live. Xbox Live will always have one differentiating feature that Sony will likely never be able to replicate -- at least, not in the current console cycle.
[Jesse Divnich currently serves as the director of analytical services at Electronic Entertainment Design and Research (EEDAR). The preceding is the views and opinions of one person and not of EEDAR, The simExchange, GamerMetrics, or Gametrailers.]