[In a Gamasutra-exclusive market analysis, EEDAR's Jesse Divnich studies how women are represented in video games, looking at the percentage of titles that provide playable female characters across home consoles and most major genres.]
With a recent ESA report showing that more than 40 percent of gamers are women, it would only be fair to do a follow-up analysis to see whether our game characters are keeping up with this emerging market. At EEDAR, we track over 15,000 features for each game, one of which is the "Game Has a Playable Female Avatar" category. Using this data, we can slice it up in ways similar to what we do with NPD data every month. Here, we will examine the percentage of games within major genres that have playable female characters. Many of you might be surprised by the results, as the data indicates that over 50 percent of games in most genres have playable female characters.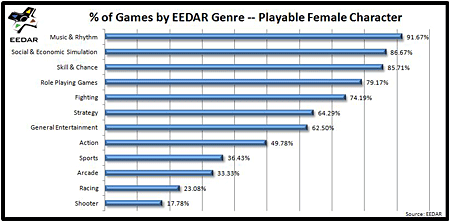 As expected, the genres with the highest percentage consist of titles often described as casual, such as General Entertainment, Social, and Skill & Chance games. The more core genres, like Action, Sports and Strategy, have a fair representation, while the most hardcore genre, Shooter, has the least. The games that do not follow the above trend are Role Playing Games, as 80 percent of them have playable female characters. This is not too surprising, since most RPGs allow users to not only play as numerous premade characters, but also customize their own. If anything, I am surprised that the category is not 100 percent, but you can thank
Opoona, Baroque, Chocobo's Dungeon
, and
Two Worlds
for that. Furthermore, here are the percentages between the consoles. Keep in mind that any game that allows you to play as your Miis is considered to have a playable female character, as well as any game that allows you to customize your character through online play, even if the single player portion of the game does not.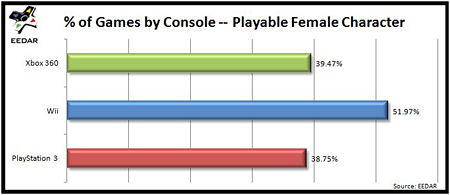 What does Gamasutra's readers think about this data? Based on these results, can we conclude that women are being proportionately represented in video games?
[Jesse Divnich currently serves as the Director of Analyst Services at Electronic Entertainment Design and Research (EEDAR). The preceding is the views and opinions of one person and not of EEDAR, The GamerMetrics, or Gametrailers.]