[In a Gamasutra-exclusive market analysis, EEDAR's Jesse Divnich examines how major console exclusives -- from God Of War 2 through Halo 3 and Metal Gear Solid 4 and Super Smash Bros Brawl -- negatively impact the weekly hardware sales of the platforms that lack them.]
Yesterday, we observed how one console's price reduction has
little influence on sales
for the others. For today, we will use the same concept, but with data points from the months that had high profile or 'AAA' exclusive releases -- to show any positive and negative correlations to hardware sales. For this, we chose the following releases -- the PlayStation 3-exclusive
Metal Gear Solid 4
, the PS3 and Xbox 360-specific
Grand Theft Auto IV
, the Wii-exclusive
Super Smash Bros Brawl
, the Xbox 360-exclusive
Halo 3
, and the PlayStation 2-exclusive
God Of War 2
. It is interesting that, every scenario -- except for a minor anomaly with Xbox 360's
Grand Theft Auto IV
-- resulted in a decrease in month-on-month weekly hardware sales for the consoles that did not have the major release, not just an increase for the console that got the exclusive.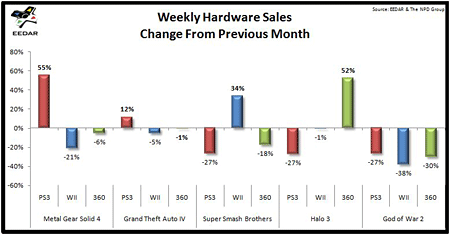 Even the Wii, which most experts would agree is impervious to the rest of the market, had its weekly hardware sales decrease in all four situations where exclusives launched alongside it. Of course, this could be a coincidence, since most experts tend to agree that monthly Wii sales correlate more to supply than any other single factor. Nevertheless, the data is notable, especially for the other two next-generation systems, the PlayStation 3 and Xbox 360. Probably the most remarkable data point that reinforces our hypothesis comes from March of 2007 with the release of PlayStation 2's
God of War 2
, which was the top-selling title for March at over 830,000 units. This was the only month, in all of 2007, that all three seventh-generation systems -- the PlayStation 3, the Xbox 360, and the Wii -- posted a month-over-month decrease in weekly hardware sales. Surely, this was no coincidence. While competitive pricing will always play some role in driving hardware sales, our data indicates that the best one-two punch a hardware manufacturer can deliver to its competitors will always be strong exclusive releases. After all, at the end of the day, a cheap hardware system means little if it doesn't have great titles to go along with it.
[Jesse Divnich currently serves as the director of analytical services at Electronic Entertainment Design and Research (EEDAR). The preceding is the views and opinions of one person and not of EEDAR, GamerMetrics, or GameTrailers.]