Sony's Santa Monica Studio is hiring in a major way. The team wants to bring in upward of 50 people across all disciplines to work on their next big game for PlayStation 4. Their project is well into production, and they're hiring fast. So, why Santa Monica Studio?
Santa Monica Studio is part of the PlayStation Worldwide Studios 1st party family and is renowned for evolving the action/adventure genre with the iconic God of War franchise. They have also championed innovation in games, and continued to mentor new voices in independent development. Whether it's through the incubation program established with thatgamecompany and their series of widely acclaimed titles, flOw, Flower and Journey, or their work with Giant Sparrow on The Unfinished Swan and What Remains of Edith Finch, or the development partnerships with external developers like The Chinese Room on Everybody's Gone to the Rapture or Fun Bits Interactive on Fat Princess Adventures, Santa Monica Studio's External Development continues to push the boundaries of gaming.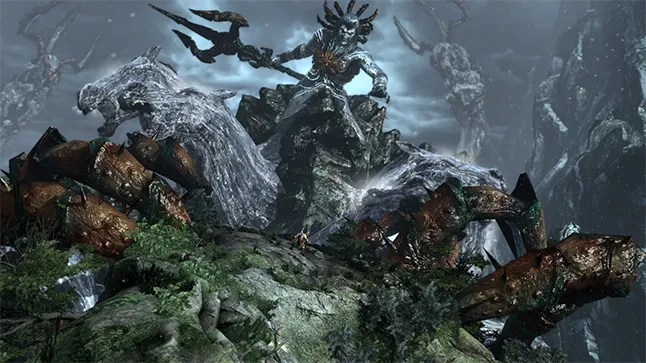 We could also tell you about how Santa Monica has lovely beach access and a vibrant nightlife in one of the largest hubs for game development in the world, but every company has some version of that story. When it comes down to it, compensation and relocation packages aside (though we'll get to that), the three big things when it comes to a new game dev job are stability, the quality of the people you'll be working with, and the amount of personal creativity you can exercise. To answer all these queries in one fell swoop, Santa Monica Studio is hiring people for the long term, to flex their creative muscles and join their unique family.
To dig a little deeper, we'll talk with four of your potential future teammates to see why you might want this as your next job.
True Collaboration, with Lead Environmental Tech Artist Richard Greenspan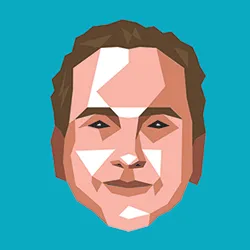 Santa Monica Studio is a truly collaborative environment. The development space is a wide open neighborhood, where people walk and talk through their problems. Veteran Lead Environmental Tech Artist Richard Greenspan recalls a time during the origins of the studio's life when he truly realized what it meant to be part of this team.
"So this environment artist was working on tracks for Kinetica," he says, referring to the studio's first game, an early futuristic PS2 racer. "He was trying to do a pretty simple operation of duplicating lights along the track, and he wanted them to show up every few meters. He was using an asset duplication process, and after running the whole day, the process would crash."
"I could see this guy was getting more and more stressed," Greenspan says. "He had wasted several days; it'd take him forever to do it by hand. I didn't know how to help him, but I needed to try."
At the time, Greenspan was still a junior tech artist, in practice, even though the job title didn't even exist as it does today. He had never done scripting before, but knew he could figure it out.
"I looked at my notes, and I wrote a script – it took two to three hours to outline and test it," he said. "So I went to him and I said 'I hear you need a little help.' He looked at me skeptically like 'how can you help?' But we tried it, and literally within 5 seconds we saw the lights populating the track, and they kept going, and suddenly we were done."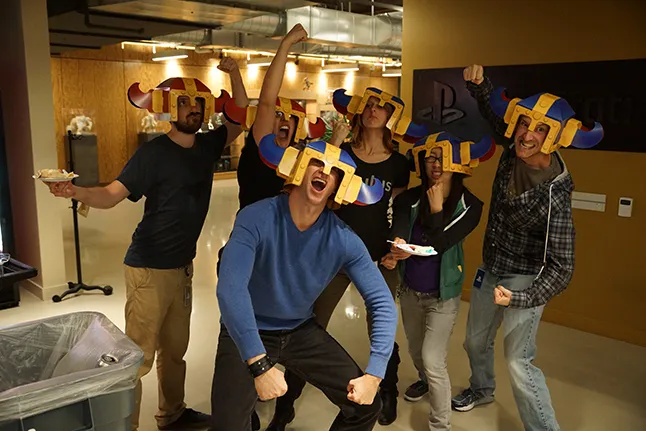 "I'll never forget the look on that artist's face – by spending a couple hours on this script I was able to help this guy who had been struggling for days with this problem. He gave me a hug, he was so happy that it worked out. This was kind of a defining moment for me personally, and I knew, this is my job."
Greenspan says this is the prevailing attitude at Santa Monica Studio. "Here, your job is not to do your particular task," he says, "your overall job is to make this project successful in any way you can contribute. Of course, everyone's got their particular focus and task, but if I see somebody doing something in a way that's not as efficient, or someone designed something I think could be better, it's my responsibility to talk to the person and try to help."
Creative Freedom, with Lead Character Artist Rafael Grassetti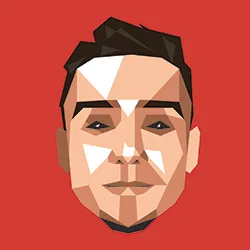 The better you get at your job, the more you want to have some real input on the final project. We're all creatives in this industry looking to flex our inspiration muscles within our respective disciplines. Nowhere is this truer than the artwork disciplines.
Now, even though Santa Monica's project is in full production, there's constant room for everyone to share their voice and ideation. As Lead Character Artist Rafael Grassetti says, "It's very open creatively. It feels like it's a big family working toward the same goal. Not a lot of competition, or people trying to jump to different projects."
When you're modeling or texturing a character, "you have a lot of input on the design as an artist," he adds. "The design of a character usually is not fully established, so we often get a paint-over of a character, or a background, and we can expand from there."
All artists want that taste of freedom, it comes with the territory. "It happens a lot," he says. "A new character artist starts and wants to be a little more creative, and you can see that in their personality, and we always try to use that, and give them characters that have a little more freedom. You can enhance it with your own personality, and push it even further in animation, it's kind of like a snowball that's hard to stop, but it all starts with a great idea."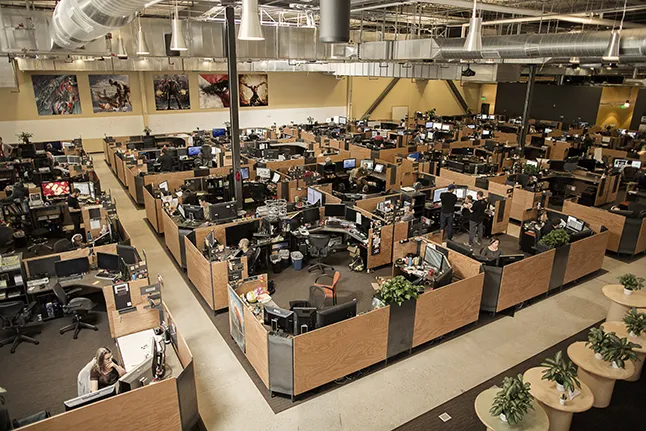 And it doesn't matter what your job title is, once you're part of the Santa Monica Studio family, your input is valued. "Just because I'm the lead doesn't mean I have more freedom or influence," Grassetti says. "Everyone feels they have freedom to be part of the process as well. There's not a huge competition amongst us to be at the top."
Diving Deep, with Technical Architect Bart Wronski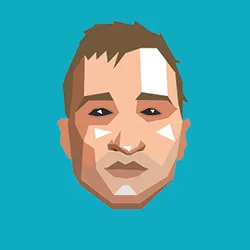 Working at Santa Monica Studio, the PlayStation 4 will naturally be your target platform. Having the opportunity to focus developing on one powerful platform is usually not the case for many developers, and Technical Architect Bart Wronski loves it.
Wronski has worked at companies like CD Projekt Red and Ubisoft Montreal on multiplatform projects, but as he puts it, moving to a single platform was "a total game changer for me and the way I work. Developing for a single platform means we can use 100% of its power. We can pour every single shader or obscure technique we discover in there. We can find all the strengths and weaknesses of the system and exploit that 100%."
When multiple platforms are your goal, you don't get insight into the metal of the hardware – the strongest capabilities of the individual components. "We're completely not concerned with breadth," says Wronski. "We can just go as low and deep as possible. It's always been the case that games that were console exclusive pushed the boundaries of graphics, but we're also part of the whole PlayStation family, which means we get a much deeper understanding of the platform."
Even if you aren't a master of developing for the PlayStation 4, or even triple-A big production games, you're not expected to be. At Santa Monica Studio, everyone learns on the job all the time. "We have people on the team who worked on smaller projects in smaller studios but wanted to grow," he says. "We found this passion in them and how they're beyond what they did before and want to grow. We can give this opportunity to them, but they also have to be willing to grow on their own."
Ultimately, the team trusts each other, no matter how deep they may dive. "If there's some work that needs to be done and my colleague is doing it, I stop thinking about it and whether it'll go well," says Wronski. "I can really just leave it to them and know it'll get done. I think this is a luxury in the industry."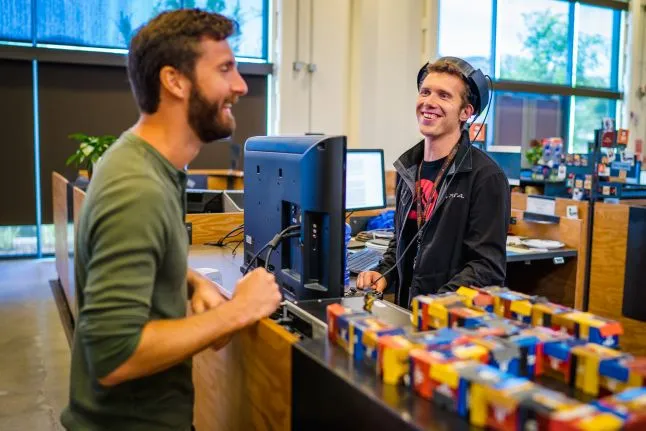 Studio Culture and Benefits, with Head of Studio Shannon Studstill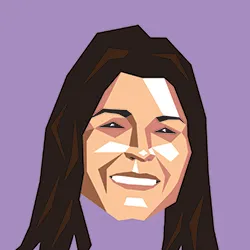 Santa Monica Studio wants people who can build their next generation of games. As Head of Studio Shannon Studstill says, "We're not focusing on building a team that is capable of simply releasing a game. We're looking for people to help us bring the studio forward into the future. Creatives that will push the boundaries of excellence and quality -- this is the mantra of PlayStation first party and Santa Monica Studio."
At the heart of their culture, Shannon says "the team is everything," and within that "growth is critical" for everyone. It's a cornerstone of the studio culture to enable everyone on the team to not only feel creatively empowered, but motivated to maximize their strengths towards creating the best game possible. "While we consistently balance our compensation with the competitive landscape, it's always our goal to develop everyone's growth plans with recognition throughout all aspects of their work. We recognize great talent and great work in our studio, and look to reward people for that regardless of one's level on the team. "
And you needn't worry about your current location – if they want to hire you, Santa Monica Studio will relocate you regardless of where you live. "We are looking for diversity and therefore we source globally," says Studstill. "For us it's all about the level of talent, how well you fit into our culture, along with your passion for the types of games that we make. Therefore it doesn't matter where you come from."
The Next Gods of Games
Some say you can judge a company by its leaders. How do they think about the business? How do they think about those that work with them? Here's Studstill's take. "For me, I'm constantly looking at ways to enhance and support the creatives, not only in the way we structure things or build an environment for success but the value of the art and the technology that they produce along with what it took to get there" she says. "Everyone here is a creative. We build something from nothing, from the ground up together. I don't care if you look at a spreadsheet all day, or drive numbers and analysis. We are all a team solving problems creatively. Everyone has to come together with all known aspects of the challenge and think outside of the traditional parameters to solve problems in a demanding fast-moving production environment."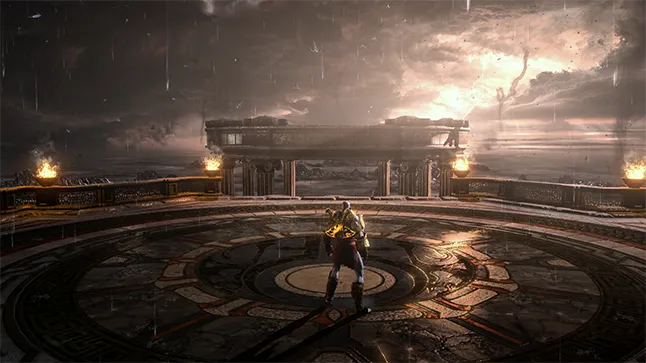 And that's what it's all about at Santa Monica Studio. The art of the mastery of video game development. "We treat the studio in that way," she concludes. "We're all building the next entertainment experience that is going to move this medium forward. We take a lot of pride in this. This is celebrated every day in multiple ways. We celebrate our iconic game characters who are featured in our lobby. We celebrate our very talented group of creatives and our creative environment. This is taken very seriously because we know it takes a lot to make something out of nothing."
"Therefore, our high touch support is very much part of Santa Monica Studio's success. We take the management of every decision seriously and very carefully strive for an atmosphere that reinforces our high bar of quality. We value everyone that sits within these walls and do what we can to allow them to focus on sustaining their persistence and passion for the game. In turn, they bring every ounce of creativity they can into crafting greatness. The goal is to bring out the best in anyone and everyone who comes into these roles, because it encourages their individual fervor, and that becomes contagious."