Sony Interactive Entertainment's (SIE) push for great third-party games on the platform took an interesting turn in 2022 when the company announced that sci-fi cat platformer Stray would be a PlayStation console exclusive—and that it would be the first game available on PlayStation Plus' new subscription offerings.
It was a big moment for developer BlueTwelve Studio. Though the game would also launch on Steam, the combination of console exclusivity and subscription service availability would put the little game about an intrepid cat in a primo marketing position. It and publisher Annapurna Interactive definitely reaped major benefits by working closely with PlayStation proper.
So, what makes a deal like Stray's possible? As it turns out, Sony was eager to help answer that question. Shawne Benson, global head of third-party portfolio and acquisitions at SIE swung by with some interesting context about the process for signing Stray, and some examples of how the platform holder wants to work with other third-party developers in the future.
Given Sony's aggressive pitches to investors in the last year about live-service games and robust third-party offerings, we were eager to chat. Here's what Benson told us.
Stray was a paws-itively great match
Like the rest of Video Game Twitter, Benson was hypnotized by Stray's pitch when BlueTwelve showed footage off in 2016. Annapurna jumped in around then to sign a publishing deal for the game, but Benson still had her eye on it.
"I was so obsessed and mesmerized instantly," she recalled. "It's very rare that we'll see a game where it's absolutely love at first sight." She noted that Stray had a lot going for it in terms of attracting appeal. Its platform-based gameplay and use of cats attracted a built-in audience (despite it not being based on a major IP).
The unnamed cat protagonist also made the game "inclusive" to a wide range of audiences, and would offer some global appeal in many different regions. As Benson and her team began talking with Blue Twelve and Annapurna, the group began to eye the upcoming release of the PlayStation 5.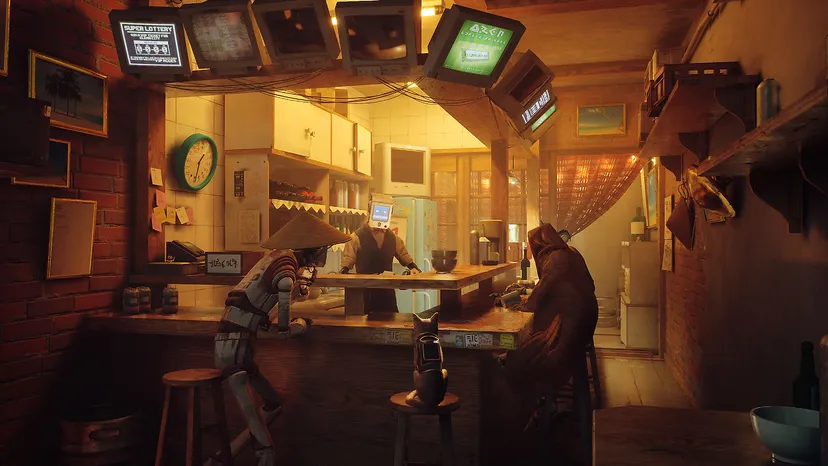 According to Benson, discussion of Stray's inclusion in the PlayStation Plus Enhanced subscription service came long after its creators settled on PlayStation console exclusivity at launch. "They really wanted to focus a lot of energy on development for our platform," she explained. In that time period, BlueTwelve was able to engineer the game for the best performance on PlayStation 5, and explore the possibilities around the DualSense controller.
Benson commented that the hope was they could sell the story that the PlayStation 5 was "the best place" to experience Stray, and the DualSense design inclusion really sells that idea. Having the game's meow-on-command feature send a little "meow" that pops out of the Dualsense speaker? Pretty appealing.
As Benson tells it, Stray just fell into the right groove of what PlayStation was looking for—but if you tried to define that "groove," you might find yourself scrambling for words.
Benson said there's a reason for that.
PlayStation doesn't want to be "prescriptive."
Chatting about Stray led us to discuss how other developers could learn from BlueTwelve's example. If your game has an animal protagonist that can be relatable across languages and cultures, that's not a bad thing! But Benson wanted to stress that "global appeal" wasn't some core feature the company is looking for in every partnership. And that goes for a game's mechanics, theme, or genres as well.
"We try not to be too prescriptive," she said. "Because the moment we start doing that, we're just gonna get pitches of the same thing. We want [the game] to be what the creator wants to make."
Benson shared some other variables she and her colleagues consider: they think about if they can make PlayStation "the best place" to experience a game, and they look at whether a game can "tap into the value and virtues of the console and [the] brand."
Those virtues can range from technical to narrative or thematic. She said the team is looking for "story-broadening" opportunities for underrepresented types of characters as much as it's looking for interesting technical innovation. She referred to a PlayStation 5 showcase from a while back where Sony spotlighted Goodbye Volcano High and NBA2K in back-to-back segments. She said that "breadth and depth" of game types are really important to the company.
Developers pitching Benson or her team are encouraged to "have a deep understanding" of their game—why is it unique? What's the selling point? She also encouraged aspiring partners to show playable builds that augment the pitch.
The build doesn't even have to be on PlayStation. "PC builds are fine—we can kind of interpret even in the roughest prototype form what we're being pitched [...] and how this could fit and manifest on PlayStation," she said.
Developers should come to PlayStation with "a clear ask"
Benson's team doesn't just weigh console-exclusive third-party games. She explained to Game Developer that they're often in talks with larger publishers about how their games will live on the platform, what kind of DLC they might be pitching, and how they need PlayStation's resources to sell it.
What Sony needs to make the most of those pitches, Benson said, is clear context about what developers need. "A lot of times people will send a paper pitch that gives us everything under the moon on what the game is, even all the details on the lore," she explained. "Those are all fun for us to learn about and understand—but we also need to know how we can work together."
Sony's resources include content funding (helping pay for a game's development) to co-marketing opportunities and beyond. Benson said that her team really needs details about what developers need to start evaluating prospective partnerships—or even semiformal partnerships (think a partnership that's more button-ups with jeans, rather than a full suit).
The examples she pitched from the latter group included indie spotlights on the front of the PlayStation store to specific highlights for triple-A partners on the PlayStation blog. "If there's a thing that's preventing you from crossing the line, making [your game] a really great experience on PlayStation, that's where we come in and evaluate where we could potentially collaborate," she said.
What if you're not great at pitching?
In the world of indie publishing, developers are often told that nothing matters if they can't pitch well. Heck, one of the most popular talks on the Game Developers Conference YouTube channel is a 2016 talk about why your pitch sucks (disclaimer: GDC is our sibling organization).
But take all the pitching classes you want, and you still might find it a frustrating exercise to go out and pitch your game over, and over, and over again. Maybe you're just not socially energized by the process, or maybe you don't have the nuances of business-speak down to a pat. It can be disheartening to be told this very social skill is such an essential part of securing deals.
Benson doesn't field as many direct pitches as much she used to, but she was sympathetic to developers in this position. "Our account management team—particularly around the indies—has a group that's dedicated to be that boots on the ground camp that's looking for those diamonds in the rough," she said. Sony's staffers are on the lookout for developers fresh out of university or striking out on their own for the first time.
When those relationships pick up, she said that account managers are able to workshop directly with partners and sharpen developer pitches before they get to the formal pitch stage. "I think that's one of the cool things that that team is doing inside of our third-party group," she said. She remembered being in their shoes when she was supporting indie developers on PlayStation, hoofing it from PAX, to Indiecade, to GDC, and beyond. She spent time giving feedback and having "rapid conversations" with developers to coach them and get them into a better place.
Now she's just glad there's a dedicated team working to "amplify those new voices," and open doors for developers who don't know the right person to talk to.
Where is PlayStation looking next?
The COVID-19 pandemic radically shook up the video game industry in so many ways. Benson is still "baffled" (in a good way) that the PlayStation 5 launched so strong and successfully in the middle of a global pandemic (and during a particularly rough stage of it too).
In those days, she and her team were focused on targeting "early adopter" audiences, but the widespread sales of the console mean the company is looking at broader audiences much earlier in the console's lifecycle when compared to the PlayStation 4.
"There are more people getting into gaming than ever," she observed, noting that the team isn't just looking at audiences in the global West, but also audiences in Japan and "greater Asia." She also explained that remote work technology has allowed her team to expand and work closely with colleagues in more far-flung locations.
Benson's observation that her team is pitching to "the mass audience" much earlier than during the PlayStation 4 era is a particularly interesting observation about the entire video game market. It also speaks to how everyone, everywhere has had their expectations of the industry turned on their head by this world-shaping event.
We joked briefly that this was surely the reason so many farming simulators were unveiled in 2022—but farming sims aren't the limit of what "the mass market" wants. It's up to developers of all stripes to figure out what that is.