The average resale price for Nintendo's Wii hardware is now down to the system's list price of $250, a dramatic drop from its $469 resale price of during the same period in 2007. The console's resale price has steadily decreased since last year's holiday season, with a slight bump in June 2008 before resuming its descent. Pricing data site
Video Game Price Charts
-- which tracks "gray market" sales, or games and consoles re-sold through unofficial, largely North American channels such as Amazon, Half.com, eBay, and JJGames -- has
put together the following chart
tracking Wii's price: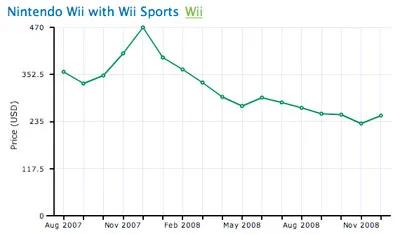 The drop in resale price is presumably due to an increase in supply, as Nintendo
increased production
by at least 33 percent in the past year in an effort to meet demand, particularly ahead of the holiday season. Though December sales are historically twice November's, it's unlikely that there is enough Wii hardware available to reach 4 million consoles sold for the month -- which would double Wii's surprising
2.04 million consoles sold
in November. In addition, resale prices are typically below retail prices, suggesting that Wii supply might still be somewhat constrained, according to
the Video Game Price Charts post
, which predicts December sales for the system at 3.3 to 3.5 million units.