Sony came out swinging today with its 2023 PlayStation Showcase broadcast: a massive hour-long pitch that delivered an expected mix of freshly announced titles, gameplay footage of previously announced games like Marvel's Spider-Man 2, some surprise streaming hardware, and a host of promised live service titles.
After beginning the broadcast with the unveiling of Haven Studios' multiplayer shooter Fairgames, Sony Interactive Entertainment CEO Jim Ryan appeared on camera to offer "a glimpse into the breathtaking and imaginative content" you can find on PlayStation 5. His central thesis seemed to be that this console generation was still warming up, and that developers are beginning to make the most of the PlayStation 5 and PlayStation VR2 hardware.
Scanning the list of games, Ryan's argument definitely has merit. Footage of Marvel's Spider-Man 2 showed off new powers for co-protagonists/Spider-Men Peter Parker and Miles Morales, and smaller games like a port of Teardown signaled that developers are pushing ahead on the platform's processing power.
But the surprise unveiling of "Project Q," a Sony-manufactured PlayStation streaming device, and the unveiling of several live service titles like Bungie's Marathon reboot, Arrowhead Game Studios' Helldivers 2, and the aforementioned Fairgames, seemed to show that Sony wants more revenue streams out of the PlayStation business
Sony showed off more exclusive multiplayer games than single-player ones
In the last two years, Sony's various reports to investors and studio acquisitions have signaled the company's intent to have PlayStation become more of a live service powerhouse. Currently, the top multiplayer games on the platform (which all draw in revenue through in-game spending) come from third-party developers. Marathon, Helldivers 2, Fairgames, and Concord showed up in slots normally occupied by single-player exclusives. In the past, those have included Horizon Forbidden West, Ghost of Tsushima, and The Last of Us Part II.
Marathon is the previously reported revival of one of Bungie's earliest shooting franchises, while Fairgames looks to be a sci-fi extraction shooter, and Helldivers 2 is a No Man's Sky-esque exploration and alien hunting game that's maybe a little too deeply inspired by Starship Troopers.
Helldivers 2 is making a BIG jump in genre from the original game, which was a niche twin-stick shooter from the early PlayStation 4 era. Slapping name on a new game shows just how much has changed in the co-op shooter business since 2015.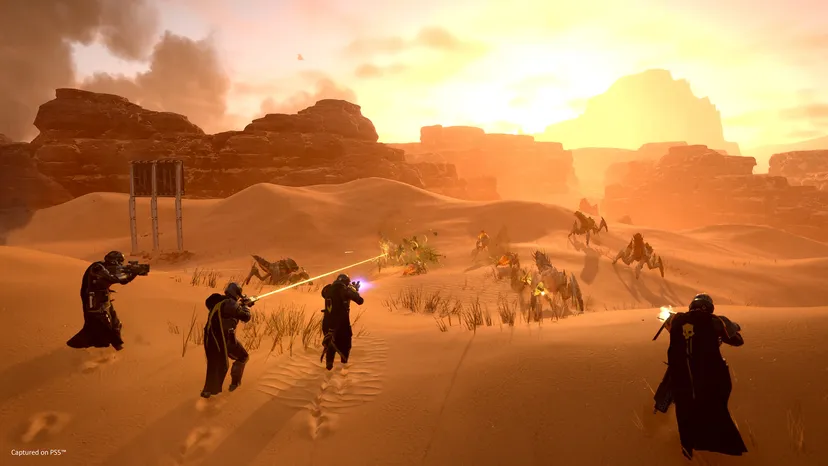 Many of PlayStation's best-selling franchises didn't make an appearance in this broadcast, despite public knowledge that a Horizon multiplayer game is in the works, and Naughty Dog's The Last of Us multiplayer experience has been teased (but not shown) for literal years.
That's actually not bad news for the various studios—Guerilla Games, Sucker Punch Productions, and Naughty Dog, respectively. Efforts to bring those franchises into the live service world now have more time to breathe, and Sony can begin building games from its new studios.
The next wave of PlayStation VR2 games are all shooters (and Beat Saber)
If the PSVR2 didn't make an appearance in today's broadcast, that might have been a very bad sign for Sony's virtual reality headset. But Sony seemed eager to give it time in the spotlight—and that time was loaded with guns, guns, and more guns.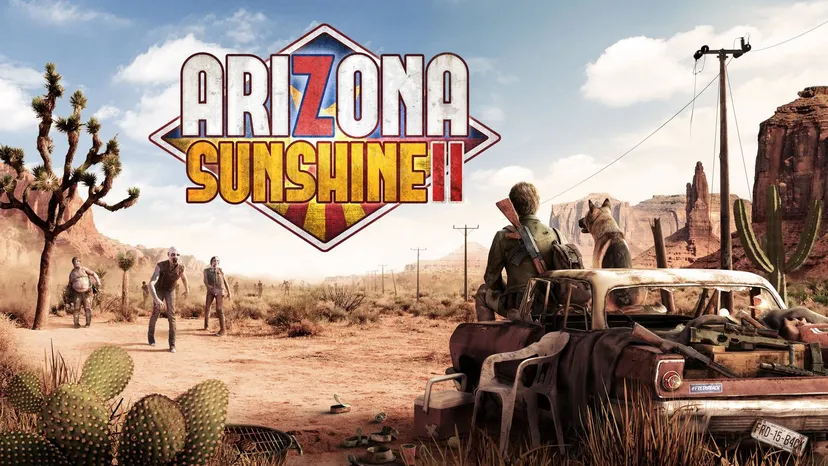 Aside from an unsurprising (but welcome!) Beat Saber port, Sony showed off games like a sequel to Vertigo Games' Arizona Sunshine, a VR mode for Capcom's Resident Evil IV Remake, a spinoff of Smilegate's Crossfire series, and a new title from nDreams called Synapse.
It's all safe territory for the world of virtual reality, since Sony still needs to sell the headset to mass market audiences. And say what you will, but VR shooters have that mass market appeal. For those of us hoping for new experiments in VR gameplay—we'll have to wait a bit.
Sony really wants you to play third-party games on PlayStation
Other fantastic-looking titles seen at the Showcase included The Glory Society and Finji's Revenant Hill, the next title from the makers of Night in the Woods. Newly announced Swedish studio Hadoque announced Ultros, a psychedelic sidescroller, and indie favorites like Giant Squid, Nomada Studios, and All Possible Futures showed off eye-catching new games.
None of the aforementioned games are PlayStation exclusives, but Sony sure doesn't seem to mind if you treated them that way. There was an eyebrow-raising moment when Konami unveiled Metal Gear Solid Delta, a remake of Metal Gear Solid 3: Snake Eater.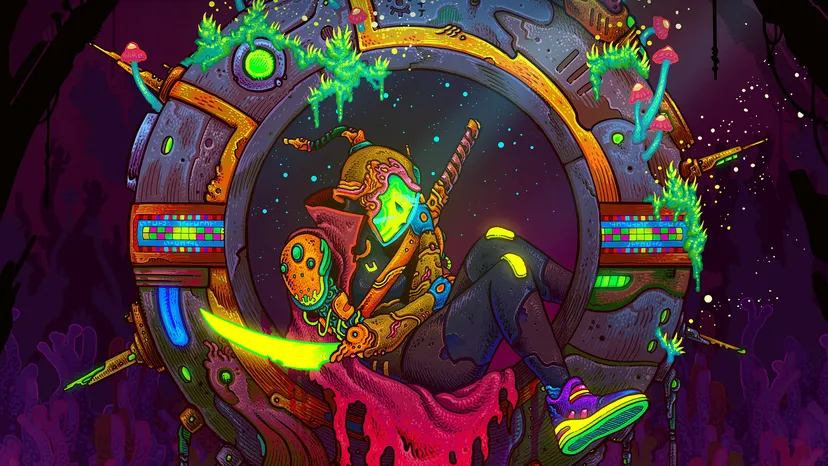 Given there was a time when Konami once exclusively shipped games on PlayStation, you'd be forgiven for thinking Delta was a return to that tradition. But not only is the game multi-platform, Xbox tweeted out its own little teaser to remind audiences on social media that Solid Snake will be sneaking onto Microsoft's console as well (it did the same for Alan Wake 2).
It was a moment that captured some of the elbow bumping between the two major platform operators—one of whom is advocating for lowering walls between platforms (and signing deals to indicate it's not being monopolistic wherever it can), and one that's selling audiences on all the powerful titles they'll find if they just stay in its ecosystem. Both are jockeying in regulatory bodies right now to argue which one is being more anti-competitive.
One amusing fact—while Sony seems eager to leave the last generation of games behind, several titles announced today will also be released on the PlayStation 4.
All the games announced at the 2023 PlayStation Showcase
And in case you missed today's Showcase, here's a full list of everything shown off in PlayStation's big marketing push for the summer:
Fairgames - Haven Studios
Helldivers II - Arrowhead Game Studios
Immortals of Aveum - Ascendant Studios
Phantom Blade 0 - S-Games
Sword of the Sea - Giant Squid
The Talos Principle II - Croteam
Neva - Nomada Studio
Cat Quest: Pirates of the Furribean - The Gentlebros
Foamstars - Square Enix
The Plucky Squire - All Possible Futures
Teardown - Tuxedo Labs
Metal Gear Solid Delta - Konami
Metal Gear Solid Showcase Collection - Konami
Towers Of Aghasba - Dreamlit
Final Fantasy XVI - Square Enix
Alan Wake 2 - Remedy
Assassin's Creed Mirage - Ubisoft
Revenant Hill - The Glory Society/Finji
Granblue Fantasy - Cygames
Street Fighter 6 - Capcom
Ultros -

Hadoque

Tower of Fantasy - Perfect World
Dragon's Dogma II - Capcom
Five Nights at Freddy's Help Wanted 2 - Steel Wool Games
Resident Evil IV Remake VR Mode - Capcom
Arizona Sunshine II - Vertigo Games
Crossfire: Sierra Squad - Smilegate
Synapse - nDreams
Beat Saber - Beat Studios
Marathon - Bungie
Destiny 2: The Final Shape - Bungie
Concord - Firewalk Studios
Marvel's Spider-Man 2 - Insomniac Games