On most platforms, Fortnite Battle Royale has the ideal cross-platform experience, allowing both cross-platform play and progression that carries over from platform to platform.
Sony's PlayStation 4 has, however, been the exception to Fortnite's cross-platform paradise and, now following the release of Fortnite on the Nintendo Switch, it looks like Sony's reluctance to joining in on the practice is now causing issues with other versions of the game. Epic Games accounts now appear to be blocked from using the Switch version of the game if they've ever played on PlayStation 4.
Fortnite players receive an error message when they attempt to log in to the recently released Switch version of the game, but the error looks to only occur if their account has been previously associated with the PlayStation 4 version of the game.
That error message then suggests that the user make a new account to rectify the issues as "neither the Fortnite website nor Epic Customer service" are able to change this."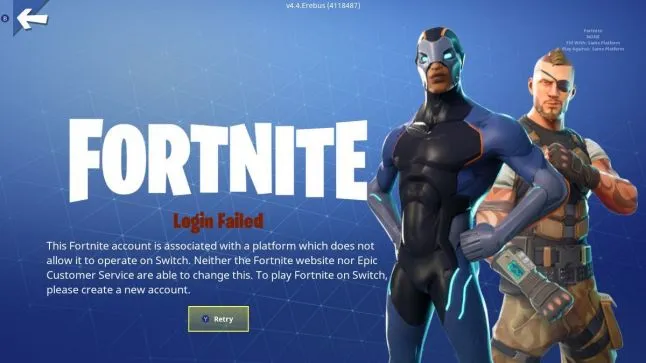 Nintendo, Sony, and Epic, have been silent on the issue so far, but Microsoft's Larry Hyrb subtly tweeted about cross-platform progression between the Xbox One and Switch versions of the game, suggesting that Sony is indeed the likely culprit for the issue.
This all follows news that the Switch, much like the Xbox One before it, will not have any sort of cross-play with PlayStation 4 versions of the game. PS4 players, meanwhile, are only able to enjoy cross-platform play with PC, Mac, and mobile users.
Sony has now established a long history of being resistant to allowing cross-platform multiplayer. Games like Rocket League and Minecraft have encountered similar issues in the past where all major platforms opted to support cross-platform multiplayer except for Sony.
Previously, in the case of Minecraft, a Sony exec noted that the decision to avoid cross-platform with other consoles was driven by its responsibility to protect PlayStation players, specifically children, from "external influences."
"We have a contract with the people who go online with us, that we look after them and they are within the PlayStation curated universe," PlayStation global marketing and sales head Jim Ryan previously explained. "Exposing what in many cases are children to external influences we have no ability to manage or look after, it's something we have to think about very carefully."
However, while the company has been strict on its cross-platform policies in the past this new Fortnite situation has generated a significant amount of buzz from angry players who are now unable to use their Fortnite accounts, and any gear they're unlocked, on the Switch due to issues that seemingly stem from Sony.