The free-to-play and multiplatform Fortnite: Battle Royale has seen rapidly rising player counts, both lifetime and concurrent, since launching as a self-proclaimed PUBG-like in late September, and it looks like that popularity has translated over to Twitch as well.
According to data gathered by Gamoloco, Fortnite: Battle Royale is creeping up on PlayerUnknown's Battlegrounds in terms of weekly hours watched on the streaming site Twitch. Within the past eight weeks alone, the game has risen four cumulative ranks and surpassed 5 million hours viewed.
While Fortnite and PlayerUnknown's Battlegrounds notably have some differences that have helped fuel the competition between the two in the form of platform availability and pricing, Fornite's steady rise in terms of both players and Stream popularity speaks volumes about the Battle Royale genre itself.
An infographic released by Gamoloco illustrates the game's progress alongside PlayerUnknown's Battlegrounds consistent second place ranking throughout the same period. While Fortnite: Battle Royale maintained steady viewership for October and the bulk of November, the last two weeks of November saw it pass 5 million hours viewed as it climbed from rank 9 to rank 4 to sit within spitting distance of Battlegrounds' viewership numbers.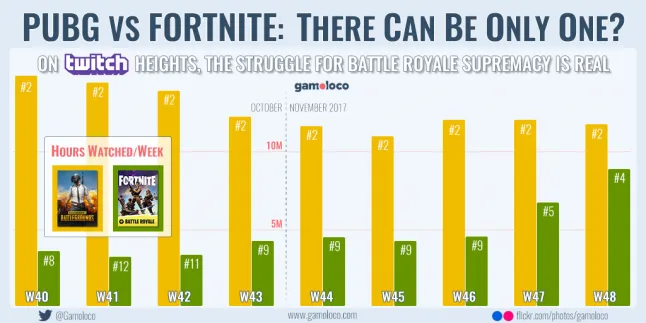 For the week ending December 3, Gamoloco listed League of Legends as the most watched game on Twitch with 17.4 million hours viewed. PlayerUnknown's Battlegrounds came in after that with 11.6 million hours watched followed by Dota 2 with 9.9 million hours and Fortnite: Battle Royale in fourth with 8.7 million hours. Fortnite alone saw a 32 percent jump in players between that and the preceding week, by Gamoloco's count.
Speaking on Twitter, Gamoloco noted that the rise in streamers and viewers is owed to "a bit of everything." The site notes that some of the rise can be attributed to PlayerUnknown's Battlegrounds streamers swapping over to Fortnite's Battle Royale mode but that, at the same time, "many console streamers, such as pro or semi-pro [Call of Duty] players, have started streaming the [Battle Royale] genre with Fortnite."