Twitter has put together a nifty breakdown of the most tweeted about games, moments, and companies from E3 last week, a welcome roundup since the company reports 15 million E3 related tweets hit Twitter during the event.
The post itself offers developers a look at which moments from the press conference portion of the event generated the most buzz, and how individual game announcements fared on the rapid-fire social media platform.
Based on the data Twitter has gathered, Nintendo looks to have dominated the overall conversation. The company tops the list of "most tweeted about topics" during E3 and Super Smash Bros., which was heavily featured during the company's E3 presentation, claims the number 2 spot.
Super Smash Bros. Ultimate was also the most tweeted about recent game announcement ahead of Kingdom Hearts 3 and Fallout 76. Twitter also says the release date for Ultimate and the announcement that Metroid's Ridley would join the game's roster were the two individual moments that generated the most conversation on Twitter, followed by Bethesda's Elder Scrolls VI teaser reveal.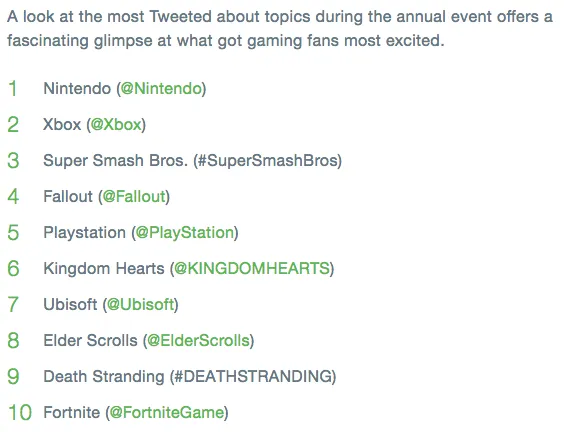 Twitter also says that overall game-related chatter increased by 94 percent compared to the week before E3, and that Nintendo, Bethesda, Ubisoft, PlayStation, and Xbox each claimed the title of "#1 worldwide trend" on the platform during each of their respective press conferences. A full look at the data and how other games and developers stacked up can be found on the Twitter blog.