In a financial briefing on April 25th, Nintendo president Satoru Iwata
met with investors
to discuss the company's record-breaking
financial results
for the previous fiscal year and its favorable forecast for the coming term. Iwata noted that the Nintendo DS exceeded its forecast of hardware units shipped by 810,000, shipping 30.31 million units worldwide, the highest one-year hardware shipment for a single platform in Nintendo's history. DS software exceeded its forecast by 6.62 million units to a total of 185.62 million units, the highest one-year software shipment for a single platform. Wii hardware also slightly exceeded forecasts for a total of 18.61 million, and Wii software shipments did the same by 4.6 million for a total of 119.60 million units shipped. For the fiscal year ending March 2009, Nintendo conservatively expects to ship 29 million DS hardware units and 187 DS software units, an estimate which Wedbush Morgan analyst Michael Pachter
described
as "not reasonable" before predicting that DS software numbers could potentially reach "210 million" units. For the Wii, Nintendo forecasts 25 million hardware units and 177 million software units shipped. Addressing concerns that the Nintendo DS has reached its saturation point and lost its momentum in Japan, Iwata notes that this Japanese trend has not been applied to the US or European markets. In North America, hardware sales for the current year are stronger than the last, and Europe's sales pace has surpassed even Japan's at its height.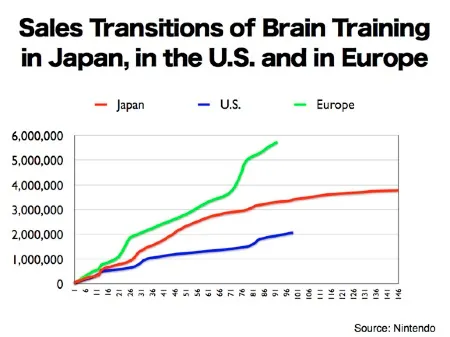 Much of the Nintendo DS's software success in Europe can be attributed to sales for
Nintendogs
and the
Brain Training
series, the first of which sold 18.67 million worldwide while the original
Brain Training
has shipped 12.98 million globally. Once again, sales for
Brain Training
in Europe have surpassed Japan's numbers even at the country's height. The Wii is also selling at a record pace in the US and Europe despite hardware constraints. Nintendo's showing in Europe is particularly impressive considering the company's weak presence in the territory with previous console generations.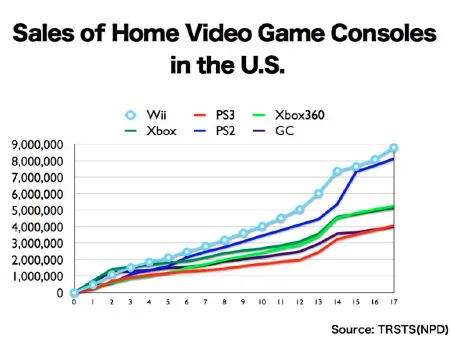 Looking at software, twelve first-party titles shipped over a million units each in the last fiscal year, with unbundled copies of
Wii Sports
shipping 16.29 million worldwide and
Wii Play
8.89 million for the term. Ten first-party DS titles shipped over a million units, with
Pokemon Diamond/Pearl
shipping 9.56 million worldwide cumulatively in the previous fiscal year. With first-party sales dominating 86% of software sales in Japan in the latter half of 2007, Nintendo could only offer that "the situation will change as time goes by," comparing it to trends with DS software sales which showed the first-party ratio at only 425 after three years.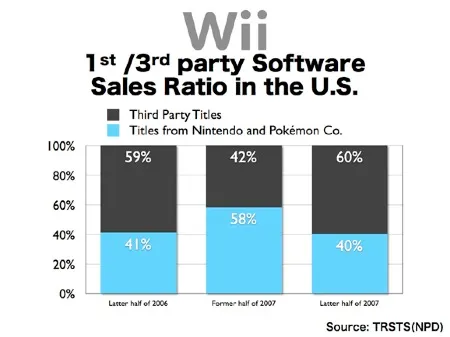 Interestingly, in the US, third-party Wii titles already occupy more than half of the country's Wii software sales, with third-party DS software also dominating at 67%. The same is true in Europe, where third-party Wii software accounts for 59% of sales and third-party DS titles account for 60% of DS software sales.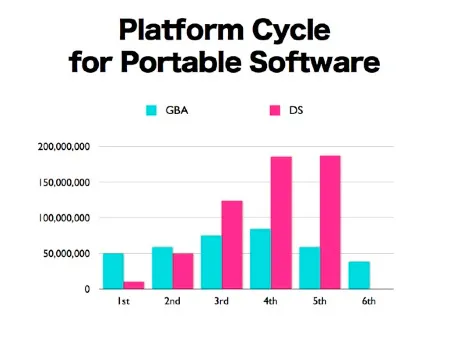 Iwata concluded the briefing by comparing hardware and software graphs for the GBA and DS, predicting a change in platform cycle trends for the handheld and the Wii: "We are dealing with wider audiences, the market is further expanding, and our business environment has been rapidly evolving by the minute."